De-Ritis Ratio Improves Long-Term Risk Prediction after Acute Myocardial Infarction
1
Division of Cardiology, Department of Internal Medicine II, Medical University of Vienna, 1090 Vienna, Austria
2
Division of Gastroenterology and Hepatology, Department of Internal Medicine III, Medical University of Vienna, 1090 Vienna, Austria
3
Vienna Hepatic Hemodynamic Laboratory, Medical University of Vienna, 1090 Vienna, Austria
4
Department of Emergency Medicine, Medical University of Vienna, 1090 Vienna, Austria
*
Author to whom correspondence should be addressed.
†
These two authors contributed equally in this work.
Received: 26 September 2018 / Revised: 28 October 2018 / Accepted: 14 November 2018 / Published: 23 November 2018
Abstract
Background: Recent evidence suggested levels of aspartate aminotransferase (AST), alanine transaminase (ALT), and AST/ALT ratio (De-Ritis ratio) were associated with a worse outcome after acute myocardial infarction (AMI). However, their value for predicting long-term prognosis remained unknown. Therefore, we investigated the prognostic potential of transaminases on patient outcome after AMI from a long-term perspective. Methods: Data of a large AMI registry including 1355 consecutive patients were analyzed. The Cox regression hazard analysis was used to assess the impact of transaminases and the De-Ritis ratio on long-term mortality. Results: The median De-Ritis ratio for the entire study population was 1.5 (interquartile range [IQR]: 1.0–2.6). After a median follow-up time of 8.6 years, we found that AST (crude hazard ratio (HR) of 1.19 per 1-SD [95% confidence interval (CI): 1 .09–1.32;
p
< 0.001]) and De-Ritis ratio (crude HR of 1.31 per 1-SD [95% CI: 1.18–1.44;
p
< 0.001]), but not ALT (
p
= 0.827), were significantly associated with long-term mortality after AMI. After adjustment for confounders independently, the De-Ritis ratio remained a strong and independent predictor for long-term mortality in the multivariate model with an adjusted HR of 1.23 per 1-SD (95% CI: 1.07–1.42;
p
= 0.004). Moreover, the De-Ritis ratio added prognostic value beyond N-terminal pro-B-Type Natriuretic Peptide, Troponin T, and Creatine Kinase. Conclusion: The De-Ritis ratio is a strong and independent predictor for long-term mortality after AMI. As a readily available biomarker in clinical routine, it might be used to identify patients at risk for fatal cardiovascular events and help to optimize secondary prevention strategies after AMI.
View Full-Text
►

▼

Figures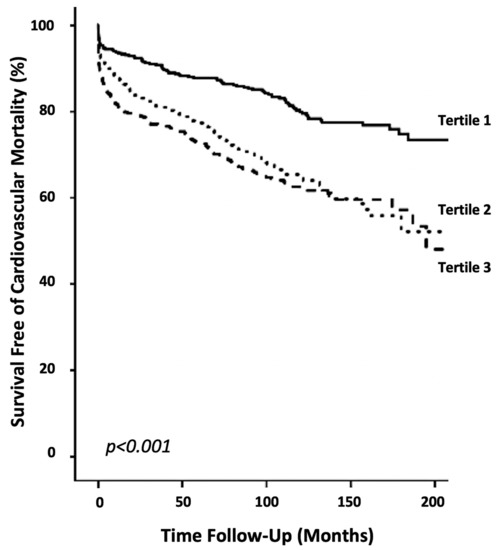 Figure 1
This is an open access article distributed under the
Creative Commons Attribution License
which permits unrestricted use, distribution, and reproduction in any medium, provided the original work is properly cited (CC BY 4.0).

Share & Cite This Article
MDPI and ACS Style
Steininger, M.; Winter, M.-P.; Reiberger, T.; Koller, L.; El-Hamid, F.; Forster, S.; Schnaubelt, S.; Hengstenberg, C.; Distelmaier, K.; Goliasch, G.; Wojta, J.; Toma, A.; Niessner, A.; Sulzgruber, P. De-Ritis Ratio Improves Long-Term Risk Prediction after Acute Myocardial Infarction. J. Clin. Med. 2018, 7, 474.
Note that from the first issue of 2016, MDPI journals use article numbers instead of page numbers. See further details here.
Related Articles
Comments
[Return to top]