DNA-Protein Vaccination Strategy Does Not Protect from Challenge with African Swine Fever Virus Armenia 2007 Strain
1
Department of Diagnostic Medicine & Pathobiology, College of Veterinary Medicine, Kansas State University, K2224 Mosier Hall, 1800 Denison Ave, Manhattan, KS 66506, USA
2
CBMSO-CSIC-UAM, C/Nicolás Cabrera 1, Campus de Cantoblanco, 28049 Madrid, Spain
*
Authors to whom correspondence should be addressed.
†
These authors contribute equally to this paper.
Received: 22 October 2018 / Revised: 14 January 2019 / Accepted: 23 January 2019 / Published: 28 January 2019
Abstract
African swine fever virus (ASFV) causes high morbidity and mortality in swine (
Sus scrofa
), for which there is no commercially available vaccine. Recent outbreaks of the virus in Trans-Caucasus countries, Eastern Europe, Belgium and China highlight the urgent need to develop effective vaccines against ASFV. Previously, we evaluated the immunogenicity of a vaccination strategy designed to test various combinations of ASFV antigens encoded by DNA plasmids and recombinant proteins with the aim to activate both humoral and cellular immunity. Based on our previous results, the objective of this study was to test the combined DNA-protein vaccine strategy using a cocktail of the most immunogenic antigens against virulent ASFV challenge. Pigs were vaccinated three times with a cocktail that included ASFV plasmid DNA (CD2v, p72, p32, +/−p17) and recombinant proteins (p15, p35, p54, +/−p17). Three weeks after the third immunization, all pigs were challenged with the virulent ASFV Armenia 2007 strain. The results showed that vaccinated pigs were not protected from ASFV infection or disease. Compared to the non-vaccinated controls, earlier onset of clinical signs, viremia, and death were observed for the vaccinated animals following virulent ASFV challenge. ASFV induced pathology was also enhanced in the vaccinated pigs. Furthermore, while the vaccinated pigs developed antigen-specific antibodies, immunized pig sera at the time of challenge lacked the capacity to neutralize virus, and instead was observed to enhance ASFV infection in vitro. The results of this work points to a putative immune enhancement mechanism involved in ASFV pathogenesis that warrants further investigation. This pilot study provides insight for the selection of appropriate combinations of ASFV antigens for the development of a rationally-designed, safe, and efficacious vaccine for ASF.
View Full-Text
►

▼

Figures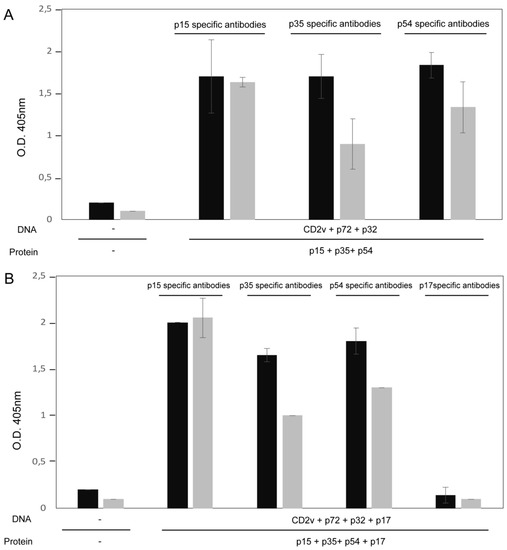 Figure 1
This is an open access article distributed under the
Creative Commons Attribution License
which permits unrestricted use, distribution, and reproduction in any medium, provided the original work is properly cited (CC BY 4.0).

Share & Cite This Article
MDPI and ACS Style
Sunwoo, S.-Y.; Pérez-Núñez, D.; Morozov, I.; Sánchez, E.G.; Gaudreault, N.N.; Trujillo, J.D.; Mur, L.; Nogal, M.; Madden, D.; Urbaniak, K.; Kim, I.J.; Ma, W.; Revilla, Y.; Richt, J.A. DNA-Protein Vaccination Strategy Does Not Protect from Challenge with African Swine Fever Virus Armenia 2007 Strain. Vaccines 2019, 7, 12.
Note that from the first issue of 2016, MDPI journals use article numbers instead of page numbers. See further details here.
Related Articles
Comments
[Return to top]