Redistribution of Extracellular Superoxide Dismutase Causes Neonatal Pulmonary Vascular Remodeling and PH but Protects Against Experimental Bronchopulmonary Dysplasia
1
Department of Pediatrics, Section of Neonatology, University of Colorado Anschutz Medical Campus, Aurora, CO 80045, USA
2
Cardiovascular Pulmonary Research Laboratories, University of Colorado Anschutz Medical Campus, Aurora, CO 80045, USA
3
Department of Medicine, National Jewish Health, Denver, CO 80206, USA
4
Pediatric Critical Care Medicine, University of Colorado Anschutz Medical Campus, Aurora, CO 80045, USA
*
Author to whom correspondence should be addressed.
†
Denotes equal senior author contribution.
Received: 19 January 2018 / Revised: 3 March 2018 / Accepted: 13 March 2018 / Published: 14 March 2018
Abstract
Background: A naturally occurring single nucleotide polymorphism (SNP), (R
213
G), in extracellular superoxide dismutase (SOD3), decreases SOD3 matrix binding affinity. Humans and mature mice expressing the R
213
G SNP exhibit increased cardiovascular disease but decreased lung disease. The impact of this SNP on the neonatal lung at baseline or with injury is unknown. Methods: Wild type and homozygous R
213
G mice were injected with intraperitoneal bleomycin or phosphate buffered saline (PBS) three times weekly for three weeks and tissue harvested at 22 days of life. Vascular and alveolar development were evaluated by morphometric analysis and immunostaining of lung sections. Pulmonary hypertension (PH) was assessed by right ventricular hypertrophy (RVH). Lung protein expression for superoxide dismutase (SOD) isoforms, catalase, vascular endothelial growth factor receptor 2 (VEGFR2), endothelial nitric oxide synthase (eNOS) and guanosine triphosphate cyclohydrolase-1 (GTPCH-1) was evaluated by western blot. SOD activity and SOD3 expression were measured in serum. Results: In R
213
G mice, SOD3 lung protein expression decreased, serum SOD3 protein expression and SOD serum activity increased compared to wild type (WT) mice. Under control conditions, R
213
G mice developed pulmonary vascular remodeling (decreased vessel density and increased medial wall thickness) and PH; alveolar development was similar between strains. After bleomycin injury, in contrast to WT, R
213
G mice were protected from impaired alveolar development and their vascular abnormalities and PH did not worsen. Bleomycin decreased VEGFR2 and GTPCH-1 only in WT mice. Conclusion: R
213
G neonatal mice demonstrate impaired vascular development and PH at baseline without alveolar simplification, yet are protected from bleomycin induced lung injury and worsening of pulmonary vascular remodeling and PH. These results show that vessel bound SOD3 is essential in normal pulmonary vascular development, and increased serum SOD3 expression and SOD activity prevent lung injury in experimental bronchopulmonary dysplasia (BPD) and PH.
View Full-Text
►

▼

Figures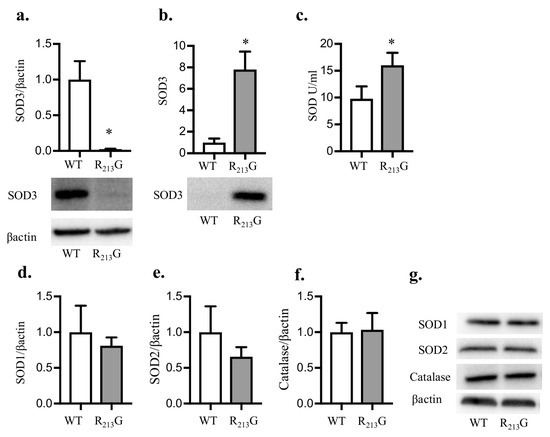 Figure 1
This is an open access article distributed under the
Creative Commons Attribution License
which permits unrestricted use, distribution, and reproduction in any medium, provided the original work is properly cited (CC BY 4.0).

Share & Cite This Article
MDPI and ACS Style
Sherlock, L.G.; Trumpie, A.; Hernandez-Lagunas, L.; McKenna, S.; Fisher, S.; Bowler, R.; Wright, C.J.; Delaney, C.; Nozik-Grayck, E. Redistribution of Extracellular Superoxide Dismutase Causes Neonatal Pulmonary Vascular Remodeling and PH but Protects Against Experimental Bronchopulmonary Dysplasia. Antioxidants 2018, 7, 42.
Note that from the first issue of 2016, MDPI journals use article numbers instead of page numbers. See further details here.
Related Articles
Comments
[Return to top]