Digital Evaluation of the Accuracy of Computer-Guided Dental Implant Placement: An In Vitro Study
1
Department of Prosthodontics, School of Dentistry, Kyungpook National University, 2177 Dalgubeol-daero, Jung-gu, Daegu 41940, Korea
2
Advanced Dental Device Development Institute, Kyungpook National University, 2177 Dalgubeol-daero, Jung-gu, Daegu 41940, Korea
3
Department of Dental Science, Graduate School, Kyungpook National University, 2177 Dalgubeol-daero, Jung-gu, Daegu 41940, Korea
*
Author to whom correspondence should be addressed.
Received: 19 July 2019 / Revised: 8 August 2019 / Accepted: 13 August 2019 / Published: 16 August 2019
Abstract
Compared to traditional implant surgical guides, computer-assisted implant surgical guides can be considered for positioning implants in the final prosthesis. These computer-assisted implant surgical guides can be easily fabricated with personal 3D printers after being designed with implant planning CAD software. Although the accuracy of computer-assisted implant surgical guides fabricated using personal 3D printers is an important factor in their clinical use, there is still a lack of research examining their accuracy. Therefore, this study evaluated the accuracy of computer-assisted implant surgical guides, which were designed using two implant planning CAD software programs (Deltanine and R2gate software) and fabricated with personal 3D printers using a non-radiographic method. Amongst the patients who visited Kyungpook National University Dental Hospital, one patient scheduled to undergo surgery of the left mandibular second premolar was randomly selected. Twenty partially edentulous resin study models were produced using a 3D printer. Using the Deltanine and R2gate implant planning CAD software, 10 implant surgical guides per software were designed and produced using a personal 3D printer. The implants (SIII SA (Ø 4.0, L = 10 mm), Osstem, Busan, Korea) were placed by one skilled investigator using the computer-assisted implant surgical guides. To confirm the position of the actual implant fixture, the study models with the implant fixtures were scanned with a connected scan body to extract the STL files, and then overlapped with the scanned file by connecting the scan body-implant fixture complex. As a result, the mean apical deviation of the Deltanine and R2gate software was 0.603 ± 0.19 mm and 0.609 ± 0.18 mm, while the mean angular deviation was 1.97 ± 0.84° and 1.92 ± 0.52°, respectively. There was no significant difference between the two software programs (
p
> 0.05). Thus, the accuracy of the personal 3D printing implant surgical guides is in the average range allowed by the dental clinician.
View Full-Text
►

▼

Figures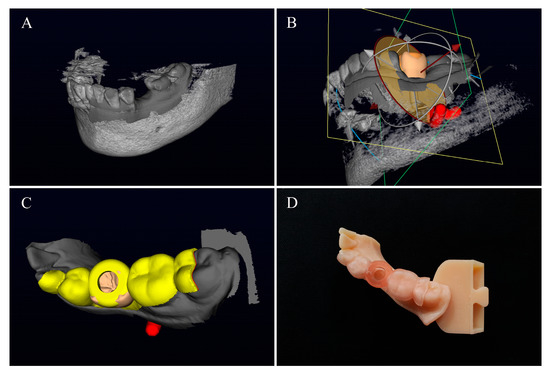 Figure 1
This is an open access article distributed under the
Creative Commons Attribution License
which permits unrestricted use, distribution, and reproduction in any medium, provided the original work is properly cited (CC BY 4.0).

Share & Cite This Article
MDPI and ACS Style
Kim, S.-M.; Son, K.; Kim, D.-Y.; Lee, K.-B. Digital Evaluation of the Accuracy of Computer-Guided Dental Implant Placement: An In Vitro Study. Appl. Sci. 2019, 9, 3373.
Note that from the first issue of 2016, MDPI journals use article numbers instead of page numbers. See further details here.
Related Articles
Comments
[Return to top]