Effects of Long-Term Dietary Protein Restriction on Intestinal Morphology, Digestive Enzymes, Gut Hormones, and Colonic Microbiota in Pigs
Laboratory of Gastrointestinal Microbiology, Nanjing Agricultural University, Nanjing 210095, China
*
Author to whom correspondence should be addressed.
Received: 28 February 2019 / Revised: 13 April 2019 / Accepted: 16 April 2019 / Published: 20 April 2019
Simple Summary
In China, a shortage of protein resources is an important limiting factor to the economic benefit of pig production, and the use of protein-restriction diets balanced with amino acids is an effective strategy to save protein resources. However, long-term protein-restriction diets can impair the growth performance, and the reason is still unknown. This study is to investigate the response of gastrointestinal physiology and gut microbiota to the condition of long-term low-protein diet and to try to provide a theoretical foundation for better use of protein resources in swine production. Results showed that presented with moderate protein-restriction diets, pigs are able to adjust their absorption and consumption of nutrients to maintain growth performance; whereas extremely low-protein diets suppress pigs' appetite, impair intestinal morphology, decrease Lactobacillus and Streptococcus, and reduce energy expenditure. Thus, moderate reduction of dietary protein is more suitable for pig production than extremely low-protein diets supplemented with essential amino acids, and moderate protein-restriction diets can potentially increase protein utilization in pig production.
Abstract
Using protein-restriction diets becomes a potential strategy to save the dietary protein resources. However, the mechanism of low-protein diets influencing pigs' growth performance is still controversial. This study aimed to investigate the effect of protein-restriction diets on gastrointestinal physiology and gut microbiota in pigs. Eighteen weaned piglets were randomly allocated to three groups with different dietary protein levels. After a 16-week trial, the results showed that feeding a low-protein diet to pigs impaired the epithelial morphology of duodenum and jejunum (
p
< 0.05) and reduced the concentration of many plasma hormones (
p
< 0.05), such as ghrelin, somatostatin, glucose-dependent insulin-tropic polypeptide, leptin, and gastrin. The relative abundance of
Streptococcus
and
Lactobacillus
in colon and microbiota metabolites was also decreased by extreme protein-restriction diets (
p
< 0.05). These findings suggested that long-term ingestion of a protein-restricted diet could impair intestinal morphology, suppress gut hormone secretion, and change the microbial community and fermentation metabolites in pigs, while the moderately low-protein diet had a minimal effect on gut function and did not impair growth performance.
View Full-Text
►

▼

Figures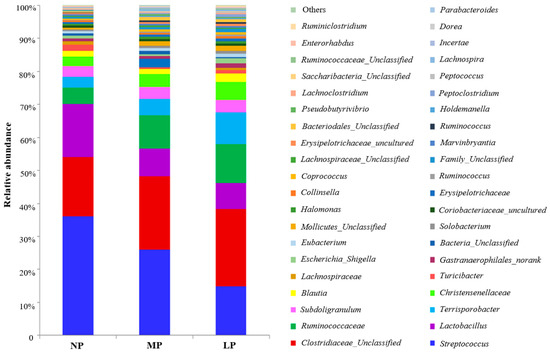 Figure 1
This is an open access article distributed under the
Creative Commons Attribution License
which permits unrestricted use, distribution, and reproduction in any medium, provided the original work is properly cited (CC BY 4.0).

Share & Cite This Article
MDPI and ACS Style
Yu, D.; Zhu, W.; Hang, S. Effects of Long-Term Dietary Protein Restriction on Intestinal Morphology, Digestive Enzymes, Gut Hormones, and Colonic Microbiota in Pigs. Animals 2019, 9, 180.
Note that from the first issue of 2016, MDPI journals use article numbers instead of page numbers. See further details here.
Related Articles
Comments
[Return to top]