Genome-Wide Scan for Runs of Homozygosity Identifies Candidate Genes Related to Economically Important Traits in Chinese Merino
1
Key Laboratory of Ruminant Genetics, Breeding & Reproduction, Ministry of Agriculture; Key Laboratory of Animal Biotechnology of Xinjiang, Institute of Biotechnology, Xinjiang Academy of Animal Science, Xinjiang, Urumqi 830026, China
2
Xinjiang Wool sheep and Cashmere Goat Key Breeding Lab, Institute of Animal Science, Xinjiang Academy of Animal Sciences, Xinjiang, Urumqi 830026, China
*
Author to whom correspondence should be addressed.
Received: 26 January 2020 / Revised: 17 March 2020 / Accepted: 17 March 2020 / Published: 20 March 2020
Simple Summary
Runs of homozygosity (ROH) are commonly used to estimate inbreeding coefficients and identify selection signatures in livestock population. The present study determined ROH patterns, estimated the inbreeding levels, and identified the genome regions with high ROH frequency (ROH hotspots) in Chinese Merino. Our results showed that the genome of Chinese Merino harbored lower ROH abundance. Moreover, the inbreeding levels were relatively low. Thirteen ROH hotspots consisting of 190 genes were identified. The ROH hotspots overlapped the selective signatures might be associated with body size, horn traits, immune traits and environment adaption. These findings could contribute to an optimum breeding program by identifying the candidate genes related to economically traits in Chinese Merino.
In this study, we estimated the number, length, and frequency of runs of homozygosity (ROH) in 635 Chinese Merino and identified genomic regions with high ROH frequency using the OvineSNP50 whole-genome genotyping array. A total of 6039 ROH exceeding 1 Mb were detected in 634 animals. The average number of ROH in each animal was 9.23 and the average length was 5.87 Mb. Most of the ROH were less than 10 Mb, accounting for 88.77% of the total number of detected ROH. In addition,
Ovies aries
chromosome (OAR) 21 and OAR3 exhibited the highest and lowest coverage of chromosomes by ROH, respectively. OAR1 displayed the highest number of ROH, while the lowest number of ROH was found on OAR24. An inbreeding coefficient of 0.023 was calculated from ROH greater than 1 Mb. Thirteen regions on chromosomes 1, 2, 3, 5, 6, 10, 11, and 16 were found to contain ROH hotspots. Within the genome regions of OAR6 and OAR11,
NCAPG/LCORL
,
FGF11
and
TP53
were identified as the candidate genes related to body size, while the genome region of OAR10 harbored
RXFP2
gene responsible for the horn trait. These findings indicate the adaptive to directional trait selection in Chinese Merino.
View Full-Text
►

▼

Show Figures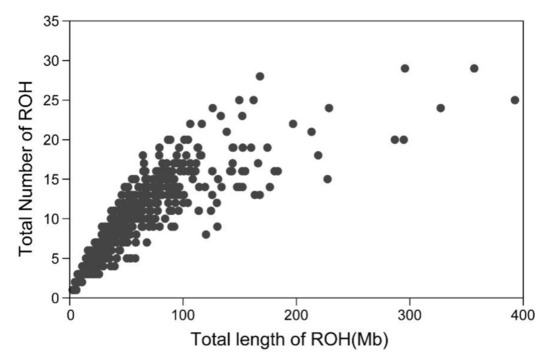 Figure 1
This is an open access article distributed under the
Creative Commons Attribution License
which permits unrestricted use, distribution, and reproduction in any medium, provided the original work is properly cited

MDPI and ACS Style
He, S.; Di, J.; Han, B.; Chen, L.; Liu, M.; Li, W. Genome-Wide Scan for Runs of Homozygosity Identifies Candidate Genes Related to Economically Important Traits in Chinese Merino. Animals 2020, 10, 524.
Show more citation formats
Show less citations formats
Note that from the first issue of 2016, MDPI journals use article numbers instead of page numbers. See further details
here
.