Herbicide Diuron as Endocrine Disrupting Chemicals (EDCs) through Histopathalogical Analysis in Gonads of Javanese Medaka (
Oryzias javanicus

, Bleeker 1854)

1

Department of Biology, Faculty of Science, Universiti Putra Malaysia, UPM Serdang, Selangor 43400, Malaysia

2

International Institute of Aquaculture and Aquatic Sciences (i-AQUAS), Universiti Putra Malaysia, Batu 7, Jalan Kemang 6, Teluk Kemang, Si Rusa, Port Dickson 71050, Negeri Sembilan, Malaysia

3

Ministry of Energy, Science, Technology, Environment and Climate Change (MESTECC), Block C4 and C5, Federal Government Administrative Centre, Putrajaya 62662, Malaysia

*

Author to whom correspondence should be addressed.

Received: 17 January 2020 / Revised: 19 February 2020 / Accepted: 20 February 2020 / Published: 20 March 2020
Simple Summary
The broadening of the agriculture domain around the world is causing excessive utilization of herbicides worldwide. The usage of herbicide Diuron towards the non-targeted aquatic organism may not directly cause death, but small sublethal doses of long-term exposure can cause detrimental consequences not only towards the individual itself but also towards the sustainability of the whole population of the species. The impaired reproduction of the gonadal staging and germ cells maturity can cause the overall reduction in adult survival and eventually lower the population density of the ecosystem.
The expeditious augmentation of the agriculture industry is leaving a significant negative impact on aquatic ecosystems. However, the awareness of the impacts of herbicide Diuron toxicities on the non-targeted aquatic organism, especially fish is still lacking. Javanese medaka, a new model fish species were exposed under sublethal levels and the long-term effects on gonads were investigated via histological studies. A total of 210 sexually mature fish were exposed to Diuron at seven different concentrations; control, solvent control, 1, 50, 100, 500, and 1000 μg/L for 21 days. In this study, Diuron caused histopathological alterations in gonads (ovary and testis) of Javanese medaka (
Oryzias javanicus
) by decreasing in gonadal staging and maturity of germ cells in oogenesis and spermatogenesis of female and male Javanese medaka. The results obtained in this study had proven our hypothesis that long-term exposure of herbicide Diuron can cause alterations in the gonadal histology of the adults of Javanese medaka.
View Full-Text
►

▼

Show Figures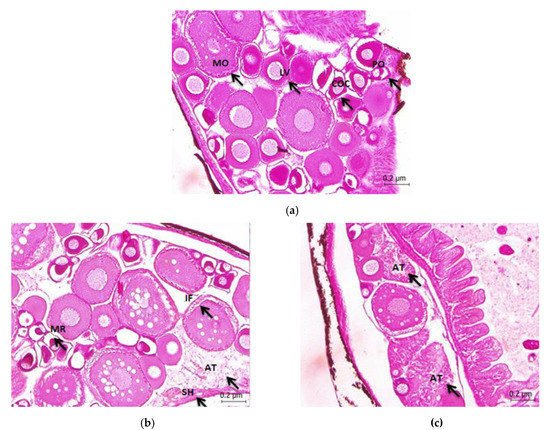 Figure 1
This is an open access article distributed under the
Creative Commons Attribution License
which permits unrestricted use, distribution, and reproduction in any medium, provided the original work is properly cited

MDPI and ACS Style
Kamarudin, N.A.; Zulkifli, S.Z.; Azmai, M.N.A.; Abdul Aziz, F.Z.; Ismail, A. Herbicide Diuron as Endocrine Disrupting Chemicals (EDCs) through Histopathalogical Analysis in Gonads of Javanese Medaka (Oryzias javanicus, Bleeker 1854). Animals 2020, 10, 525.
Show more citation formats
Show less citations formats
Note that from the first issue of 2016, MDPI journals use article numbers instead of page numbers. See further details
here
.