Open Access This article is
freely available
re-usable
Review
On the Corrosion Behaviour of Low Modulus Titanium Alloys for Medical Implant Applications: A Review
1
Faculty of Materials and Metallurgical Engineering, Semnan University, Semnan 35131-19111, Iran
2
School of Mechanical Engineering, University of Adelaide, Adelaide, SA 5000, Australia
3
College of Science and Engineering, Flinders University, Clovelly Park, SA 5042, Australia
*
Author to whom correspondence should be addressed.
Received: 2 July 2019 / Accepted: 6 August 2019 / Published: 9 August 2019
Abstract
:
The corrosion behaviour of new generation titanium alloys (β-type with low modulus) for medical implant applications is of paramount importance due to their possible detrimental effects in the human body such as release of toxic metal ions and corrosion products. In spite of remarkable advances in improving the mechanical properties and reducing the elastic modulus, limited studies have been done on the electrochemical corrosion behaviour of various types of low modulus titanium alloys including the effect of different beta-stabilizer alloying elements. This development should aim for a good balance between mechanical properties, design features, metallurgical aspects and, importantly, corrosion resistance. In this article, we review several significant factors that can influence the corrosion resistance of new-generation titanium alloys such as fabrication process, body electrolyte properties, mechanical treatments, alloying composition, surface passive layer, and constituent phases. The essential factors and their critical features are discussed. The impact of various amounts of α and β phases in the microstructure, their interactions, and their dissolution rates on the surface passive layer and bulk corrosion behaviour are reviewed and discussed in detail. In addition, the importance of different corrosion types for various medical implant applications is addressed in order to specify the significance of every corrosion phenomenon in medical implants.
Keywords:
low modulus titanium alloys; corrosion; medical implants; young's modulus
1. Introduction
Now that new generation Ti alloys have been already developed with lower Young's moduli (much closer to bone when compared to widely used Ti-6Al-4V) and that they have shown good biocompatibility, it is important to review their corrosion behaviour and electrochemical characteristics. There are various groups of new generation titanium alloys that may offer different levels of corrosion resistance in the body fluid depending on their chemistry (alloying elements and their amounts), and fabrication methods. Therefore, this review aims to provide useful information on the corrosion response of various Ti alloys that are increasingly being developed for the next generation medical implants.
2. In Vitro Electrochemical Corrosion Testing Procedures
The electrochemical corrosion testing procedures used for biometals (including low stiffness titanium alloys) involve several various parameters and testing methods depending on the objectives of the experimental work. Potentiodynamic polarization, electrochemical impedance spectroscopy (EIS), open circuit potential (OCP) and other corrosion testing procedures can be applied in order to assess the corrosion behaviour. In addition, parameters such as time of exposure, corrosion medium or solution (electrolyte), pH and the electrolyte temperature can significantly affect the corrosion behaviour of titanium alloys due to the sensitivity of their passive oxide layer. Moreover, microstructural observations of the surface after anodization along with X-ray diffraction (XRD), energy-dispersive X-ray spectroscopy (EDS) and X-ray photoelectron spectroscopy (XPS) examinations can help scientists and researchers to explore corrosion mechanisms and the formation of passive layers with their chemical compositions.
It is important to note that many previous investigations on the corrosion behaviour of β-type titanium alloys (for biomedical applications) focused on the alloy composition only in one solution. As discussed previously, pH is an important factor which varies in various solutions. Hence, every solution may impose a different electrochemical result on an individual alloy and studying different simulated body fluid solutions would better exhibit the role of solution components on the biomedical corrosion procedure in these alloys.
5. General Significations of Corrosion
The complicated electrolytic behaviour of body fluid including a combination of attacking corrosion components creates an aggressive media for biomedical implants. Hence, controlling and improving the corrosion resistance of medical implants seems to be a significant concern in the manufacturing process of implants [
112
]. In spite of electrochemical parameters, mechanical deformation affects the corrosion rate as seen in [
113
] where a further amount of cold rolling lowered the corrosion rate. Thermodynamics and kinetics are the main two features of the electrochemical corrosion phenomenon. Thermodynamics specifies the oxidation-reduction reactions of the implant material adjacent to the body fluid media and the kinetics evaluates the probability of occurrence of reactions [
114
]. Common types of corrosion that can occur in beta type titanium alloys (when used in implants) are fretting, galvanic, pitting/crevice and uniform corrosion [
115
]. In an implant such as hip joint implants of which all the surface is in contact with the body tissues and fluids, the uniform corrosion is of great concern and pH variations can play a significant role in the corrosion degradation. Also, surface treatments and the thermodynamic stability and high adherence of the passive layer may control this type of corrosion [
116
]. In addition, fretting and wear corrosion must be considered in modular implants where metallic parts have direct contact (e.g., taper junction of hip implants). With regard to the advancement and development of low modulus beta titanium alloys, it is expected that successful implant materials withstand long-term uniform corrosion with corrosion rate of less than 1 µm/year [
117
]. For dental implants, pitting and galvanic corrosion should be more investigated since food debris is always deposited and can make a localized galvanic series following pitting corrosion [
118
]. Moreover, it is important to perform microstructural evaluations along with ordinary corrosion testing procedures when investigating pitting and galvanic corrosion in dental implant materials. Surface images of dental implants and any other implants susceptible to pitting corrosion can provide useful data about the morphology, distribution, depth and number of defects. Hence, further experiments would be more reliable and authentic.
6. Conclusions
In this review, low modulus β-type titanium alloys were investigated from a corrosion behaviour point of view. The important parameters that can affect the electrochemical and corrosion behaviour of these alloys were discussed. Investigations on the development of a suitable microstructure with optimal mechanical properties have been performed to design and fabricate low modulus β-type Ti-based alloys for medical implant applications. However, less attention has been paid to the electrochemical and corrosion behaviour of these new generation titanium alloys. Toxicity of biomedical implants depends, to a great extent, on the ion release rate of the alloy into the body which passes through the surface passive layer. Hence, the microstructure and composition of the passive layer and its adhesion and stability should be carefully evaluated in these alloys. Also, surface treatments and anodizing can greatly improve the quality of passive layers but the chemical composition of the surface coatings should be non-toxic. Surface microstructural observations of beta type Ti alloys after electrochemical tests in various simulated body fluid solutions play an important role in verifying corrosion test results. These observations can also reveal more data as to other corrosion aspects of the surface such as thickness of the passive layer, corroded phases and particles, pitting attacked areas and corrosion mechanism of the bulk. It is important to note that the physical and mechanical changes in beta-type Ti alloys may alter the microstructure and phases. Therefore, the effect of these physical (heat) and mechanical treatments on the corrosion behaviour of beta titanium alloys may be as important as the chemical composition. Also, the amount of α and β phases in the microstructure and their interaction and dissolution can affect the corrosion resistance. It is important to mention that various physical and mechanical treatments of beta titanium alloys directly affect the interaction and distribution of α and β phases which these phases not only alter the corrosion behaviour in the bulk material but also play an important role on the surface passive layer of implants.
Dissolution priority for the α and
β
phases seems to be different in their various combinations. The single α phase is less corrosion resistant than β phase. However, once the attack has initiated in the two-phase (α + β), the β phase appears to be less resistant to continued dissolution when compared to the α phase. It is suggested that more investigations should be performed on the corrosion resistance of α and β phases (separately and as mixed). Suitable amounts of α and β phases should be created in the microstructure of beta-titanium alloys including various alloying elements in order to have a high corrosion resistance and a stable surface passive layer. Afterwards, other physical, mechanical and chemical treatments such as surface treatment, heat treatments (e.g., ageing, solutionizing, and hardening) and various alloy fabrication processes should be taken into account.
Author Contributions
Conceptualization, R.H.O.; literature review, P.A.; writing—original draft preparation, P.A.; writing—review and editing, R.O. and R.G.; supervision, R.O. and R.G.
Funding
This research received no external funding.
Conflicts of Interest
The authors declare no conflict of interest.

Figure 1.
Scanning electron microscope (SEM) images of Ti-24Nb-4Zr-8Sn alloy after immersion in 0.9% NaCl solution at 37 °C for: (
a
) 24 h, (
b
) 72 h, and (
c
) 168 h [
43
].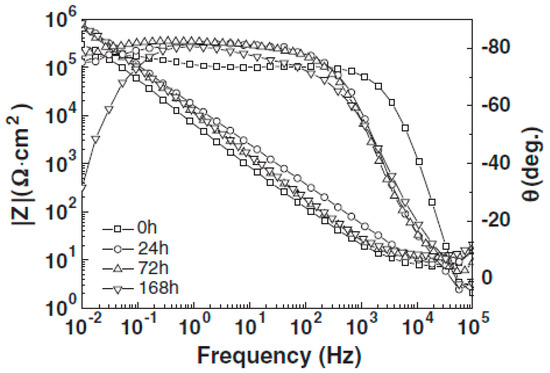 Figure 2.
Electrochemical impedance spectroscopy (EIS) spectra of Ti-24Nb-4Zr-8Sn alloy at different immersion hours in 0.9% NaCl solution [
43
].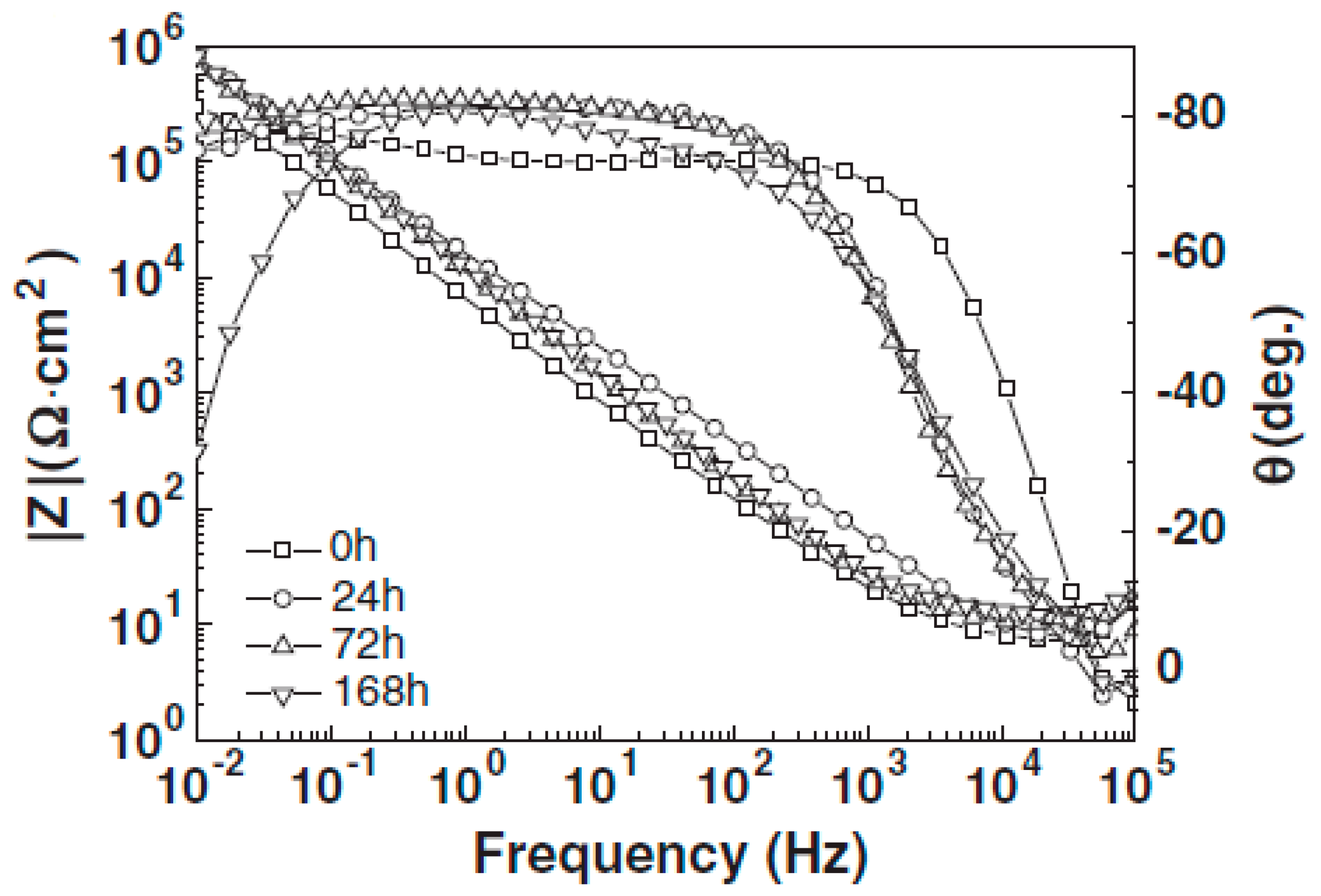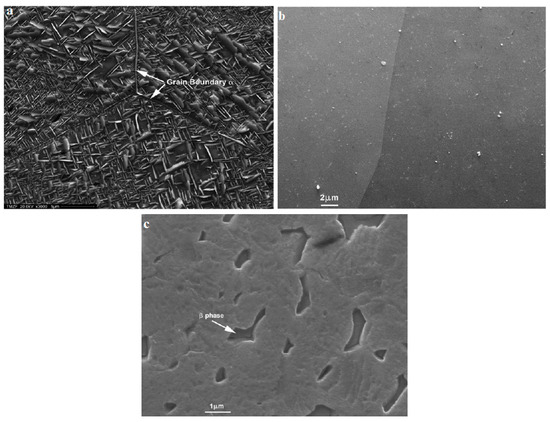 Figure 3.
Secondary electron SEM micrograph of Ti-13Mo-7Zr-3Fe: (
a
) as-received α + β, (
b
) metastable β, following 50 h immersion in 5 M HCl at 37 °C, and (
c
) secondary electron SEM micrograph of the surface corrosion aspects of Ti-6Al-4V ELI (extra-low interstitial) after 50 h immersion in 5 M HCl at 37 °C [
40
].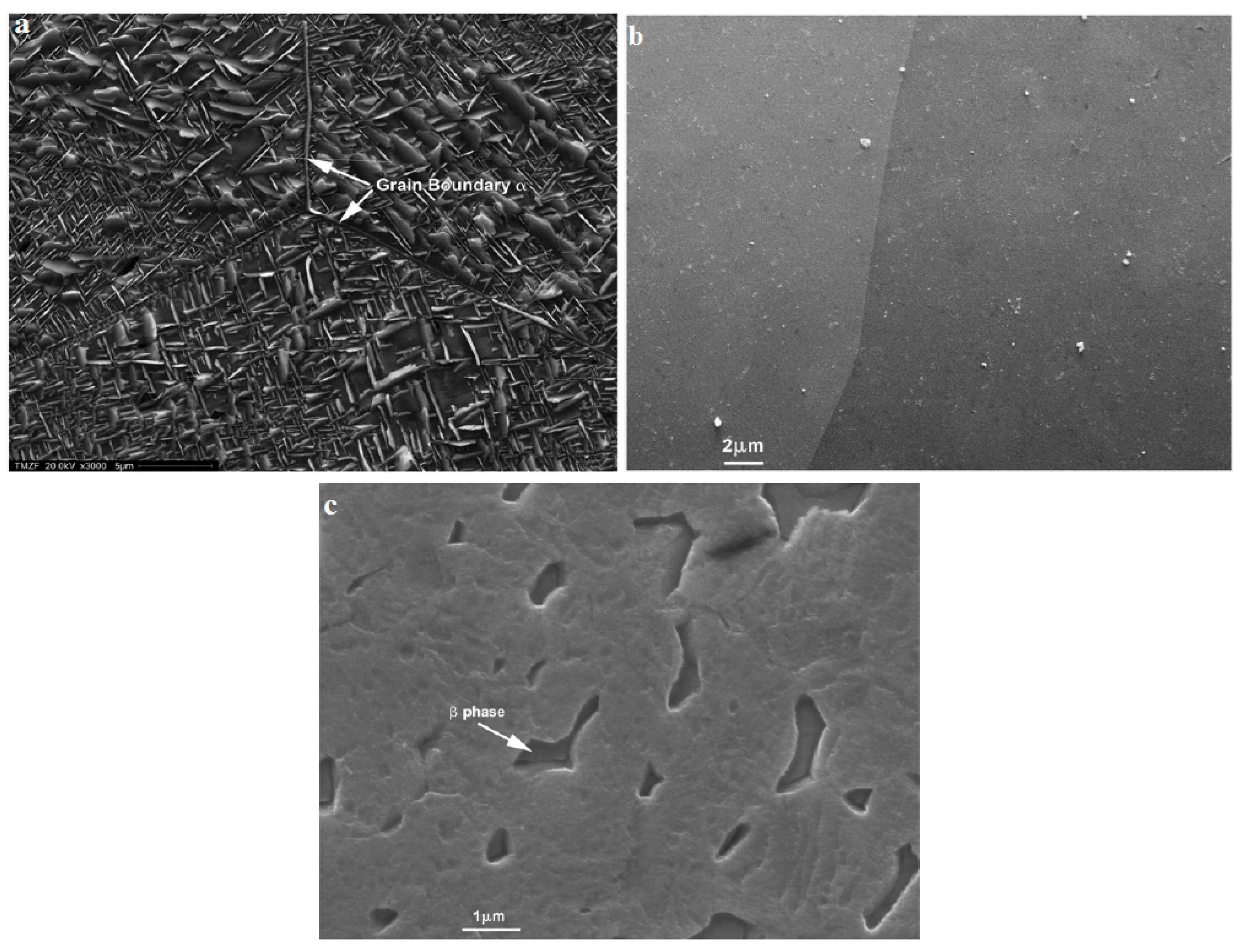 Figure 4.
SEM morphologies of Ti-1300 (Ti-5Al-3Zr-4Mo-4Cr-4V) surface in 5 M HCl solution: (
a
) lamellar, and (
b
) equiaxed microstructure [
45
].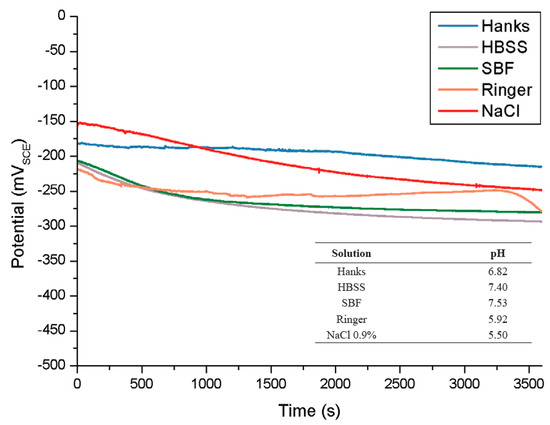 Figure 5.
Open circuit potentials (OCP) in different simulated body fluids at 37 °C and in 0.9% NaCl at 25 °C [
47
].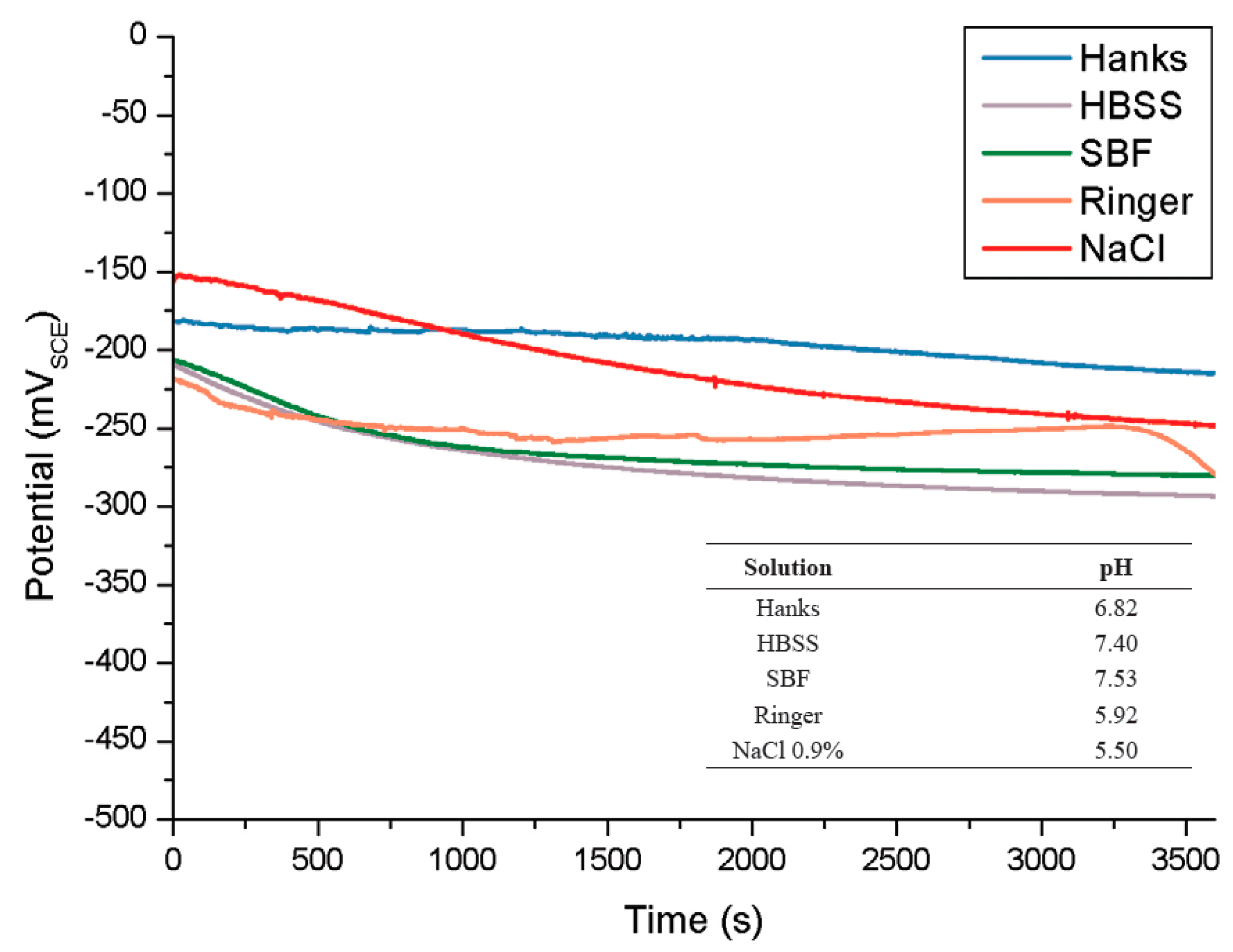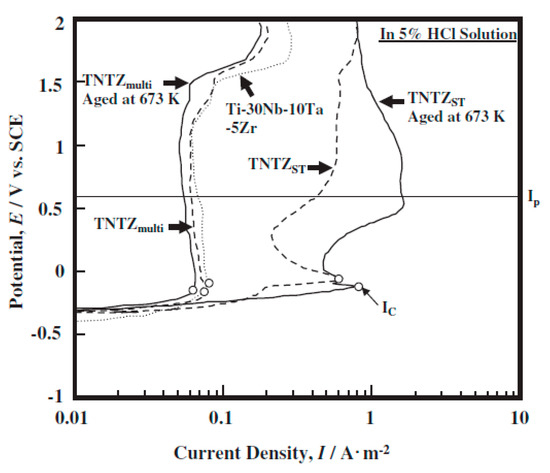 Figure 6.
Anodic polarization curves of TNTZ
ST
(Ti-29Nb-13Ta-4.6Zr), TNTZ
ST
aged at 673 K for 259.2 ks TNTZ
multi
, TNTZ
multi
aged at 673 K for 259.2 ks and hot swaged Ti-30Nb-10Ta-5Zr in 5% HCl solution at 310 K [
60
].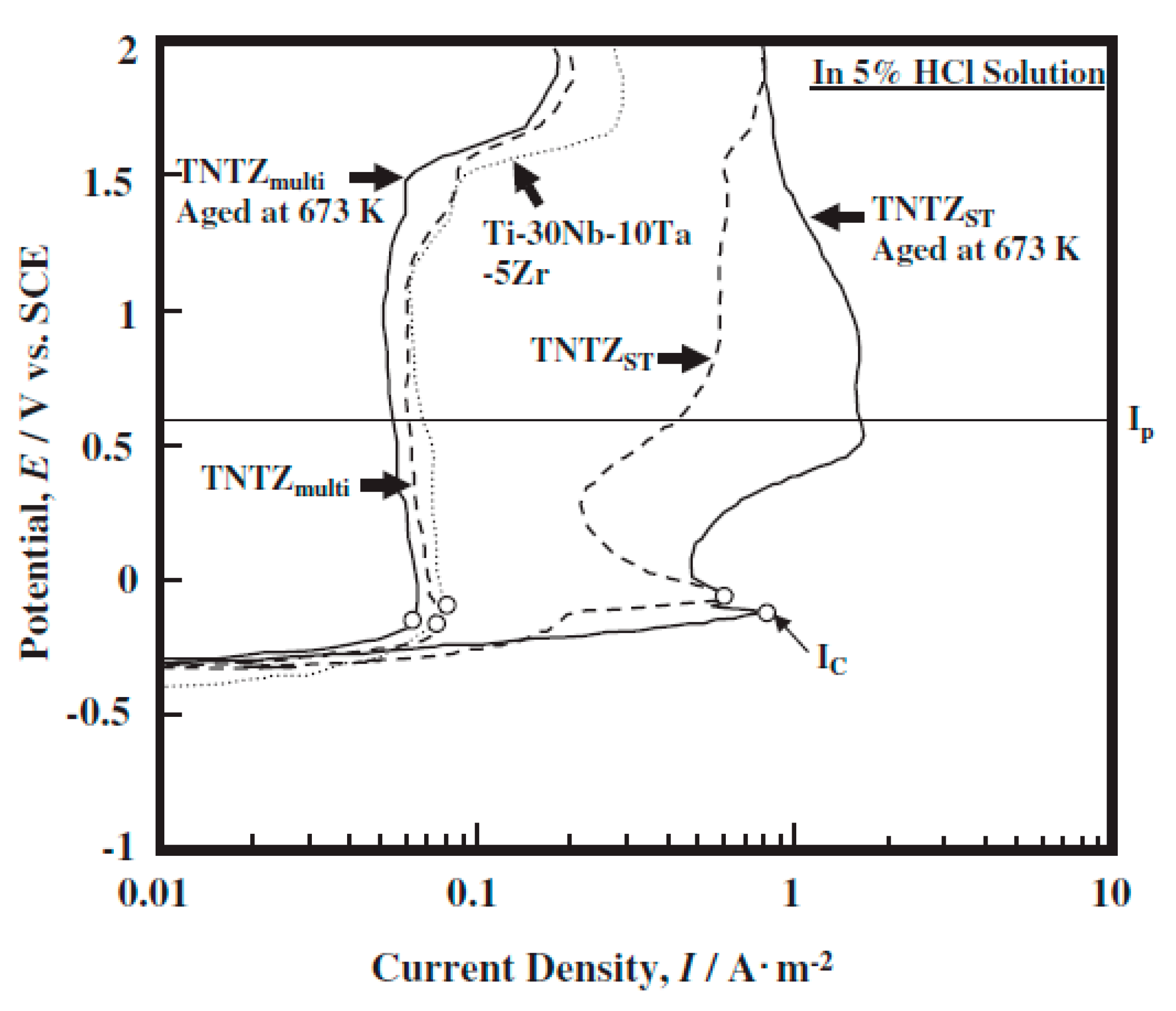 Figure 7.
Representative potentiodynamic polarization curves of titanium alloys in Hank's balanced salt solution (HBSS) [
69
].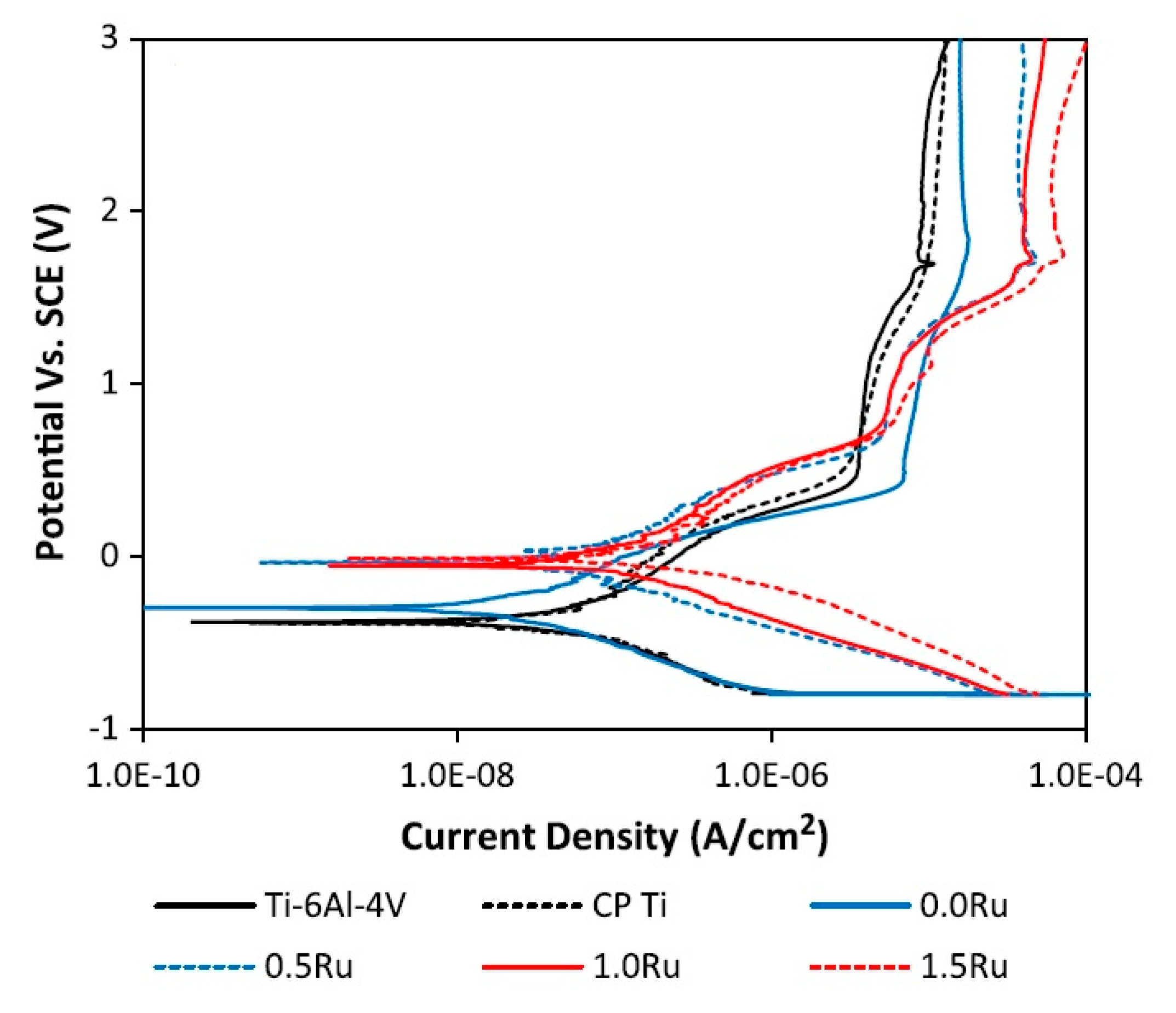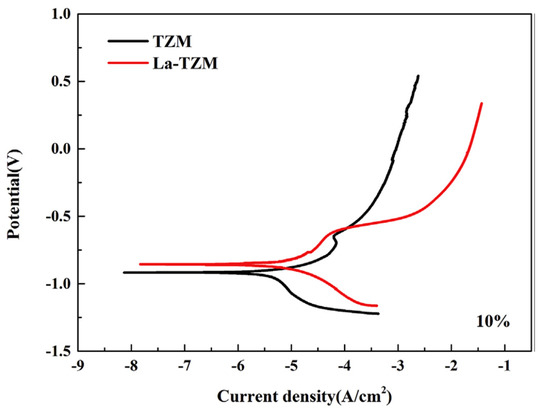 Figure 8.
Potentiodynamic polarization curves of TZM and La-TZM alloys [
98
].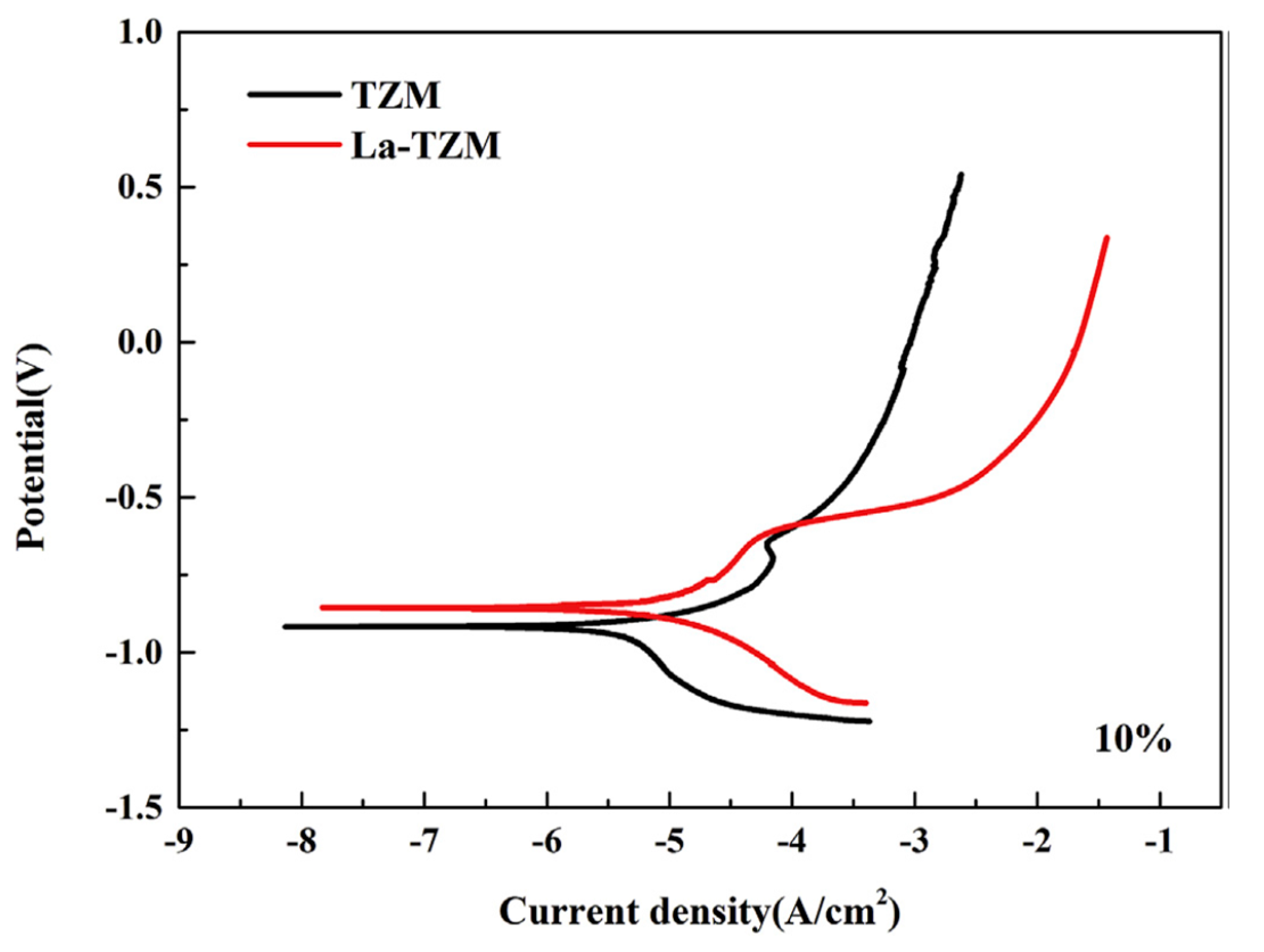 Table 1.
Corrosion current densities in different simulated body fluids for Ti-6Al-4V [
46
].
Solution
PBS (pH 7.2)
Hank's (pH 7.2)
Ringer's
pH 7.2
pH 5.5
pH 3.5
Corrosion Current Density (nA/Cm2)
31.31
24.8
38.13
58.5
76.45

© 2019 by the authors. Licensee MDPI, Basel, Switzerland. This article is an open access article distributed under the terms and conditions of the Creative Commons Attribution (CC BY) license (http://creativecommons.org/licenses/by/4.0/).