The Effect of Ultra-Fast Heating on the Microstructure, Grain Size and Texture Evolution of a Commercial Low-C, Medium-Mn DP Steel
1
Laboratory of Physical Metallurgy, Division of Metallurgy and Materials, School of Mining & Metallurgical Engineering, National Technical University of Athens, 9, Her. Polytechniou str., Zografos, 15780 Athens, Greece
2
Department of Electrical Energy, Metals, Mechanical Constructions & Systems, Ghent University, Technologiepark 46, 9052 Zwijnaarde, Belgium
3
Department of Metallurgical Engineering, Universidad de Santiago de Chile, Av. Lib. Bdo. O'Higgins 3363, Estación Central, Santiago 9170022, Chile
4
IMDEA Materials Institute, Eric Kandel, 2, Tecnogetafe, Getafe, 28906 Madrid, Spain
5
Department of Materials Science and Engineering, Delft University of Technology, Mekelweg 2, 2628CD Delft, The Netherlands
*
Author to whom correspondence should be addressed.
Received: 5 July 2019 / Revised: 26 July 2019 / Accepted: 7 August 2019 / Published: 9 August 2019
Abstract
The effect of ultra-fast heating on the microstructures of steel has been thoroughly studied over the last year as it imposes a suitable alternative for the production of ultra high strength steel grades. Rapid reheating followed by quenching leads to fine-grained mixed microstructures. This way the desirable strength/ductility ratio can be achieved while the use of costly alloying elements is significantly reduced. The current work focuses on the effect of ultra-fast heating on commercial dual phase grades for use in the automotive industry. Here, a cold-rolled, low-carbon, medium-manganese steel was treated with a rapid heating rate of 780 °C/s to an intercritical peak temperature (760 °C), followed by subsequent quenching. For comparison, a conventionally heated sample was studied with a heating rate of 10 °C/s. The initial microstructure of both sets of samples consisted of ferrite, pearlite and martensite. It is found that the very short heating time impedes the dissolution of cementite and leads to an interface-controlled α → γ transformation. The undissolved cementite affects the grain size of the parent austenite grains and of the microstructural constituents after quenching. The final microstructure consists of ferrite and martensite in a 4/1 ratio, undissolved cementite and traces of austenite while the presence of bainite is possible. Finally, it is shown that the texture is not strongly affected during ultra-fast heating, and the recovery and recrystallization of ferrite are taking place simultaneously with the α → γ transformation.
View Full-Text
►

▼

Figures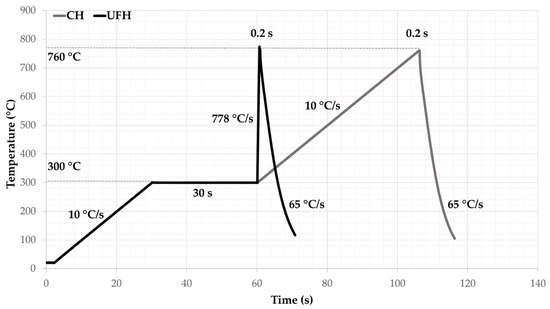 Figure 1
This is an open access article distributed under the
Creative Commons Attribution License
which permits unrestricted use, distribution, and reproduction in any medium, provided the original work is properly cited (CC BY 4.0).

Share & Cite This Article
MDPI and ACS Style
Banis, A.; Hernandez Duran, E.; Bliznuk, V.; Sabirov, I.; Petrov, R.H.; Papaefthymiou, S. The Effect of Ultra-Fast Heating on the Microstructure, Grain Size and Texture Evolution of a Commercial Low-C, Medium-Mn DP Steel. Metals 2019, 9, 877.
Note that from the first issue of 2016, MDPI journals use article numbers instead of page numbers. See further details here.
Related Articles
Comments
[Return to top]