Modeling and Simulation of the Gray-to-White Transition during Solidification of a Hypereutectic Gray Cast Iron: Application to a Stub-to-Carbon Connection Used in Smelting Processes
1
Departamento de Ingeniería Mecánica y Metalúrgica, Pontificia Universidad Católica de Chile, Av. Vicuña Mackenna 4860, Macul, Santiago 7820436, Chile
2
Research Center for Nanotechnology and Advanced Materials (CIEN-UC), Pontificia Universidad Católica de Chile, Av. Vicuña Mackenna 4860, Macul, Santiago 7820436, Chile
3
Commonwealth Scientific and Industrial Research Organization (CSIRO), Melbourne, Victoria 3169, Australia
*
Author to whom correspondence should be addressed.
Received: 22 September 2017 / Revised: 25 November 2017 / Accepted: 1 December 2017 / Published: 7 December 2017
Abstract
This work reports on experimental and numerical results of the gray-to-white transition (GWT) during solidification of a hypereutectic gray cast iron (GCI) in a casting test using a stub-to-carbon (STC) connection assembly. Since in this process non-uniform cooling rates are produced, the mechanical properties are expected to spatially vary due to the development of different microstructures along the thimble. The twin aims of this work were to (1) experimentally validate the GWT prediction capabilities of the microstructural model proposed earlier by the authors in the rodding process of a hypereutectic GCI-STC, and (2) estimate, from the numerically obtained microstructure and ultimate tensile strength (UTS), the local hardness of the alloy after the numerical predictions of the microstructure were experimentally validated. To this end, the final microstructure at different points of the thimble and the hardness profile along its radial direction were measured for validation purposes. Moreover, this rodding process was simulated using an extension of a thermal microstructural model previously developed by the authors and the GWT was superimposed on that simulation. The computed results encompass cooling curves, the evolution of gray and white fractions, eutectic radii and densities and, in addition, the hardness profile. A detailed discussion of the experimental and numerical results is presented. Finally, the computed GWT was found to adequately reproduce the experimental data.
View Full-Text
►

▼

Figures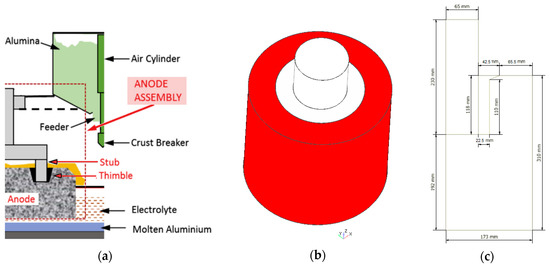 Figure 1
This is an open access article distributed under the
Creative Commons Attribution License
which permits unrestricted use, distribution, and reproduction in any medium, provided the original work is properly cited (CC BY 4.0).

Share & Cite This Article
MDPI and ACS Style
Urrutia, A.; Celentano, D.J.; Gunasegaram, D.R. Modeling and Simulation of the Gray-to-White Transition during Solidification of a Hypereutectic Gray Cast Iron: Application to a Stub-to-Carbon Connection Used in Smelting Processes. Metals 2017, 7, 549.
Note that from the first issue of 2016, MDPI journals use article numbers instead of page numbers. See further details here.
Related Articles
Comments
[Return to top]