Tsikourasite, Mo3Ni2P1+

x

(
x

< 0.25), a New Phosphide from the Chromitite of the Othrys Ophiolite, Greece

1

Department of Applied Geological Sciences and Geophysics, University of Leoben, A-8700 Leoben, Austria

2

Dipartimento di Scienze della Terra, Università degli Studi di Firenze, I-50121 Florence, Italy

3

Department of Geology, Section of Earth Materials, University of Patras, 265 00 Patras, Greece

4

Faculty of Science, Physical and Geological Sciences, Universiti Brunei Darussalam, Gadong BE 1410, Brunei Darussalam

5

SGS Canada Inc., 185 Concession Street, PO 4300, Lakefield, ON K0L 2H0, Canada

6

Department of Earth Sciences, Natural History Museum, London SW7 5BD, UK

7

Dipartimento di Scienze della Terra, Università degli Studi di Pisa, I-56126 Pisa, Italy

*

Author to whom correspondence should be addressed.

Received: 13 April 2019 / Revised: 21 April 2019 / Accepted: 23 April 2019 / Published: 24 April 2019
Abstract
Tsikourasite, Mo
3
Ni
2
P
1+

x
(
x
< 0.25), is a new phosphide discovered in a mantle-hosted podiform chromitite collected in the abandoned mine of Agios Stefanos (Othrys ophiolite), Central Greece. It forms tiny grains (from a few μm up to about 80 μm) and occurs as isolated grains or associated with other known minerals such as nickelphosphide and awaruite, and with undetermined minerals such as Ni-allabogdanite or Ni-barringerite and a V-sulphide. Tsikourasite is brittle and has a metallic luster. In plane-polarized light, tsikourasite is white yellow and it shows no bireflectance, anisotropism or pleochroism. Internal reflections were not observed, Reflectance values of tsikourasite in air (
R
in %) are: 55.7 at 470 nm, 56.8 at 546 nm, 57.5 at 589 nm and 58.5 at 650 nm. Five spot analyses of tsikourasite give the average composition: P 7.97, S 0.67, V 14.13, Fe 14.37, Co 7.59, Ni 23.9, and Mo 44.16, total 99.60 wt.%, corresponding to the empirical formula (Mo
1.778
V
1.071
Fe
0.082
Co
0.069
)
Σ3.000
(Ni
1.572
Co
0.428
)
Σ2.000
(P
0.981
S
0.079
)
Σ1.060
, on the basis of Σ(Mo +V + Fe + Co + Ni) = 5 apfu and taking into account the structural results. The simplified formula is Mo
3
Ni
2
P
1+

x
(
x
< 0.25). The density, which was calculated based on the empirical formula and single-crystal data, is 9.182 g/cm
3
. The mineral is cubic, space group F-43m, with
a
= 10.8215(5) Å and
Z
= 16. Although tsikourasite is similar in composition to those of monipite (MoNiP), polekhovskyite (MoNiP
2
), and the synthetic compound MoNiP
2
, all these phases are hexagonal and not cubic like tsikourasite. It exhibits the same structure as the cubic Mo
3
Ni
2
P
1.18
compound [space group F-43m, a = 10.846(2) Å] synthesized at 1350 °C. The mineral and its name have been approved by the Commission of New Minerals, Nomenclature and Classification of the International Mineralogical Association (No. 2018-156). The mineral honors Professor Basilios Tsikouras of the Universiti Brunei Darussalam.
View Full-Text
►

▼

Figures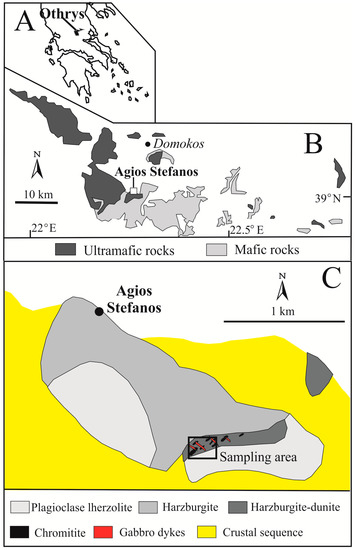 Figure 1
This is an open access article distributed under the
Creative Commons Attribution License
which permits unrestricted use, distribution, and reproduction in any medium, provided the original work is properly cited (CC BY 4.0).

Share & Cite This Article
MDPI and ACS Style
Zaccarini, F.; Bindi, L.; Ifandi, E.; Grammatikopoulos, T.; Stanley, C.; Garuti, G.; Mauro, D. Tsikourasite, Mo3Ni2P1+x (x < 0.25), a New Phosphide from the Chromitite of the Othrys Ophiolite, Greece. Minerals 2019, 9, 248.
Note that from the first issue of 2016, MDPI journals use article numbers instead of page numbers. See further details here.
Related Articles
Comments
[Return to top]