Geochronological and Geochemical Constraints on the Formation of the Giant Zaozigou Au-Sb Deposit, West Qinling, China
1
State Key Laboratory of Geological Processes and Mineral Resources, China University of Geosciences, Beijing 100083, China
2
Key Laboratory of Mineralogy and Metallogeny, Guangzhou Institute of Geochemistry, Chinese Academy of Sciences, Guangzhou 510640, China
3
Department of Geology and Geological Engineering, Colorado School of Mines, Golden, CO 80401, USA
4
Zhaojin Mining Industry CO., LTD., Zhaoyuan 265400, China
5
Earthquake Monitoring Center, Sichuan Earthquake Administration, Chengdu 610041, China
*
Author to whom correspondence should be addressed.
Received: 8 December 2018 / Revised: 26 December 2018 / Accepted: 2 January 2019 / Published: 11 January 2019
Abstract
The Zaozigou Au-Sb deposit has been controversial in its genesis and remains one of the most difficult ore systems to fully understand in West Qinling. The mineralization shows a broad spatial association with Triassic dikes and sills, which were previously thought to be genetically related to mineralization. Our U-Pb zircon dating in this contribution indicates that the ore-hosting porphyritic dacites were formed at 246.1 ± 5.2 Ma and 248.1 ± 3.8 Ma. The magmatic zircons yield ε
Hf
(t) values ranging from −12.5 to −8.9, with corresponding two-stage model ages of 2.08 to 1.83 Ga. The magma therefore could be derived from partial melting of Paleoproterozoic crustal materials. The ore-hosting porphyritic dacites have low oxygen fugacity, with ΔFMQ ranging from −4.61 to −2.56, indicating that magmas could have been sulfide-saturated during evolution in deep chambers and precluding the possibility that metals were released from the melt. Zaozigou exhibits characteristics widespread volcanics, massive sulfide mineralization, rare reduced mineral assemblage and discrete alteration zones which are not typical of reduced intrusion-related or porphyry gold systems. We propose that the spatially-related Triassic porphyritic dacite and dike swarm is not genetically related to the ore formation of Zaozigou Au-Sb deposit.
View Full-Text
►

▼

Figures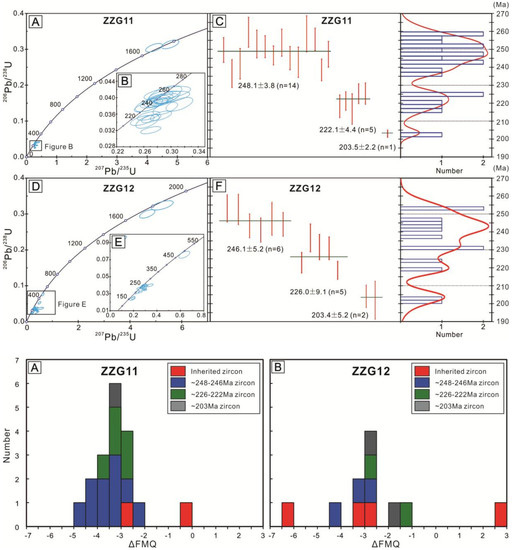 Graphical abstract
This is an open access article distributed under the
Creative Commons Attribution License
which permits unrestricted use, distribution, and reproduction in any medium, provided the original work is properly cited (CC BY 4.0).

Share & Cite This Article
MDPI and ACS Style
Yu, H.-C.; Guo, C.-A.; Qiu, K.-F.; McIntire, D.; Jiang, G.-P.; Gou, Z.-Y.; Geng, J.-Z.; Pang, Y.; Zhu, R.; Li, N.-B. Geochronological and Geochemical Constraints on the Formation of the Giant Zaozigou Au-Sb Deposit, West Qinling, China. Minerals 2019, 9, 37.
Note that from the first issue of 2016, MDPI journals use article numbers instead of page numbers. See further details here.
Related Articles
Comments
[Return to top]