Tsygankoite, Mn8Tl8Hg2(Sb21Pb2Tl)Σ24S48, a New Sulfosalt from the Vorontsovskoe Gold Deposit, Northern Urals, Russia
1
Fersman Mineralogical Museum of Russian Academy of Sciences, Leninsky Prospekt 18-2, Moscow 119071, Russia
2
Department of Geoscience and Resource Management, University of Copenhagen, Østervoldgade 10, DK-1350 Copenhagen, Denmark
3
Institute of Physics ASCR, v.v.i., Na Slovance 1999/2, Praha 18221, Czech Republic
4
Department of Geological Sciences, Faculty of Science, Masaryk University, Kotlářská 2, Brno 61137, Czech Republic
5
Dipartimento di Geoscienze, Università di Padova, Via Gradenigo 6, Padova I-35131, Italy
*
Author to whom correspondence should be addressed.
Received: 2 May 2018 / Revised: 18 May 2018 / Accepted: 19 May 2018 / Published: 21 May 2018
Abstract
Tsygankoite, ideally Mn
8
Tl
8
Hg
2
(Sb
21
Pb
2
Tl)
Σ24
S
48
, is a new sulfosalt discovered at the Vorontsovskoe gold deposit, Northern Urals, Russia. It occurs as lath-like elongated crystals up to 0.2 mm embedded in calcite–dolomite–clinochlore matrix. The associated minerals also include aktashite, alabandite, arsenopyrite, barite, cinnabar, fluorapatite, orpiment, pyrite, realgar, routhierite, sphalerite, tilasite, and titanite. The new mineral is non-fluorescent, black, and opaque with a metallic lustre and black streak. It is brittle with an uneven fracture and no obvious parting and cleavage. Its Vickers hardness (VHN
10
) is 144 kg/mm
2
(range 131–167 kg/mm
2
) and its calculated density is 5.450 g cm. In reflected light, tsygankoite is white; between crossed polars it is dark grey to black. It is strongly anisotropic: rotation tints vary from light grey to dark grey to black. Pleochroism and internal reflections are not observed. The chemical composition of tsygankoite (wt %, electron-microprobe data) is: Mn 6.29, Hg 5.42, Tl 26.05, Pb 5.84, As 3.39, Sb 30.89, S 21.87, total 99.75. The empirical formula, calculated on the basis of 90 atoms
pfu
, is: Mn
8.06
Tl
8.00
Hg
1.90
(Sb
17.87
As
3.19
Pb
1.99
Tl
0.97
)
Σ24.02
S
48.03
. Tsygankoite is monoclinic, space group
C
2/
m
,
a
= 21.362(4) Å,
b
= 3.8579(10) Å,
c
= 27.135(4) Å, β = 106.944(14)°,
V
= 2139.19(17) Å
3
and
Z
= 1. The five strongest diffraction peaks from X-ray powder pattern (listed as (
d
,Å(
I
)(
hkl
)) are: 3.587(100)(112), 3.353(70)(−114), 3.204(88)(405), 2.841(72)(−513), and 2.786(99)(−514). The crystal structure of tsygankoite was refined from single-crystal X-ray diffraction data to
R
= 0.0607 and consists of an alternation of two thick layer-like arrays, one based on PbS-archetype and the second on SnS-archetype. Tsygankoite has been approved by the IMA-CNMNC under the number 2017-088. It is named for Mikhail V. Tsyganko, a mineral collector from Severouralsk, Northern Urals, Russia, who collected the samples where the new mineral was discovered.
View Full-Text
►

▼

Figures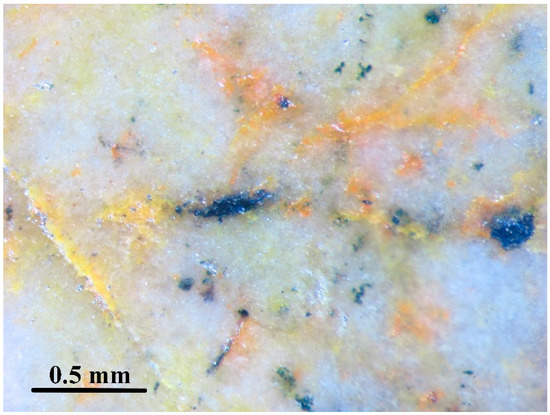 Figure 1
This is an open access article distributed under the
Creative Commons Attribution License
which permits unrestricted use, distribution, and reproduction in any medium, provided the original work is properly cited (CC BY 4.0).

Share & Cite This Article
MDPI and ACS Style
Kasatkin, A.V.; Makovicky, E.; Plášil, J.; Škoda, R.; Agakhanov, A.A.; Karpenko, V.Y.; Nestola, F. Tsygankoite, Mn8Tl8Hg2(Sb21Pb2Tl)Σ24S48, a New Sulfosalt from the Vorontsovskoe Gold Deposit, Northern Urals, Russia. Minerals 2018, 8, 218.
Note that from the first issue of 2016, MDPI journals use article numbers instead of page numbers. See further details here.
Related Articles
Comments
[Return to top]