Preparation of Mullite-Silica Composites Using Silica-Rich Monophasic Precursor Obtained as a Byproduct of Mineral Carbonation of Blast-Furnace Slag
Korea Institute of Geoscience & Mineral Resources (KIGAM), Gwahang-no 124, Yuseong-gu, Daejeon 34132, Korea
*
Author to whom correspondence should be addressed.
Received: 25 April 2018 / Revised: 19 May 2018 / Accepted: 20 May 2018 / Published: 22 May 2018
Abstract
Previously, mineral carbonation of blast-furnace slag was carried out to sequestrate CO
2
and attain pure CaCO
3
crystals. In this process, amorphous silica-alumina nanoparticles were obtained as a byproduct. In this study, the crystallization of these nanoparticles on calcination at various temperatures in air was examined using TGA-DTA, XRD, MAS-NMR spectroscopy, and FT-IR spectroscopy. The precursor nanoparticles (Si:Al = 78:22 mol %) were prepared using the solution extracted from blast-furnace slag (BFS) with acetic acid at room temperature. The XRD analysis showed that the initial amorphous state was retained up to 800 °C, and decomposition to amorphous silica and mullite started after calcination at 950 °C. At temperatures between 1150 °C and 1250 °C, amorphous silica crystalized to cristobalite, which eventually melted to glassy silica at 1500 °C. The mullite crystals initially adopted a metastable tetragonal phase and transformed to a stable, needle-like orthorhombic phase at higher temperatures.
27
Al MAS-NMR spectroscopy revealed that octahedrally coordinated Al was favored up to a temperature of 800 °C as a result of the dehydration process and transformed into tetrahedrally coordinated Al at higher temperatures. A microstructural examination revealed that the initially randomly-oriented mullite developed into stable, needle-like grains owing to anisotropic grain growth in the presence of a glass phase at high temperatures. This study suggests that the recycling of BFS can be exploited for the procurement of a mullite-type ceramic material.
View Full-Text
►

▼

Figures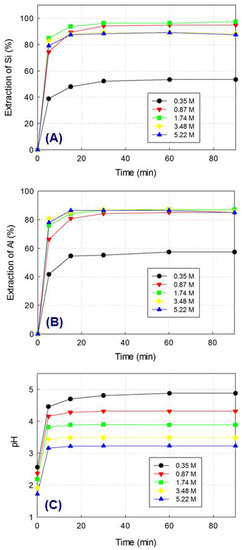 Figure 1
This is an open access article distributed under the
Creative Commons Attribution License
which permits unrestricted use, distribution, and reproduction in any medium, provided the original work is properly cited (CC BY 4.0).

Share & Cite This Article
MDPI and ACS Style
Song, K.; Kim, W.; Suh, C.-Y.; Bang, J.-H.; Ahn, J.-W. Preparation of Mullite-Silica Composites Using Silica-Rich Monophasic Precursor Obtained as a Byproduct of Mineral Carbonation of Blast-Furnace Slag. Minerals 2018, 8, 219.
Note that from the first issue of 2016, MDPI journals use article numbers instead of page numbers. See further details here.
Related Articles
Comments
[Return to top]