An Alternative Scenario on the Origin of Ultra-High Pressure (UHP) and Super-Reduced (SuR) Minerals in Ophiolitic Chromitites: A Case Study from the Mercedita Deposit (Eastern Cuba)
1
Departament de Mineralogia, Petrologia i Geologia Aplicada, Facultat de Ciències de la Terra, Universitat de Barcelona, Martí i Franquès s/n, 08028 Barcelona, Spain
2
Departamento de Mineralogía y Petrología, Facultad de Ciencias de la Tierra, Universidad de Granada, Avda. Fuentenueva, s/n, 18071 Granada, Spain
3
Instituto Andaluz de Ciencias de la Tierra (CSIC-UGR), Avda. de las Palmeras 4, 18100 Armilla, Granada, Spain
4
Centro de Instrumentación Científica, Universidad de Granada, Campus Universitario de Fuentenueva, Paseo Prof. Juan Ossorio, s/n, 18003 Granada, Spain
*
Author to whom correspondence should be addressed.
Received: 31 July 2018 / Revised: 26 September 2018 / Accepted: 27 September 2018 / Published: 1 October 2018
Abstract
The origin of the assemblage of ultra-high pressure (UHP), super-reduced (SuR) and several crustally derived phases in ophiolitic chromitites is still hotly debated. In this paper, we report, for the first time, this assemblage of phases in ophiolitic chromitites of the Caribbean. We studied the Mercedita chromitite deposit in the eastern Cuban ophiolitic complexes. The mineral phases were characterized using microRaman spectroscopy, energy-dispersive spectroscopy with a scanning electron microscope (SEM-EDS), X-ray microdiffraction and electron microprobe analyses. Mineral concentrates were prepared using hydroseparation techniques. We have identified oriented clinopyroxene lamellae in chromite, oriented rutile lamellae in chromite, moissanite hosted in the altered matrix of the chromitite, graphite-like amorphous carbon, corundum and SiO
2
hosted in healed fractures in chromite grains, and native Cu and Fe–Mn alloy recovered in heavy-mineral concentrates obtained by hydroseparation. This assemblage may correspond to UHP-SuR conditions, implying recycling of chromitite in the mantle or formation of the chromite grains at deep mantle depths, followed by emplacement at a shallow level in the mantle. However, the chromitite bodies contain gabbro sills oriented parallel to the elongation of the chromitite lenses, and these show no evidence of HP/UHP metamorphism. Therefore, the identified "exotic" phases may not be indicative of UHP. They formed independently as oriented clinopyroxene lamellae in chromite during cooling (clinopyroxene and rutile), in super-reduced microenvironments during the serpentinization processes, and by transference of subducted crustal material to the mantle wedge via cold plumes.
View Full-Text
►

▼

Figures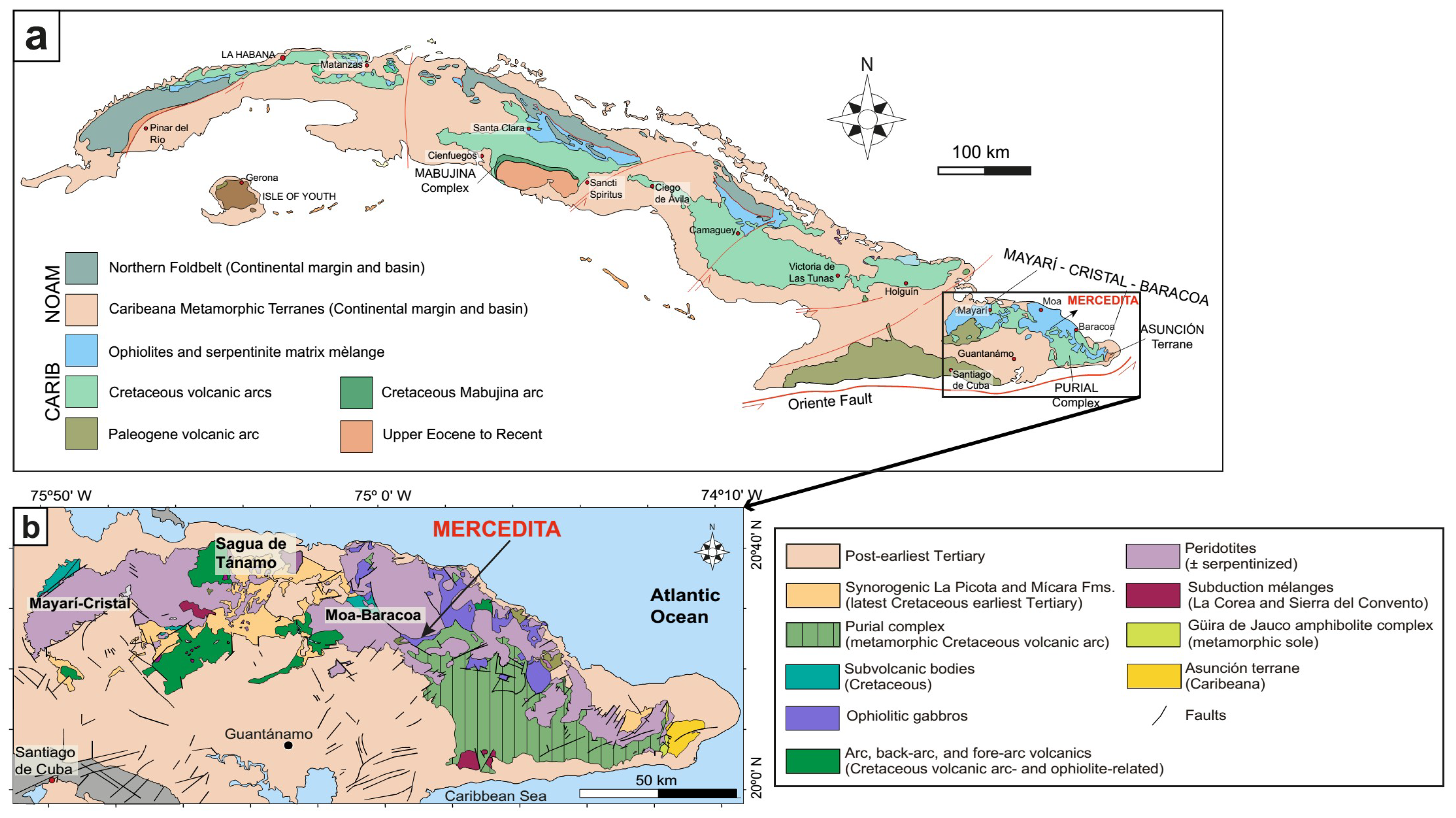 Figure 1
This is an open access article distributed under the
Creative Commons Attribution License
which permits unrestricted use, distribution, and reproduction in any medium, provided the original work is properly cited (CC BY 4.0).

Share & Cite This Article
MDPI and ACS Style
Pujol-Solà, N.; Proenza, J.A.; Garcia-Casco, A.; González-Jiménez, J.M.; Andreazini, A.; Melgarejo, J.C.; Gervilla, F. An Alternative Scenario on the Origin of Ultra-High Pressure (UHP) and Super-Reduced (SuR) Minerals in Ophiolitic Chromitites: A Case Study from the Mercedita Deposit (Eastern Cuba). Minerals 2018, 8, 433.
Note that from the first issue of 2016, MDPI journals use article numbers instead of page numbers. See further details here.
Related Articles
Comments
[Return to top]