A Review of the Carbon Footprint of Cu and Zn Production from Primary and Secondary Sources
1
Research Institutes of Sweden, Division of Bioscience and Materials, Agrifood and Bioscience, Ideon, SE-22370 Lund, Sweden
2
Fundación Corporación Tecnológica de Andalucía (CTA), C/Albert Einstein, Edif. Insur, 4th Floor, 41092 Seville, Spain
3
Departamento de Ingeniería Química y Ambiental, Escuela Superior de Ingeniería, Universidad de Sevilla, Camino de los Descubrimientos S/N, 41092 Seville, Spain
4
ARCHE Consulting, Liefkensstraat 35D, BE-9032 Ghent, Belgium
5
Research Institutes of Sweden, Division of Build Environment, Energy and Circular Economy, Ideon, SE-22370 Lund, Sweden
6
School Mineral Resources Engineering, Technical University Crete, GR-73100 Chania, Greece
*
Author to whom correspondence should be addressed.
Received: 13 July 2017 / Revised: 2 September 2017 / Accepted: 9 September 2017 / Published: 13 September 2017
Abstract
Copper (Cu) and zinc (Zn) with their unique properties are central for economic growth, quality of life, and the creation of new jobs. The base-metal producing sector is, however, under growing public pressure in respect to energy and water requirements and needs to meet several challenges, including increased demand and lower ore grades, which are generally associated with larger resource use. The development of technologies for metal production from secondary sources is often motivated by increased sustainability, and this paper aims to provide further insights about one specific aspect of sustainability—namely, climate change. The paper presents a review of carbon footprints (CF) for Cu and Zn produced from primary and secondary raw materials by analyzing data taken from scientific literature and the Ecoinvent database. Comparisons are carried out based on the source of data selected as a reference case. The data available in the literature indicate that secondary production of Cu and Zn has the potential to be more beneficial compared to primary production regarding the impact on climate change. However, the technologies used today for the production of both metals from secondary sources are still immature, and more research on this topic is needed. The general variation of data suggests that the standardization of a comparison is needed when assessing the environmental benefits of production in line with the principles of waste valorization, the zero waste approach, and circular economy.
View Full-Text
►

▼

Figures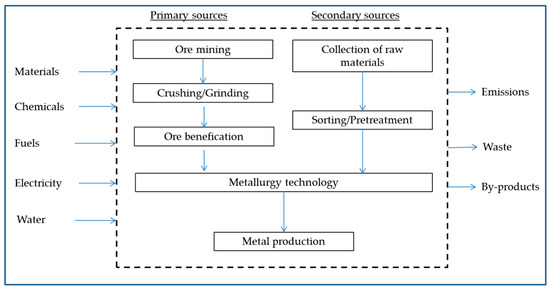 Figure 1
This is an open access article distributed under the
Creative Commons Attribution License
which permits unrestricted use, distribution, and reproduction in any medium, provided the original work is properly cited (CC BY 4.0).

Share & Cite This Article
MDPI and ACS Style
Ekman Nilsson, A.; Macias Aragonés, M.; Arroyo Torralvo, F.; Dunon, V.; Angel, H.; Komnitsas, K.; Willquist, K. A Review of the Carbon Footprint of Cu and Zn Production from Primary and Secondary Sources. Minerals 2017, 7, 168.
Note that from the first issue of 2016, MDPI journals use article numbers instead of page numbers. See further details here.
Related Articles
Comments
[Return to top]