Muscovite 40Ar/39Ar Age and H-O-S Isotopes of the Shimensi Tungsten Deposit (Northern Jiangxi Province, South China) and Their Metallogenic Implications
1
Institute of Earth Sciences, Chengdu University of Technology, Chengdu 610059, China
2
State Key Laboratory of Ore Deposit Geochemistry, Institute of Geochemistry, Chinese Academy of Sciences, Guiyang 550081, China
3
School of Earth Sciences, East China University of Technology, Nanchang 330013, China
4
No. 916 Geological Party, Jiangxi Bureau of Geology & Mineral Exploration, Jiujiang 332100, China
*
Author to whom correspondence should be addressed.
Received: 19 July 2017 / Revised: 31 August 2017 / Accepted: 31 August 2017 / Published: 11 September 2017
Abstract
The Shimensi deposit (Northern Jiangxi, South China) is a recently discovered super-large tungsten deposit. Muscovite
40
Ar/
39
Ar dating yielded a plateau age of 145.7 ± 0.9 Ma, with normal and inverse isochronal ages being 145.4 ± 1.4 Ma and 145.3 ± 1.4 Ma, respectively. The muscovite
40
Ar/
39
Ar age, which can represent the mineralization age, coincides well with the published zircon U–Pb ages (143–148 Ma) of the ore-hosting granites, which indicates that the tungsten mineralization was syn-magmatic. The new age reported here confirms that the Shimensi tungsten deposit is part of a large Early Cretaceous (147–136 Ma) tungsten-polymetallic belt in South China. Measured and calculated sulfur isotopic compositions (δ
34
S
minerals
= −3.0‰ to 1.1‰, average −1.3‰;
= −4.5‰ to +1.2‰, average −1.8‰) of the Shimensi ore-forming fluids indicate that the sulfur was mainly magmatic-derived. The calculated and measured oxygen and hydrogen isotopic compositions (
= 4.1‰ to 6.7‰, δD = −62.7‰ to −68‰) of the ore-forming fluids indicate a dominantly magmatic source with a meteoric water input. Oxygen isotopic modelling of the boiling/mixing processes indicates that the Shimensi tungsten mineralization was caused mainly by fluid mixing of magmatic hydrothermal fluid with meteoric water.
View Full-Text
►

▼

Figures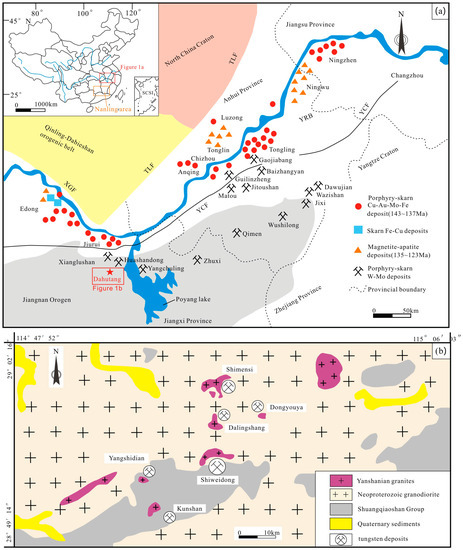 Figure 1
This is an open access article distributed under the
Creative Commons Attribution License
which permits unrestricted use, distribution, and reproduction in any medium, provided the original work is properly cited (CC BY 4.0).

Share & Cite This Article
MDPI and ACS Style
Wei, W.-F.; Yan, B.; Shen, N.-P.; Liu, L.; Zhang, Y.; Xiang, X.-K. Muscovite 40Ar/39Ar Age and H-O-S Isotopes of the Shimensi Tungsten Deposit (Northern Jiangxi Province, South China) and Their Metallogenic Implications. Minerals 2017, 7, 162.
Note that from the first issue of 2016, MDPI journals use article numbers instead of page numbers. See further details here.
Related Articles
Comments
[Return to top]