Symmetry in Recognition of Supramolecular Synthons–Competition between Hydrogen Bonding and Coordination Bond in Multinuclear CuII–4
f

Complexes with Bicompartmental Schiff Base Ligand

1

Department of Crystallography, Faculty of Chemistry, Maria Curie-Sklodowska University, Maria Curie-Sklodowska sq. 3, 20-031 Lublin, Poland

2

Department of General and Coordination Chemistry, Faculty of Chemistry, Maria Curie-Sklodowska University, Maria Curie-Sklodowska sq. 2, 20-031 Lublin, Poland

*

Author to whom correspondence should be addressed.

Received: 9 March 2019 / Revised: 27 March 2019 / Accepted: 27 March 2019 / Published: 2 April 2019
Abstract
Classic Cu–O coordination bonds in
1
or elongated semi-coordination ones in
2
and
3
were applied to construct Cu
II
–4
f
complexes composed of trinuclear subunits linked through
μ
-NO
3
−
ions with formulae given as [Cu
2
Tm(H
2
tehy)
2
]
2
(NO
3
)
6
·H
2
O, (
1
), {[Cu
2
Ho(H
2
tehy)
2
(NO
3
)
2
][Cu
2
Ho(H
2
tehy)
2
(H
2
O)
2
]}(NO
3
)
4
·2H
2
O, (
2
), and {[Cu
2
Er(H
2
tehy)
2
(H
2
O)]
2
([Cu
2
Er(H
2
tehy)
2
(NO
3
)]
2
}(NO
3
)
10
·2H
2
O·4CH
3
OH, (
3
), where
H2tehy
= C
19
H
20
N
2
O
4
is a tetrahydroxy Schiff base ligand. Topological analysis showed that the same characteristic motif of coordination accompanied by hydrogen bonds involving the uncoordinated nitrate oxygen atom and ligand's phenoxy O atoms is responsible for linking trinuclear subunits into a hexanuclear one as well as for bridging the hexanuclear coordination units in
3
into a 1D supramolecular polymer, with the Cu–O distance being 3.19(1) Å, much longer than the limit of a semi-coordination bond (3.07 Å). The Cambridge Structural Database was used to discuss issues of crystallographic criteria (distance and angular preferences) for the assessment of the stabilizing or destabilizing effect of hydrogen bonding on coordination. The presented results show that the symmetrically repeated arrangement of molecules may provide a useful tool for identifying higher order non-covalently bonded supramolecular aggregates. The complexes
1
–
3
have been characterized by X-ray diffraction, FTIR, and thermal analysis. The magnetic studies indicated the ferromagnetic interaction between Cu
II
and Ho
III
ions.
View Full-Text
►

▼

Figures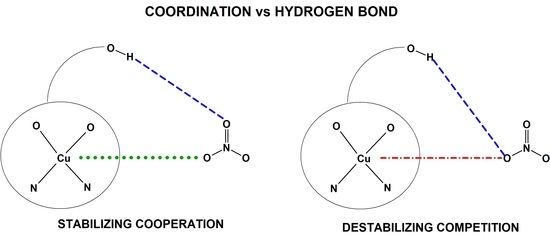 Graphical abstract
This is an open access article distributed under the
Creative Commons Attribution License
which permits unrestricted use, distribution, and reproduction in any medium, provided the original work is properly cited (CC BY 4.0).

Share & Cite This Article
MDPI and ACS Style
Miroslaw, B.; Osypiuk, D.; Cristóvão, B.; Głuchowska, H. Symmetry in Recognition of Supramolecular Synthons–Competition between Hydrogen Bonding and Coordination Bond in Multinuclear CuII–4f Complexes with Bicompartmental Schiff Base Ligand. Symmetry 2019, 11, 460.
Note that from the first issue of 2016, MDPI journals use article numbers instead of page numbers. See further details here.
Related Articles
Comments
[Return to top]