The Buffer Capacity of Riparian Vegetation to Control Water Quality in Anthropogenic Catchments from a Legally Protected Area: A Critical View over the Brazilian New Forest Code
1
Coordenadoria Regional das Promotorias de Justiça do Meio Ambiente das Bacias dos Rios Paranaíba e Baixo Rio Grande, Rua Coronel Antônio Rios, 951, Uberaba MG 38061-150, Brazil
2
Universidade Estadual Paulista, Faculdade de Ciências Agrárias e Veterinárias, Via de Acesso Prof. Paulo Donato Castellane, s/n, Jaboticabal SP 14884-900, Brazil
3
POLUS—Grupo de Política de Uso do Solo, Universidade Estadual Paulista (UNESP), Via de Acesso Prof. Paulo Donato Castellane, s/n, Jaboticabal SP 14884-900, Brazil
4
Instituto Federal do Triângulo Mineiro, Campus Uberaba, Laboratório de Geoprocessamento, Uberaba MG 38064-790, Brazil
5
Centro de Investigação e Tecnologias Agroambientais e Biológicas, Universidade de Trás-os-Montes e Alto Douro, Ap. 1013, 5001-801 Vila Real, Portugal
6
Centro de Química de Vila Real, Universidade de Trás-os-Montes e Alto Douro, Ap. 1013, 5001-801 Vila Real, Portugal
*
Author to whom correspondence should be addressed.
Received: 10 February 2019 / Revised: 10 March 2019 / Accepted: 12 March 2019 / Published: 16 March 2019
Abstract
The riparian buffer width on watersheds has been modified over the last decades. The human settlements heavily used and have significantly altered those areas, for farming, urbanization, recreation and other functions. In order to protect freshwater ecosystems, riparian areas have recently assumed world recognition and considered valuable areas for the conservation of nature and biodiversity, protected by forest laws and policies as permanent preservation areas. The objective of this work was to compare parameters from riparian areas related to a natural watercourse less than 10 m wide, for specific purposes in Law No. 4761/65, now revoked and replaced by Law No. 12651/12, known as the New Forest Code. The effects of 15, 30 and 50 m wide riparian forest in water and soil of three headwater catchments used for sugar cane production were analyzed. The catchments are located in the Environmental Protection Area of Uberaba River Basin (state of Minas Gerais, Brazil), legally protected for conservation of water resources and native vegetation. A field survey was carried out in the catchments for verification of land uses, while periodical campaigns were conducted for monthly water sampling and seasonal soil sampling within the studied riparian buffers. The physico-chemical parameters of water were handled by ANOVA (Tukey's mean test) for recognition of differences among catchments, while thematic maps were elaborated in a geographic information system for illustration purposes. The results suggested that the 10, 30 or even 50 m wide riparian buffers are not able to fulfill the environmental function of preserving water resources, and therefore are incapable to ensure the well-being of human populations. Therefore, the limits imposed by the actual Brazilian Forest Code should be enlarged substantially.
View Full-Text
►

▼

Figures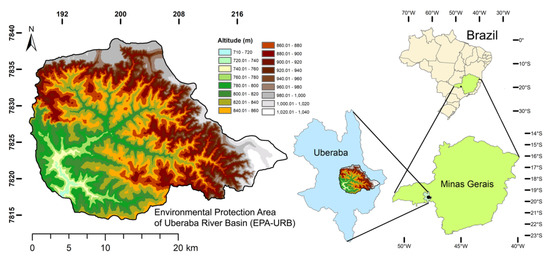 Figure 1
This is an open access article distributed under the
Creative Commons Attribution License
which permits unrestricted use, distribution, and reproduction in any medium, provided the original work is properly cited (CC BY 4.0).

Share & Cite This Article
MDPI and ACS Style
Valera, C.A.; Pissarra, T.C.T.; Filho, M.V.M.; Valle Júnior, R.F.; Oliveira, C.F.; Moura, J.P.; Sanches Fernandes, L.F.; Pacheco, F.A.L. The Buffer Capacity of Riparian Vegetation to Control Water Quality in Anthropogenic Catchments from a Legally Protected Area: A Critical View over the Brazilian New Forest Code. Water 2019, 11, 549.
Note that from the first issue of 2016, MDPI journals use article numbers instead of page numbers. See further details here.
Related Articles
Comments
[Return to top]