High Prevalence of Quorum-Sensing and Quorum-Quenching Activity among Cultivable Bacteria and Metagenomic Sequences in the Mediterranean Sea
1
Departamento de Microbioloxía e Parasitoloxía, Facultade de Bioloxía-CIBUS, Universidade de Santiago de Compostela, Santiago de Compostela 15782, Spain
2
Evolutionary Genomics Group, División de Microbiología, Universidad Miguel Hernández, San Juan de Alicante 03202, Spain
*
Author to whom correspondence should be addressed.
Received: 12 December 2017 / Revised: 8 February 2018 / Accepted: 12 February 2018 / Published: 16 February 2018
Abstract
There is increasing evidence being accumulated regarding the importance of
N
-acyl homoserine lactones (AHL)-mediated quorum-sensing (QS) and quorum-quenching (QQ) processes in the marine environment, but in most cases, data has been obtained from specific microhabitats, and subsequently little is known regarding these activities in free-living marine bacteria. The QS and QQ activities among 605 bacterial isolates obtained at 90 and 2000 m depths in the Mediterranean Sea were analyzed. Additionally, putative QS and QQ sequences were searched in metagenomic data obtained at different depths (15–2000 m) at the same sampling site. The number of AHL producers was higher in the 90 m sample (37.66%) than in the 2000 m sample (4.01%). However, the presence of QQ enzymatic activity was 1.63-fold higher in the 2000 m sample. The analysis of putative QQ enzymes in the metagenomes supports the relevance of QQ processes in the deepest samples, found in cultivable bacteria. Despite the unavoidable biases in the cultivation methods and biosensor assays and the possible promiscuous activity of the QQ enzymes retrieved in the metagenomic analysis, the results indicate that AHL-related QS and QQ processes could be common activity in the marine environment.
View Full-Text
►

▼

Figures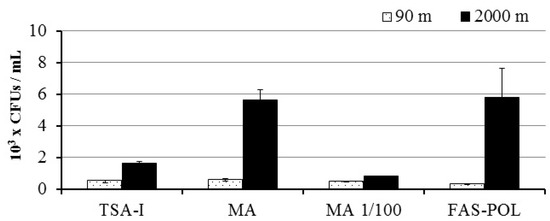 Figure 1
This is an open access article distributed under the
Creative Commons Attribution License
which permits unrestricted use, distribution, and reproduction in any medium, provided the original work is properly cited (CC BY 4.0).

Share & Cite This Article
MDPI and ACS Style
Muras, A.; López-Pérez, M.; Mayer, C.; Parga, A.; Amaro-Blanco, J.; Otero, A. High Prevalence of Quorum-Sensing and Quorum-Quenching Activity among Cultivable Bacteria and Metagenomic Sequences in the Mediterranean Sea. Genes 2018, 9, 100.
Note that from the first issue of 2016, MDPI journals use article numbers instead of page numbers. See further details here.
Related Articles
Comments
[Return to top]