DNILMF-LDA: Prediction of lncRNA-Disease Associations by Dual-Network Integrated Logistic Matrix Factorization and Bayesian Optimization
College of Computer Science and Electronic Engineering, Hunan University, Changsha 410082, China
*
Author to whom correspondence should be addressed.
Received: 27 June 2019 / Revised: 22 July 2019 / Accepted: 7 August 2019 / Published: 12 August 2019
Abstract
Identifying associations between lncRNAs and diseases can help understand disease-related lncRNAs and facilitate disease diagnosis and treatment. The dual-network integrated logistic matrix factorization (DNILMF) model has been used for drug–target interaction prediction, and good results have been achieved. We firstly applied DNILMF to lncRNA–disease association prediction (DNILMF-LDA). We combined different similarity kernel matrices of lncRNAs and diseases by using nonlinear fusion to extract the most important information in fused matrices. Then, lncRNA–disease association networks and similarity networks were built simultaneously. Finally, the Gaussian process mutual information (GP-MI) algorithm of Bayesian optimization was adopted to optimize the model parameters. The 10-fold cross-validation result showed that the area under receiving operating characteristic (ROC) curve (AUC) value of DNILMF-LDA was 0.9202, and the area under precision-recall (PR) curve (AUPR) was 0.5610. Compared with LRLSLDA, SIMCLDA, BiwalkLDA, and TPGLDA, the AUC value of our method increased by 38.81%, 13.07%, 8.35%, and 6.75%, respectively. The AUPR value of our method increased by 52.66%, 40.05%, 37.01%, and 44.25%. These results indicate that DNILMF-LDA is an effective method for predicting the associations between lncRNAs and diseases.
View Full-Text
►

▼

Figures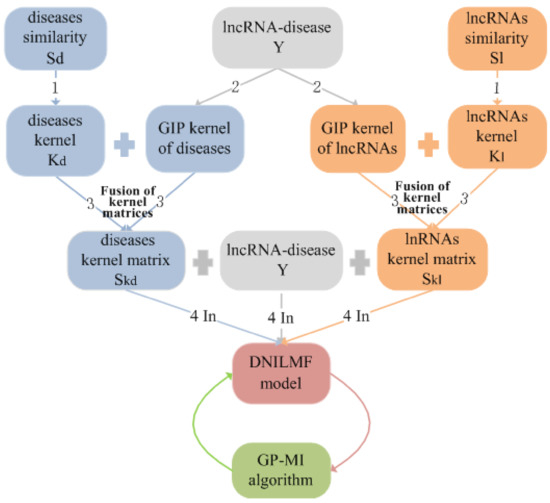 Figure 1
This is an open access article distributed under the
Creative Commons Attribution License
which permits unrestricted use, distribution, and reproduction in any medium, provided the original work is properly cited (CC BY 4.0).

Share & Cite This Article
MDPI and ACS Style
Li, Y.; Li, J.; Bian, N. DNILMF-LDA: Prediction of lncRNA-Disease Associations by Dual-Network Integrated Logistic Matrix Factorization and Bayesian Optimization. Genes 2019, 10, 608.
Note that from the first issue of 2016, MDPI journals use article numbers instead of page numbers. See further details here.
Related Articles
Comments
[Return to top]