The Hot QTL Locations for Potassium, Calcium, and Magnesium Nutrition and Agronomic Traits at Seedling and Maturity Stages of Wheat under Different Potassium Treatments
State Key Laboratory of Crop Biology/National Engineering Laboratory for Efficient Utilization of Soil and Fertilizer Resources, Shandong Agricultural University, Tai'an 271018, China
*
Author to whom correspondence should be addressed.
Received: 15 May 2019 / Revised: 5 August 2019 / Accepted: 5 August 2019 / Published: 12 August 2019
Abstract
Potassium (K) is one of the most important mineral nutrients for wheat. In this study, the effects of low K (LK) treatments and the quantitative trait loci (QTLs) for K, calcium (Ca), and magnesium (Mg) use efficiency traits, both at the seedling and maturity stages of wheat, were investigated. The set of "Tainong 18 × Linmai 6" recombinant inbred lines (RILs) were used to identify the QTLs under different K treatments using hydroponic culture and field trials. The majority of K concentrations and content-related traits at seedling and maturity stages decreased with reduced K supply, but the K use efficiency-related traits increased. In contrast, with reduced K supply, the contents of Ca and Mg increased, while the Ca and Mg use efficiency decreased. A total of 217 QTLs for seedling traits and 89 QTLs for adult traits were detected. Four relatively high-frequency QTLs (RHF-QTLs) and 18 QTL clusters (colocation of QTLs for more than two traits) were detected. Eight clusters were detected for K-, Ca-, and Mg-related traits simultaneously. This means that these traits might be controlled by the same QTL. In addition, we highlight that 4B might be an important chromosome regulating the nutrition of K, Ca, and Mg in wheat. The 4B chromosome and four hot QTL clusters, which located 45 QTLs, might be important potential targets for further investigation.
View Full-Text
►

▼

Figures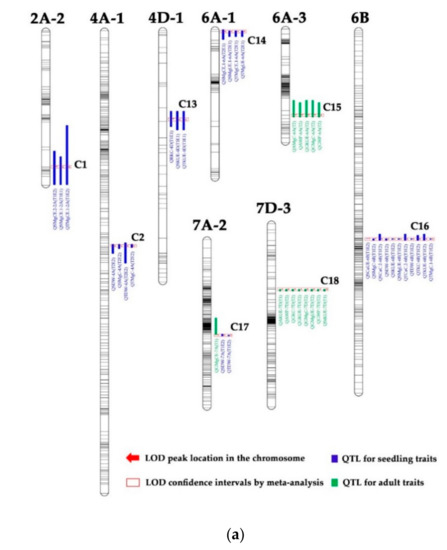 Figure 1
This is an open access article distributed under the
Creative Commons Attribution License
which permits unrestricted use, distribution, and reproduction in any medium, provided the original work is properly cited (CC BY 4.0).

Share & Cite This Article
MDPI and ACS Style
Shen, X.; Yuan, Y.; Zhang, H.; Guo, Y.; Zhao, Y.; Li, S.; Kong, F. The Hot QTL Locations for Potassium, Calcium, and Magnesium Nutrition and Agronomic Traits at Seedling and Maturity Stages of Wheat under Different Potassium Treatments. Genes 2019, 10, 607.
Note that from the first issue of 2016, MDPI journals use article numbers instead of page numbers. See further details here.
Related Articles
Comments
[Return to top]