The Abnormal CD4+T Lymphocyte Subset Distribution and Vbeta Repertoire in New-onset Rheumatoid Arthritis Can Be Modulated by Methotrexate Treament
1
Laboratory of Immune System Diseases, University of Alcalá, Alcalá de Henares, 28871 Madrid, Spain
2
Department of Medicine, University Hospital "Príncipe de Asturias", University of Alcalá and Instituto Ramón y Cajal de Investigación Sanitaria (IRYCIS), Alcalá de Henares, 28871 Madrid, Spain
3
Immune System Diseases-Rheumatology Service, University Hospital "Príncipe de Asturias", Alcalá de Henares, 28871 Madrid, Spain
4
Division of Immunology and Rheumatology, Department of Medicine, Emory University, Atlanta, GA 30322, USA
*
Author to whom correspondence should be addressed.
Received: 15 June 2019 / Revised: 17 July 2019 / Accepted: 6 August 2019 / Published: 10 August 2019
Abstract
Patients with long-term, treated, rheumatoid arthritis (RA) show abnormalities in their circulating CD4+ T-lymphocytes, but whether this occurs in recently diagnosed naïve patients to disease-modifying drugs (DMARDs) is under discussion. These patients show heterogeneous clinical response to methotrexate (MTX) treatment. We have examined the count of circulating CD4+ T-lymphocytes, and their naïve (T
N
), central memory (T
CM
), effector memory (T
EM
) and effector (T
E
) subsets, CD28 expression and Vβ TCR repertoire distribution by polychromatic flow cytometry in a population of 68 DMARD-naïve recently diagnosed RA patients, before and after 3 and 6 months of MTX treatment. At pre-treatment baseline, patients showed an expansion of the counts of CD4+ T
N
, T
EM
, T
E
and T
CM
lymphocyte subsets, and of total CD4+CD28− cells and of the T
E
subset with a different pattern of numbers in MTX responder and non-responders. The expansion of CD4+T
EM
lymphocytes showed a predictive value of MTX non-response
.
MTX treatment was associated to different modifications in the counts of the CD4+ subsets and of the Vβ TCR repertoire family distribution and in the level of CD28 expression in responders and non-responders. In conclusion, the disturbance of CD4+ lymphocytes is already found in DMARD-naïve RA patients with different patterns of alterations in MTX responders and non-responders.
View Full-Text
►

▼

Figures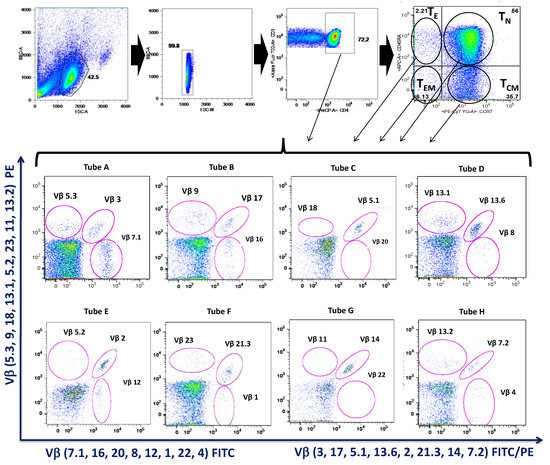 Figure 1
This is an open access article distributed under the
Creative Commons Attribution License
which permits unrestricted use, distribution, and reproduction in any medium, provided the original work is properly cited (CC BY 4.0).

Share & Cite This Article
MDPI and ACS Style
Monserrat, J.; Bohórquez, C.; Gómez Lahoz, A.M.; Movasat, A.; Pérez, A.; Ruíz, L.; Díaz, D.; Chara, L.; Sánchez, A.I.; Albarrán, F.; Sanz, I.; Álvarez-Mon, M. The Abnormal CD4+T Lymphocyte Subset Distribution and Vbeta Repertoire in New-onset Rheumatoid Arthritis Can Be Modulated by Methotrexate Treament. Cells 2019, 8, 871.
Note that from the first issue of 2016, MDPI journals use article numbers instead of page numbers. See further details here.
Related Articles
Comments
[Return to top]