Strategies to Interfere with Tumor Metabolism through the Interplay of Innate and Adaptive Immunity
1
Institute of Biochemistry I, Faculty of Medicine, Goethe-University Frankfurt, Theodor-Stern-Kai 7, 60590 Frankfurt, Germany
2
German Cancer Consortium (DKTK), Partner Site Frankfurt, Germany
3
Project Group Translational Medicine and Pharmacology TMP, Fraunhofer Institute for Molecular Biology and Applied Ecology, 60596 Frankfurt, Germany
*
Author to whom correspondence should be addressed.
†
These authors contributed equally to this work.
‡
Present address: Faculty of Microbiology, University of Costa Rica, 2060 San José, Costa Rica.
§
Present address: Centro de Investigaciones en Enfermedades Tropicales, University of Costa Rica, 2060 San José, Costa Rica.
‖
Present address: Iron Homeostasis Group, Molecular Medicine Partnership Unit (MMPU), Department of Pediatric Oncology, Hematology and Immunology, University of Heidelberg, 69120 Heidelberg, Germany.
Received: 15 April 2019 / Revised: 4 May 2019 / Accepted: 7 May 2019 / Published: 11 May 2019
Abstract
The inflammatory tumor microenvironment is an important regulator of carcinogenesis. Tumor-infiltrating immune cells promote each step of tumor development, exerting crucial functions from initiation, early neovascularization, to metastasis. During tumor outgrowth, tumor-associated immune cells, including myeloid cells and lymphocytes, acquire a tumor-supportive, anti-inflammatory phenotype due to their interaction with tumor cells. Microenvironmental cues such as inflammation and hypoxia are mainly responsible for creating a tumor-supportive niche. Moreover, it is becoming apparent that the availability of iron within the tumor not only affects tumor growth and survival, but also the polarization of infiltrating immune cells. The interaction of tumor cells and infiltrating immune cells is multifaceted and complex, finally leading to different activation phenotypes of infiltrating immune cells regarding their functional heterogeneity and plasticity. In recent years, it was discovered that these phenotypes are mainly implicated in defining tumor outcome. Here, we discuss the role of the metabolic activation of both tumor cells and infiltrating immune cells in order to adapt their metabolism during tumor growth. Additionally, we address the role of iron availability and the hypoxic conditioning of the tumor with regard to tumor growth and we describe the relevance of therapeutic strategies to target such metabolic characteristics.
View Full-Text
►

▼

Figures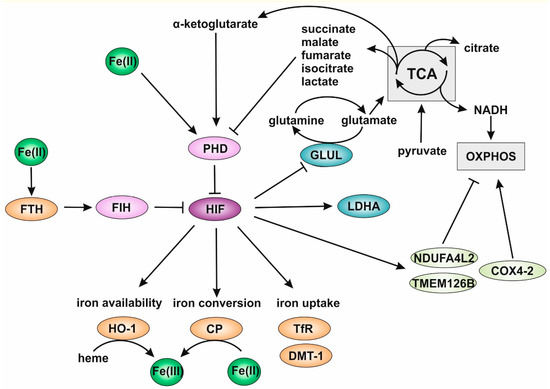 Figure 1
This is an open access article distributed under the
Creative Commons Attribution License
which permits unrestricted use, distribution, and reproduction in any medium, provided the original work is properly cited (CC BY 4.0).

Share & Cite This Article
MDPI and ACS Style
Mora, J.; Mertens, C.; Meier, J.K.; Fuhrmann, D.C.; Brüne, B.; Jung, M. Strategies to Interfere with Tumor Metabolism through the Interplay of Innate and Adaptive Immunity. Cells 2019, 8, 445.
Note that from the first issue of 2016, MDPI journals use article numbers instead of page numbers. See further details here.
Related Articles
Comments
[Return to top]