Evolutionary Conservation and Divergence of Genes Encoding 3-Hydroxy-3-methylglutaryl Coenzyme A Synthase in the Allotetraploid Cotton Species
Gossypium hirsutum
1
Collaborative Innovation Center of Henan Grain Crops/Agronomy College, Henan Agricultural University, Zhengzhou 450002, China
2
State Key Laboratory of Cotton Biology/Institute of Cotton Research, Chinese Academy of Agricultural Sciences, Anyang 455000, China
*
Authors to whom correspondence should be addressed.
Received: 28 March 2019 / Revised: 28 April 2019 / Accepted: 1 May 2019 / Published: 3 May 2019
Abstract
Polyploidization is important for the speciation and subsequent evolution of many plant species. Analyses of the duplicated genes produced via polyploidization events may clarify the origin and evolution of gene families. During terpene biosynthesis, 3-hydroxy-3-methylglutaryl coenzyme A synthase (HMGS) functions as a key enzyme in the mevalonate pathway. In this study, we first identified a total of 53
HMGS
genes in 23 land plant species, while no
HMGS
genes were detected in three green algae species. The phylogenetic analysis suggested that plant
HMGS
genes may have originated from a common ancestral gene before clustering in different branches during the divergence of plant lineages. Then, we detected six
HMGS
genes in the allotetraploid cotton species (
Gossypium hirsutum
), which was twice that of the two diploid cotton species (
Gossypium raimondii
and
Gossypium arboreum
). The comparison of gene structures and phylogenetic analysis of
HMGS
genes revealed conserved evolution during polyploidization in
Gossypium
. Moreover, the expression patterns indicated that six
GhHMGS
genes were expressed in all tested tissues, with most genes considerably expressed in the roots, and they were responsive to various phytohormone treatments and abiotic stresses. The sequence and expression divergence of duplicated genes in
G. hirsutum
implied the sub-functionalization of
GhHMGS1A
and
GhHMGS1D
as well as
GhHMGS3A
and
GhHMGS3D
, whereas it implied the pseudogenization of
GhHMGS2A
and
GhHMGS2D
. Collectively, our study unraveled the evolutionary history of
HMGS
genes in green plants and from diploid to allotetraploid in cotton and illustrated the different evolutionary fates of duplicated
HMGS
genes resulting from polyploidization.
View Full-Text
►

▼

Figures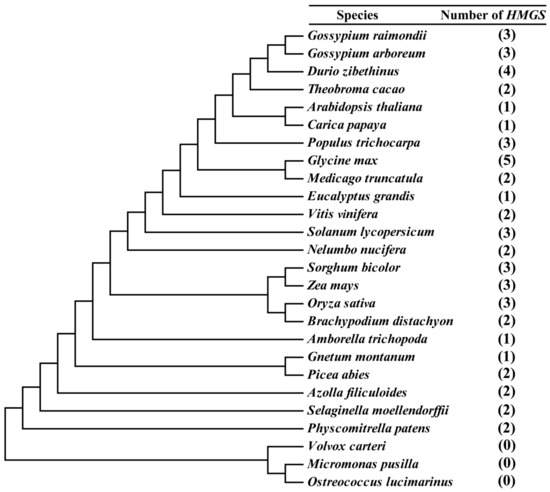 Figure 1
This is an open access article distributed under the
Creative Commons Attribution License
which permits unrestricted use, distribution, and reproduction in any medium, provided the original work is properly cited (CC BY 4.0).

Share & Cite This Article
MDPI and ACS Style
Liu, W.; Zhang, Z.; Zhu, W.; Ren, Z.; Jia, L.; Li, W.; Ma, Z. Evolutionary Conservation and Divergence of Genes Encoding 3-Hydroxy-3-methylglutaryl Coenzyme A Synthase in the Allotetraploid Cotton Species Gossypium hirsutum. Cells 2019, 8, 412.
Note that from the first issue of 2016, MDPI journals use article numbers instead of page numbers. See further details here.
Related Articles
Comments
[Return to top]