Effects of Enteric Environmental Modification by Coffee Components on Neurodegeneration in Rotenone-Treated Mice
1
Department of Medical Neurobiology, Okayama University Graduate School of Medicine, Dentistry and Pharmaceutical Sciences, Okayama 700-8558, Japan
2
Department of Clinical Pharmacy, Okayama University Graduate School of Medicine, Dentistry and Pharmaceutical Sciences, Okayama 700-8558, Japan
*
Author to whom correspondence should be addressed.
Received: 28 December 2018 / Revised: 25 February 2019 / Accepted: 5 March 2019 / Published: 7 March 2019
Abstract
Epidemiological studies have shown that coffee consumption decreases the risk of Parkinson's disease (PD). Caffeic acid (CA) and chlorogenic acid (CGA) are coffee components that have antioxidative properties. Rotenone, a mitochondrial complex I inhibitor, has been used to develop parkinsonian models, because the toxin induces PD-like pathology. Here, we examined the neuroprotective effects of CA and CGA against the rotenone-induced degeneration of central dopaminergic and peripheral enteric neurons. Male C57BL/6J mice were chronically administered rotenone (2.5 mg/kg/day), subcutaneously for four weeks. The animals were orally administered CA or CGA daily for 1 week before rotenone exposure and during the four weeks of rotenone treatment. Administrations of CA or CGA prevented rotenone-induced neurodegeneration of both nigral dopaminergic and intestinal enteric neurons. CA and CGA upregulated the antioxidative molecules, metallothionein (MT)-1,2, in striatal astrocytes of rotenone-injected mice. Primary cultured mesencephalic or enteric cells were pretreated with CA or CGA for 24 h, and then further co-treated with a low dose of rotenone (1–5 nM) for 48 h. The neuroprotective effects and MT upregulation induced by CA and CGA in vivo were reproduced in cultured cells. Our data indicated that intake of coffee components, CA and CGA, enhanced the antioxidative properties of glial cells and prevents rotenone-induced neurodegeneration in both the brain and myenteric plexus.
View Full-Text
►

▼

Figures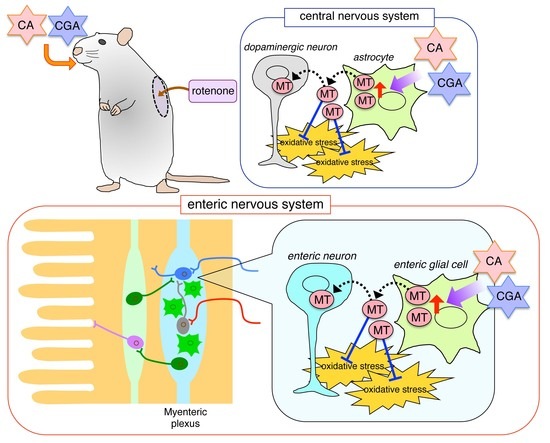 Graphical abstract
This is an open access article distributed under the
Creative Commons Attribution License
which permits unrestricted use, distribution, and reproduction in any medium, provided the original work is properly cited (CC BY 4.0).

Share & Cite This Article
MDPI and ACS Style
Miyazaki, I.; Isooka, N.; Wada, K.; Kikuoka, R.; Kitamura, Y.; Asanuma, M. Effects of Enteric Environmental Modification by Coffee Components on Neurodegeneration in Rotenone-Treated Mice. Cells 2019, 8, 221.
Note that from the first issue of 2016, MDPI journals use article numbers instead of page numbers. See further details here.
Related Articles
Comments
[Return to top]