No Causal Effect of Telomere Length on Ischemic Stroke and Its Subtypes: A Mendelian Randomization Study
1
Beijing Key Laboratory of Clinical Epidemiology, School of Public Health, Capital Medical University, Beijing 100069, China
2
School of Medical and Health Sciences, Edith Cowan University, Perth 6027, Australia
3
School of Public Health, Taishan Medical University, Taian 271016, China
*
Authors to whom correspondence should be addressed.
†
These authors contributed equally to this work.
Received: 31 December 2018 / Revised: 31 January 2019 / Accepted: 12 February 2019 / Published: 14 February 2019
Abstract
Background: Epidemiological studies observing inconsistent associations of telomere length (TL) with ischemic stroke (IS) are susceptible to bias according to reverse causation and residual confounding. We aimed to assess the causal association between TL, IS, and the subtypes of IS, including large artery stroke (LAS), small vessel stroke (SVS), and cardioembolic stroke (CES) by performing a series of two-sample Mendelian randomization (MR) approaches. Methods: Seven single nucleotide polymorphisms (SNPs) were involved as candidate instrumental variables (IVs), summarized from a genome-wide meta-analysis including 37,684 participants of European descent. We analyzed the largest ever genome-wide association studies of stroke in Europe from the MEGASTROKE collaboration with 40,585 stroke cases and 406,111 controls. The weighted median (WM), the penalized weighted median (PWM), the inverse variance weighted (IVW), the penalized inverse variance weighted (PIVW), the robust inverse variance weighted (RIVW), and the Mendelian randomization-Egger (MR-Egger) methods were conducted for the MR analysis to estimate a causal effect and detect the directional pleiotropy. Results: No significant association between genetically determined TL with overall IS, LAS, or CES were found (all
p
> 0.05). SVS was associated with TL by the RIVW method (odds ratio (OR) = 0.72, 95% confidence interval (CI): 0.54–0.97,
p
= 0.028), after excluding rs9420907, rs10936599, and rs2736100. Conclusions: By a series of causal inference approaches using SNPs as IVs, no strong evidence to support the causal effect of shorter TL on IS and its subtypes were found.
View Full-Text
►

▼

Figures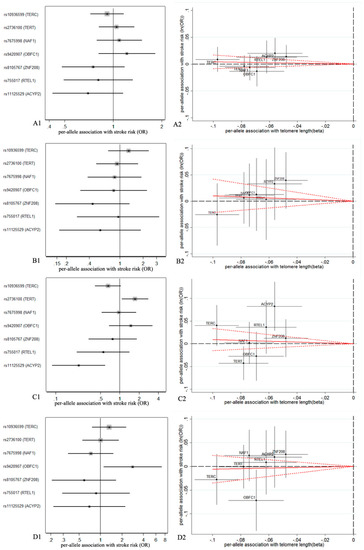 Figure 1
This is an open access article distributed under the
Creative Commons Attribution License
which permits unrestricted use, distribution, and reproduction in any medium, provided the original work is properly cited (CC BY 4.0).

Share & Cite This Article
MDPI and ACS Style
Cao, W.; Li, X.; Zhang, X.; Zhang, J.; Sun, Q.; Xu, X.; Sun, M.; Tian, Q.; Li, Q.; Wang, H.; Liu, J.; Meng, X.; Wu, L.; Song, M.; Hou, H.; Wang, Y.; Wang, W. No Causal Effect of Telomere Length on Ischemic Stroke and Its Subtypes: A Mendelian Randomization Study. Cells 2019, 8, 159.
Note that from the first issue of 2016, MDPI journals use article numbers instead of page numbers. See further details here.
Related Articles
Comments
[Return to top]