ETF-QO Mutants Uncoupled Fatty Acid β-Oxidation and Mitochondrial Bioenergetics Leading to Lipid Pathology
1
Ph.D. Program in Medical Biotechnology, College of Medical Science and Technology, Taipei Medical University, Taipei 11031, Taiwan
2
School of Medical Laboratory Science and Biotechnology, College of Medical Science and Technology, Taipei Medical University, Taipei 11031, Taiwan
3
Department of Pediatrics, School of Medicine, College of Medicine, Taipei Medical University, Taipei 11031, Taiwan
4
Department of Pediatrics, Shuang Ho Hospital, Taipei Medical University, New Taipei 23561, Taiwan
5
Department of Physiology, School of Medicine, College of Medicine, Taipei Medical University, Taipei 11031, Taiwan
6
Graduate Institute of Medical Sciences, College of Medicine, Taipei Medical University, Taipei 11031, Taiwan
*
Author to whom correspondence should be addressed.
Received: 11 December 2018 / Revised: 24 January 2019 / Accepted: 28 January 2019 / Published: 31 January 2019
Abstract
The electron-transfer flavoprotein dehydrogenase gene (
ETFDH
) that encodes the ETF-ubiquinone oxidoreductase (ETF-QO) has been reported to be the major cause of multiple acyl-CoA dehydrogenase deficiency (MADD). ETF-QO is an electron carrier that mainly functions in mitochondrial fatty acid β-oxidation and the delivery of electrons to the ubiquinone pool in the mitochondrial respiratory chain. A high frequency of c.250G>A has been found in Taiwanese patients with late-onset MADD. We postulated that the
ETFDH
c.250G>A mutation may concomitantly impair fatty acid β-oxidation and mitochondrial function. Using MADD patient-derived lymphoblastoid cells and specifically overexpressed
ETFDH
c.92C>T, c.250G>A, or coexisted c.92C>T and c.250G>A (c.92C>T + c.250G>A) mutated lymphoblastoid cells, we addressed the genotype-phenotype relationship of
ETFDH
variation in the pathogenesis of MADD. The decreased adenosine triphosphate synthesis, dissipated mitochondrial membrane potentials, reduced mitochondrial bioenergetics, and increased neutral lipid droplets and lipid peroxides were found in the MADD patient-derived lymphoblastoid cells. Riboflavin and/or coenzyme Q10 supplementation rescued cells from lipid droplet accumulation. All three mutant types, c.92C>T, c.250G>A, or c.92C>T + c.250G>A, had increased lipid droplet accumulation after treatment with palmitic acid. These results help to clarify the molecular pathogenesis of MADD as a result of the high frequency of the
ETFDH
c.250G>A and c.92C>T mutations.
View Full-Text
►

▼

Figures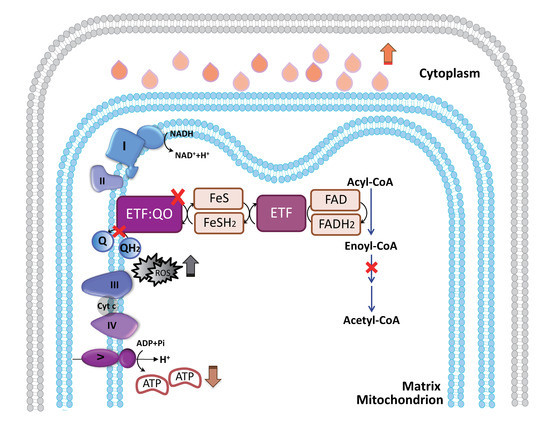 Graphical abstract
This is an open access article distributed under the
Creative Commons Attribution License
which permits unrestricted use, distribution, and reproduction in any medium, provided the original work is properly cited (CC BY 4.0).

Share & Cite This Article
MDPI and ACS Style
Chokchaiwong, S.; Kuo, Y.-T.; Hsu, S.-P.; Hsu, Y.-C.; Lin, S.-H.; Zhong, W.-B.; Lin, Y.-F.; Kao, S.-H. ETF-QO Mutants Uncoupled Fatty Acid β-Oxidation and Mitochondrial Bioenergetics Leading to Lipid Pathology. Cells 2019, 8, 106.
Note that from the first issue of 2016, MDPI journals use article numbers instead of page numbers. See further details here.
Related Articles
Comments
[Return to top]