Dystrophin Deficiency Leads to Genomic Instability in Human Pluripotent Stem Cells via NO Synthase-Induced Oxidative Stress
1
Department of Biology, Faculty of Medicine, Masaryk University, 625 00 Brno, Czech Republic
2
International Clinical Research Center ICRC, St. Anne's University Hospital Brno, 602 00 Brno, Czech Republic
3
1st Department of Internal Medicine—Cardioangiology, Faculty of Medicine, Masaryk University, 602 00 Brno, Czech Republic
4
Department of Clinical Genetics, University hospital Brno, 613 00 Brno, Czech Republic
5
PhyMedExp, INSERM, University of Montpellier, CNRS, 342 95 Montpellier CEDEX 5, France
*
Authors to whom correspondence should be addressed.
†
Both authors contributed equally.
‡
Both authors contributed equally as supervising researchers.
Received: 17 October 2018 / Revised: 29 December 2018 / Accepted: 11 January 2019 / Published: 15 January 2019
Abstract
Recent data on Duchenne muscular dystrophy (DMD) show myocyte progenitor's involvement in the disease pathology often leading to the DMD patient's death. The molecular mechanism underlying stem cell impairment in DMD has not been described. We created dystrophin-deficient human pluripotent stem cell (hPSC) lines by reprogramming cells from two DMD patients, and also by introducing dystrophin mutation into human embryonic stem cells via CRISPR/Cas9. While dystrophin is expressed in healthy hPSC, its deficiency in DMD hPSC lines induces the release of reactive oxygen species (ROS) through dysregulated activity of all three isoforms of nitric oxide synthase (further abrev. as, NOS). NOS-induced ROS release leads to DNA damage and genomic instability in DMD hPSC. We were able to reduce both the ROS release as well as DNA damage to the level of wild-type hPSC by inhibiting NOS activity.
View Full-Text
►

▼

Figures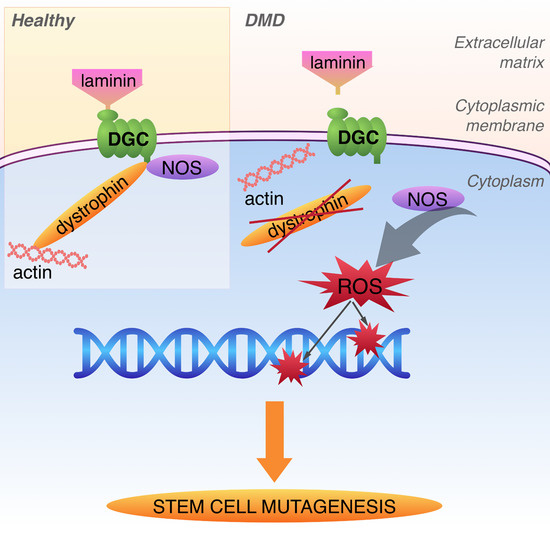 Graphical abstract
This is an open access article distributed under the
Creative Commons Attribution License
which permits unrestricted use, distribution, and reproduction in any medium, provided the original work is properly cited (CC BY 4.0).

Share & Cite This Article
MDPI and ACS Style
Jelinkova, S.; Fojtik, P.; Kohutova, A.; Vilotic, A.; Marková, L.; Pesl, M.; Jurakova, T.; Kruta, M.; Vrbsky, J.; Gaillyova, R.; Valášková, I.; Frák, I.; Lacampagne, A.; Forte, G.; Dvorak, P.; Meli, A.C.; Rotrekl, V. Dystrophin Deficiency Leads to Genomic Instability in Human Pluripotent Stem Cells via NO Synthase-Induced Oxidative Stress. Cells 2019, 8, 53.
Note that from the first issue of 2016, MDPI journals use article numbers instead of page numbers. See further details here.
Related Articles
Comments
[Return to top]