The Autophagy-Lysosomal Pathways and Their Emerging Roles in Modulating Proteostasis in Tumors
1
State Key Laboratory of Silkworm Genome Biology, Southwest University, Beibei, Chongqing 400716, China
2
Engineering Research Center for Cancer Biomedical and Translational Medicine, Southwest University, Beibei, Chongqing 400716, China
3
Chongqing Engineering and Technology Research Center for Silk Biomaterials and Regenerative Medicine, Southwest University, Beibei, Chongqing 400716, China
4
Institute of Sericulture and Systems Biology, Southwest University, Beibei, Chongqing 400716, China
*
Author to whom correspondence should be addressed.
Received: 15 November 2018 / Revised: 17 December 2018 / Accepted: 18 December 2018 / Published: 20 December 2018
Abstract
In normal physiological condition, the maintenance of cellular proteostasis is a prerequisite for cell growth, functioning, adapting to changing micro-environments, and responding to extracellular stress. Cellular proteostasis is maintained by specific proteostasis networks (PNs) to prevent protein misfolding, aggregating, and accumulating in subcellular compartments. Commonly, the PNs are composed of protein synthesis, molecular chaperones, endoplasmic reticulum (ER), unfolded protein response (UPR), stress response pathways (SRPs), secretions, ubiquitin proteasome system (UPS), and autophagy-lysosomal pathways (ALPs). Although great efforts have been made to explore the underlying detailed mechanisms of proteostasis, there are many questions remain to explore, especially in proteostasis regulated by the ALPs. Proteostasis out-off-balance is correlated with various human diseases such as diabetes, stroke, inflammation, hypertension, pulmonary fibrosis, and Alzheimer's disease. Enhanced regulation of PNs is observed in tumors, thereby indicating that proteostasis may play a pivotal role in tumorigenesis and cancer development. Recently, inhibitors targeting the UPS have shown to be failed in solid tumor treatment. However, there is growing evidence showing that the ALPs play important roles in regulation of proteostasis alone or with a crosstalk with other PNs in tumors. In this review, we provide insights into the proteostatic process and how it is regulated by the ALPs, such as macroautophagy, aggrephagy, chaperone-mediated autophagy, microautophagy, as well as mitophagy during tumor development.
View Full-Text
►

▼

Figures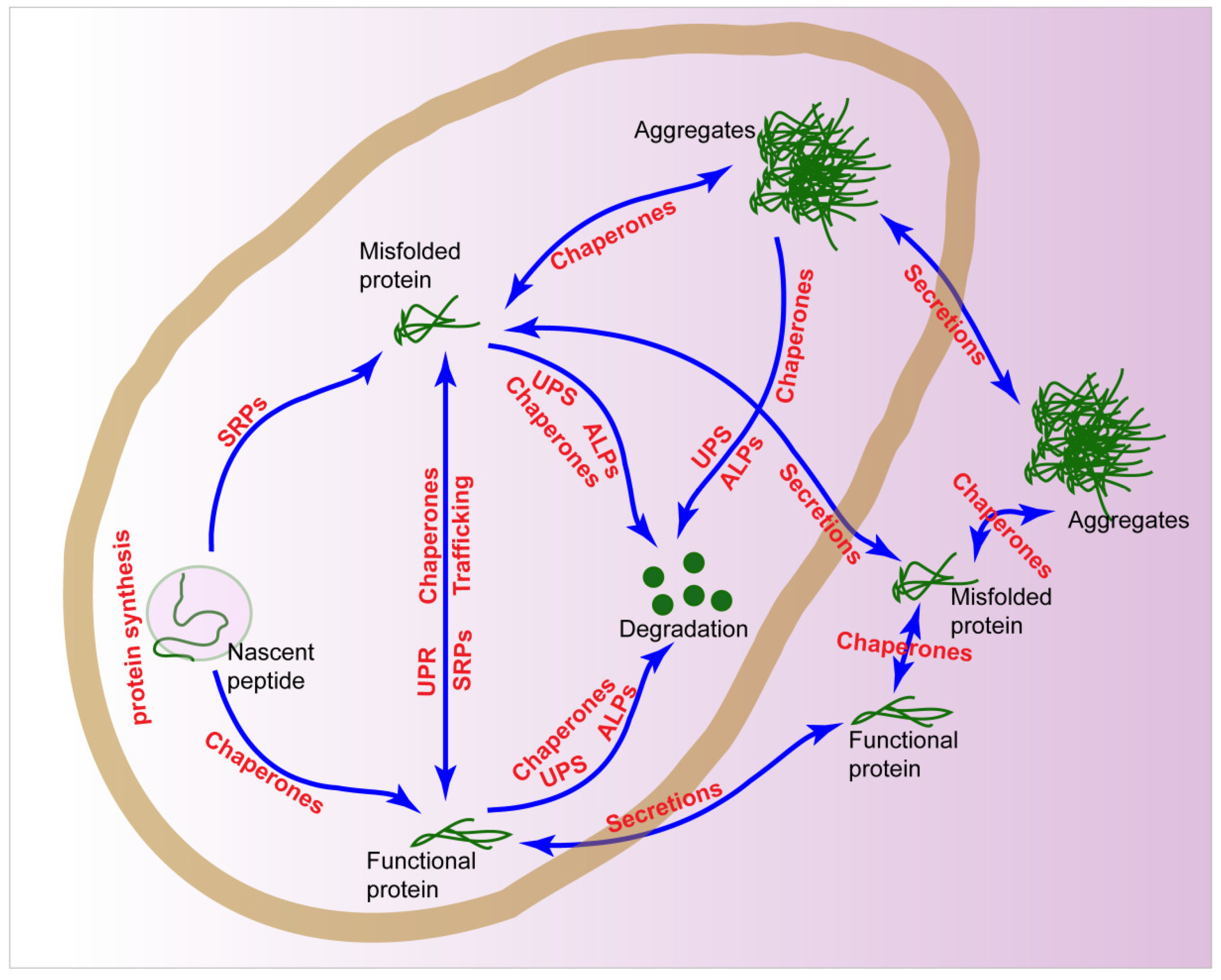 Figure 1
This is an open access article distributed under the
Creative Commons Attribution License
which permits unrestricted use, distribution, and reproduction in any medium, provided the original work is properly cited (CC BY 4.0).

Share & Cite This Article
MDPI and ACS Style
Dong, Z.; Cui, H. The Autophagy-Lysosomal Pathways and Their Emerging Roles in Modulating Proteostasis in Tumors. Cells 2019, 8, 4.
Note that from the first issue of 2016, MDPI journals use article numbers instead of page numbers. See further details here.
Related Articles
Comments
[Return to top]