Mechanisms of Age-Dependent Loss of Dietary Restriction Protective Effects in Acute Kidney Injury
1
Faculty of Bioengineering and Bioinformatics, Lomonosov Moscow State University, 119992 Moscow, Russia
2
A.N. Belozersky Institute of Physico-Chemical Biology, Lomonosov Moscow State University, 119992 Moscow, Russia
*
Authors to whom correspondence should be addressed.
Received: 1 October 2018 / Revised: 16 October 2018 / Accepted: 19 October 2018 / Published: 22 October 2018
Abstract
Dietary restriction (DR) is one of the most efficient approaches ameliorating the severity of different pathological conditions including aging. We investigated the protective potential of short-term DR in the model of acute kidney injury (AKI) in young and old rats. In kidney tissue, the levels of autophagy and mitophagy were examined, and proliferative properties of renal cells obtained from rats of different age were compared. DR afforded a significant nephroprotection to ischemic kidneys of young rats. However, in old rats, DR did not provide such beneficial effect. On the assessment of the autophagy marker, the LC3 II/LC3 I ratio, and after staining the tissue with LysoTracker Green, we concluded that in old rats activity of the autophagic-lysosomal system decreased. Mitophagy, as assessed by the levels of PINK-1, was also deteriorated in old animals. Renal cells from old rats showed impaired proliferative capacity, a worse rate of recovery after ischemic injury, increased levels of oxidative stress, accumulation of lipofuscin granules and lower mitochondria membrane potential. The results suggest that the loss of DR benefits in old animals could be due to deterioration in the autophagy/mitophagy flux.
View Full-Text
►

▼

Figures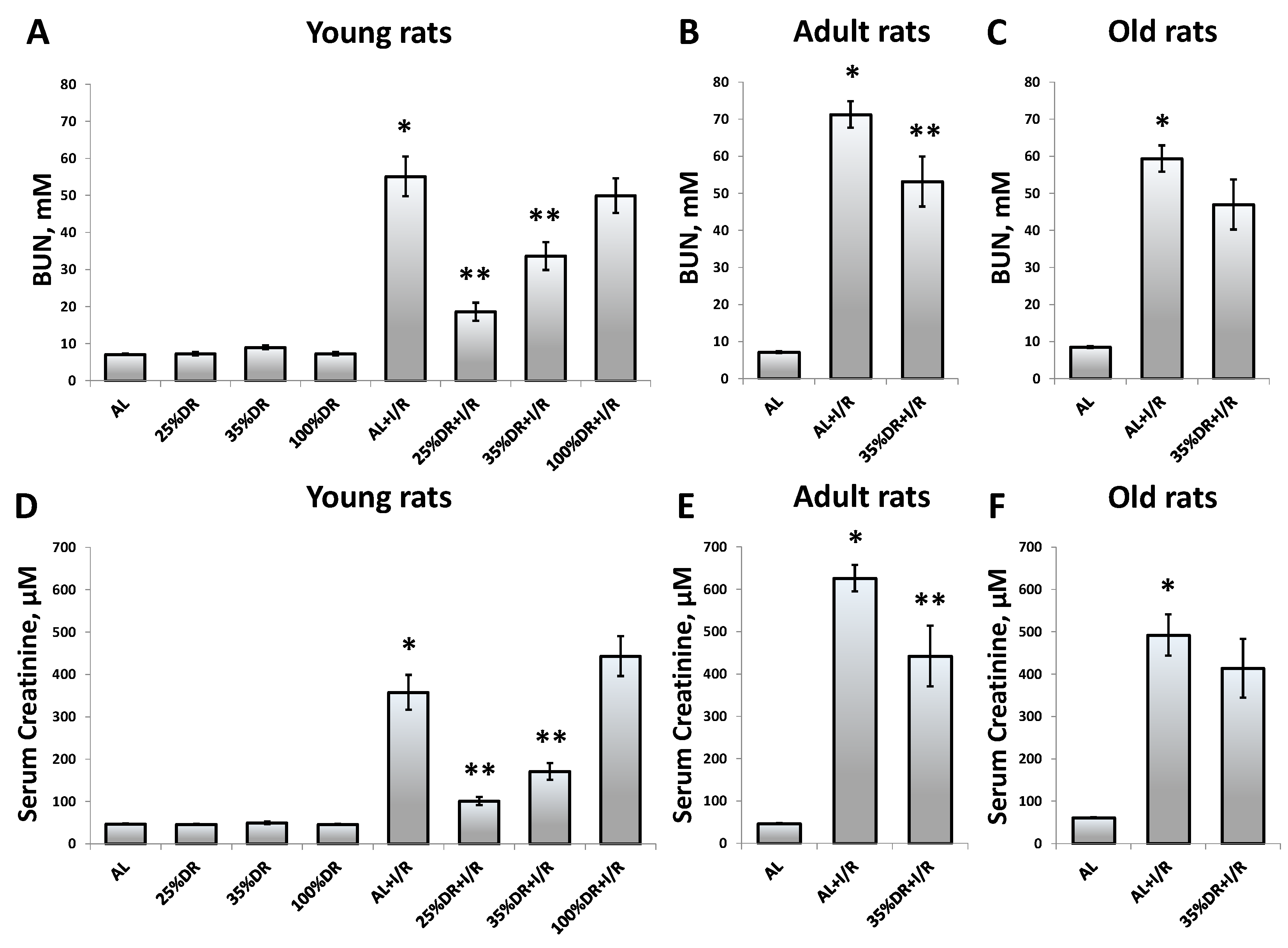 Figure 1
This is an open access article distributed under the
Creative Commons Attribution License
which permits unrestricted use, distribution, and reproduction in any medium, provided the original work is properly cited (CC BY 4.0).

Share & Cite This Article
MDPI and ACS Style
Andrianova, N.V.; Jankauskas, S.S.; Zorova, L.D.; Pevzner, I.B.; Popkov, V.A.; Silachev, D.N.; Plotnikov, E.Y.; Zorov, D.B. Mechanisms of Age-Dependent Loss of Dietary Restriction Protective Effects in Acute Kidney Injury. Cells 2018, 7, 178.
Note that from the first issue of 2016, MDPI journals use article numbers instead of page numbers. See further details here.
Related Articles
Comments
[Return to top]