Functional Annotation of Hypothetical Proteins Derived from Suppressive Subtraction Hybridization (SSH) Analysis Shows NPR1 (Non-Pathogenesis Related)-Like Activity
1
Department of Food Science and Biotechnology, Sejong University, 209 Neungdong-ro, Gwangjin-gu, Seoul 05006, Korea
2
Department of Biochemistry and Molecular Biophysics, Kansas State University, 238 Burt Hall, Manhattan, KS 66506, USA
3
Department of Food Science and Nutrition, Periyar University, Salem 636011, India
4
Department of Microbiology, Bharathidasan University, Tiruchirappalli, Tamilnadu 620024, India
*
Author to whom correspondence should be addressed.
Received: 1 November 2018 / Revised: 20 December 2018 / Accepted: 9 January 2019 / Published: 28 January 2019
Abstract
Fusarium
wilt is considered the most devastating banana disease incited by
Fusarium oxysporum
f. sp.
cubense
(FOC). The present study addresses suppressive subtraction hybridization (SSH) analysis for differential gene expression in banana plant, mediated through FOC and its interaction with biocontrol agent
Trichoderma
asperellum
(prr2). SSH analysis yielded a total of 300 clones. The resultant clones were sequenced and processed to obtain 22 contigs and 87 singleton sequences. BLAST2GO (Basic Local Alignment Search Tool 2 Gene Ontology) analysis was performed to assign known protein function. Initial functional annotation showed that contig 21 possesses p38-like endoribonuclease activity and duality in subcellular localization. To gain insights into its additional roles and precise functions, a sequential docking protocol was done to affirm its role in the defense pathway. Atomic contact energies revealed binding affinities in the order of miRNA > phytoalexins > polyubiquitin, emphasizing their role in the
Musa
defense pathway. Contig 21 and polyubiquitin showed an atomic contact energy value of −479.60 kJ/mol, and even higher atomic contact energies were observed for miRNA (−804.86, −482.28, −494.75 kJ/mol), demonstrating its high RNA-binding properties. Phytoalexin contig 21-interacting interfacial residues were identified as rigid (10)/non-rigid (2) based on Bi, N values, and B-factor per residue. Hence, based on these results, contig 21 was characterized as a NPR1 (non-pathogenesis-related protein) homolog that is involved in plant defense and systemic induced resistance.
View Full-Text
►

▼

Figures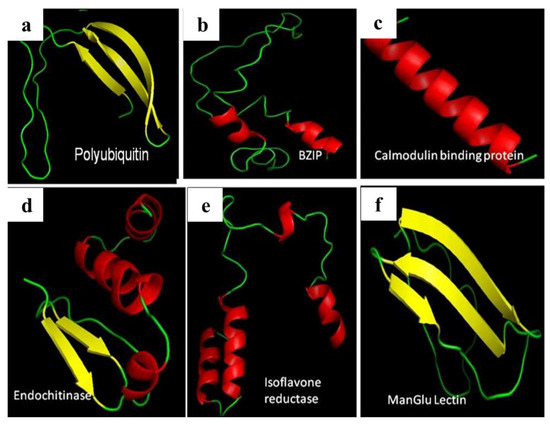 Figure 1
This is an open access article distributed under the
Creative Commons Attribution License
which permits unrestricted use, distribution, and reproduction in any medium, provided the original work is properly cited (CC BY 4.0).

Share & Cite This Article
MDPI and ACS Style
Chandrasekaran, M.; Raman, C.; Karthikeyan, K.; Paramasivan, M. Functional Annotation of Hypothetical Proteins Derived from Suppressive Subtraction Hybridization (SSH) Analysis Shows NPR1 (Non-Pathogenesis Related)-Like Activity. Agronomy 2019, 9, 57.
Note that from the first issue of 2016, MDPI journals use article numbers instead of page numbers. See further details here.
Related Articles
Comments
[Return to top]