Stimulated Raman Scattering in Alkali-Earth Tungstate and Molybdate Crystals at Both Stretching and Bending Raman Modes under Synchronous Picosecond Pumping with Multiple Pulse Shortening Down to 1 ps
1
Faculty of Nuclear Sciences and Physical Engineering, Czech Technical University, Břehová 7, 11519 Prague 1, Czech Republic
2
Prokhorov General Physics Institute of the Russian Academy of Sciences, Vavilova 38, 119991 Moscow, Russian
*
Author to whom correspondence should be addressed.
Received: 20 February 2019 / Revised: 15 March 2019 / Accepted: 17 March 2019 / Published: 21 March 2019
Abstract
Comparative investigation of characteristics of spontaneous and stimulated Raman scattering (SRS) in different alkali-earth tungstate and molybdate crystals at both high and low frequency anionic group vibrations is presented. It has been found that, among these crystals, the SrMoO
4
and SrWO
4
crystals are the most perspective for SRS generation on both stretching and bending modes of internal anionic group vibrations with the strongest SRS pulse shortening under synchronous laser pumping because of not only highly intense stretching mode Raman line for efficient primary extra cavity long-shifted SRS conversion but also the widest bending mode Raman line for the strongest SRS pulse shortening down to the inverse width of the widest Raman line (~1 ps) at secondary intracavity short-shifted SRS conversion. The strongest 26-fold pump pulse shortening down to 1.4 ps at the Stokes component with the combined Raman shift in the synchronously pumped extra cavity SrMoO
4
and SrWO
4
Raman lasers has been demonstrated. It was found that synchronously pumped cascade SRS with combined Raman shift is more efficient in the SrWO
4
crystal because the bending mode Raman line is more intense relative to the stretching mode Raman line than that in SrMoO
4
.
View Full-Text
►

▼

Figures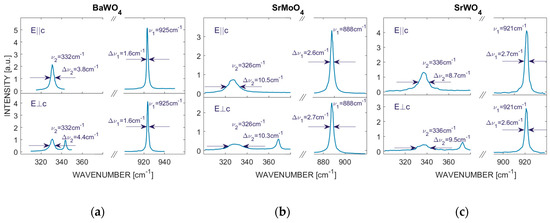 Figure 1
This is an open access article distributed under the
Creative Commons Attribution License
which permits unrestricted use, distribution, and reproduction in any medium, provided the original work is properly cited (CC BY 4.0).

Share & Cite This Article
MDPI and ACS Style
Frank, M.; Smetanin, S.N.; Jelínek, M.; Vyhlídal, D.; Shukshin, V.E.; Ivleva, L.I.; Dunaeva, E.E.; Voronina, I.S.; Zverev, P.G.; Kubeček, V. Stimulated Raman Scattering in Alkali-Earth Tungstate and Molybdate Crystals at Both Stretching and Bending Raman Modes under Synchronous Picosecond Pumping with Multiple Pulse Shortening Down to 1 ps. Crystals 2019, 9, 167.
Note that from the first issue of 2016, MDPI journals use article numbers instead of page numbers. See further details here.
Related Articles
Comments
[Return to top]