Chromium-Ruthenium Oxides Supported on Gamma-Alumina as an Alternative Catalyst for Partial Combustion of Methane
1
Department of Chemical Engineering, Faculty of Engineering, Kasetsart University, Bangkok 10900, Thailand
2
Center of Excellence on Petrochemical and Materials Technology and Research Network of NANOTEC–KU on NanoCatalysts and NanoMaterials for Sustainable Energy and Environment Kasetsart University, Bangkok 10900, Thailand
3
Research Network of NANOTEC–KU on NanoCatalysts and NanoMaterials for Sustainable Energy and Environment, Kasetsart University, Bangkok 10900, Thailand
4
Department of Chemical and Biomolecular Engineering, University of California Los Angeles, Los Angeles, CA 90095, USA
*
Author to whom correspondence should be addressed.
Received: 18 February 2019 / Revised: 26 March 2019 / Accepted: 1 April 2019 / Published: 4 April 2019
Abstract
Catalyst screening of γ-Al
2
O
3
-supported, single-metal and bimetallic catalysts revealed several bimetallic catalysts with activities for partial combustion of methane greater than a benchmark Pt/γ-Al
2
O
3
catalyst. A cost analysis of those catalysts identified that the (2 wt%Cr + 3 wt% Ru)/γ-Al
2
O
3
catalyst, denoted as 2Cr3Ru/Al
2
O
3
, was about 17.6 times cheaper than the benchmark catalyst and achieved a methane conversion of 10.50% or 1.6 times higher than the benchmark catalyst based on identical catalyst weights. In addition, various catalyst characterization techniques were performed to determine the physicochemical properties of the catalysts, revealing that the particle size of RuO
2
became smaller and the binding energy of Ru 3d also shifted toward a lower energy. Moreover, the operating conditions (reactor temperature and O
2
/CH
4
ratio), stability, and reusability of the 2Cr3Ru/Al
2
O
3
catalyst were investigated. The stability test of the catalyst over 24 h was very good, without any signs of coke deposition. The reusability of the catalyst for five cycles (6 h for each cycle) was noticeably excellent.
View Full-Text
►

▼

Figures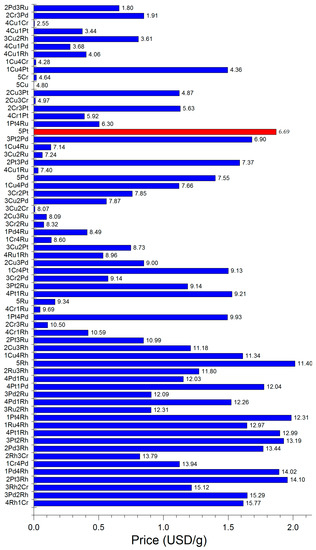 Figure 1
This is an open access article distributed under the
Creative Commons Attribution License
which permits unrestricted use, distribution, and reproduction in any medium, provided the original work is properly cited (CC BY 4.0).

Share & Cite This Article
MDPI and ACS Style
Chomboon, T.; Kumsung, W.; Chareonpanich, M.; Senkan, S.; Seubsai, A. Chromium-Ruthenium Oxides Supported on Gamma-Alumina as an Alternative Catalyst for Partial Combustion of Methane. Catalysts 2019, 9, 335.
Note that from the first issue of 2016, MDPI journals use article numbers instead of page numbers. See further details here.
Related Articles
Comments
[Return to top]