Comparative Study of the Characteristics and Activities of Pd/
γ

-Al2O3 Catalysts Prepared by Vortex and Incipient Wetness Methods

1

Department of Chemistry, Columbus State University, Columbus, GA 31907, USA

2

School of Chemical & Biomolecular Engineering, Georgia Institute of Technology, Atlanta, GA 30332, USA

3

Department of Geosciences, Auburn University, Auburn, AL 36849, USA

*

Author to whom correspondence should be addressed.

Received: 19 February 2019 / Revised: 30 March 2019 / Accepted: 1 April 2019 / Published: 4 April 2019
Abstract
5 wt
%
Pd/
γ
-Al
2
O
3
catalysts were prepared by a modified Vortex Method (5-Pd-VM) and Incipient Wetness Method (5-Pd-IWM), and characterized by various techniques (Inductively coupled plasma atomic emission spectroscopy (ICP-AES), N
2
-physisorption, pulse CO chemisorption, temperature programmed reduction (TPR), X-ray photoelectron spectroscopy (XPS), scanning transmission electron microscopy (STEM), and X-ray diffraction (XRD)) under identical conditions. Both catalysts had similar particle sizes and dispersions; the 5-Pd-VM catalyst had 0.5 wt% more Pd loading (4.6 wt%). The surfaces of both catalysts contained PdO and PdO
x
with about 7% more PdO
x
in 5-Pd-VM. High-angle annular dark-field scanning transmission electron microscopy (HAADF-STEM) and scanning electron microscope (SEM) images indicated presence of PdO/PdO
x
nanocrystals (8–10 nm) on the surface of the support. Size distribution by STEM showed presence of smaller nanoparticles (2–5 nm) in 5-Pd-VM. This catalyst was more active in the lower temperature range of 275–325 °C and converted 90% methane at 325 °C. The 5-Pd-VM catalyst was also very stable after 72-hour stability test at 350 °C showing 100% methane conversion, and was relatively resistant to steam deactivation. Hydrogen TPR of 5-Pd-VM gave a reduction peak at 325 °C indicating weaker interactions of the oxidized Pd species with the support. It is hypothesized that smaller particle sizes, uniform particle distribution, and weaker PdO/PdO
x
interactions with the support may contribute to the higher activity in 5-Pd-VM.
►

▼

Figures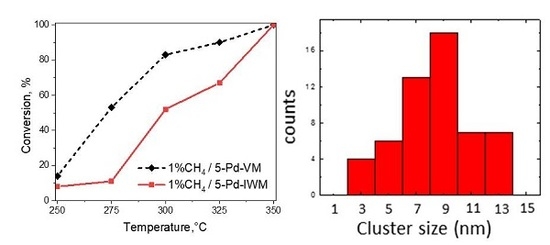 Graphical abstract
This is an open access article distributed under the
Creative Commons Attribution License
which permits unrestricted use, distribution, and reproduction in any medium, provided the original work is properly cited (CC BY 4.0).

Share & Cite This Article
MDPI and ACS Style
Banerjee, A.C.; Golub, K.W.; Hakim, M.A.; Billor, M.Z. Comparative Study of the Characteristics and Activities of Pd/γ-Al2O3 Catalysts Prepared by Vortex and Incipient Wetness Methods. Catalysts 2019, 9, 336.
Note that from the first issue of 2016, MDPI journals use article numbers instead of page numbers. See further details here.
Related Articles
Comments
[Return to top]