Effect of Mesoporous Chitosan Action and Coordination on the Catalytic Activity of Mesoporous Chitosan-Grafted Cobalt Tetrakis(p-Sulfophenyl)Porphyrin for Ethylbenzene Oxidation
Guangxi Colleges and Universities Key Laboratory of Applied Chemistry Technology and Resource Development, College of Chemistry and Chemical Engineering, Guangxi University, Nanning 530004, Guangxi, China
*
Author to whom correspondence should be addressed.
Received: 10 April 2018 / Revised: 4 May 2018 / Accepted: 4 May 2018 / Published: 10 May 2018
Abstract
To simulate the active site cavity structure function and axial coordination of cytochrome P-450 enzymes, mesoporous chitosan(mesp-CTS) was used as a scaffold for a meso-sized cavity to immobilize cobalt tetrakis(p-sulphophenyl)porphyrin chloride(Co TPPS). Immobilization was achieved via an acid–base reaction and axial coordination of the H
2
N-C group to the Co ion in Co TPPS, thus forming the biomimetic catalyst Co TPPS/mesp-CTS. Several approaches, including scanning electron microscopy (SEM), the Brunauer–Emmett–Teller (BET)technique, Fourier transform infrared (FT-IR) spectroscopy, ultraviolet-visible (UV-vis) spectroscopy, thermogravimetric and differential scanning calorimetry (TG-DSC), and X-ray photoelectron spectroscopy (XPS), were used to characterize the grafted catalyst. The catalytic performance of Co TPPS/mesp-CTS in ethylbenzene oxidation without any solvents and additives was investigated. The results showed that only 0.96 × 10 mol of Co TPPS grafted onto mesp-CTS could be recycled three times for 200 mL of ethylbenzene oxidation, with an average yield of 44.6% and selectivity of 68.8%. The highly efficient catalysis can be attributed to promotion by mesp-CTS, including the effect of the mesoporous structure and the axial coordination to the Co ion in Co TPPS. This biomimetic methodology provides a method for clean production of acetophenone via ethylbenzene oxidation.
View Full-Text
►

▼

Figures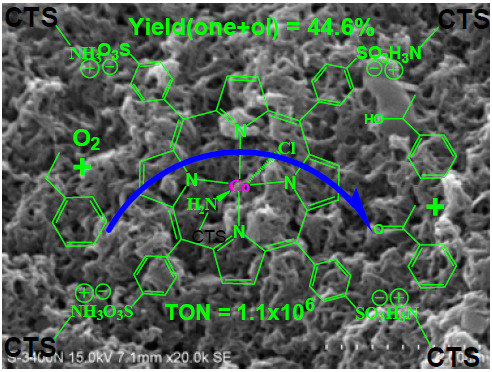 Graphical abstract
This is an open access article distributed under the
Creative Commons Attribution License
which permits unrestricted use, distribution, and reproduction in any medium, provided the original work is properly cited (CC BY 4.0).

Share & Cite This Article
MDPI and ACS Style
Huang, G.; Mo, L.Q.; Wei, Y.X.; Zhou, H.; Guo, Y.A.; Wei, S.J. Effect of Mesoporous Chitosan Action and Coordination on the Catalytic Activity of Mesoporous Chitosan-Grafted Cobalt Tetrakis(p-Sulfophenyl)Porphyrin for Ethylbenzene Oxidation. Catalysts 2018, 8, 199.
Note that from the first issue of 2016, MDPI journals use article numbers instead of page numbers. See further details here.
Related Articles
Comments
[Return to top]