Improvement Effect of Ni to Pd-Ni/SBA-15 Catalyst for Selective Hydrogenation of Cinnamaldehyde to Hydrocinnamaldehyde
Key Laboratory of Functional Inorganic Material Chemistry, Ministry of Education, School of Chemistry and Materials, Heilongjiang University, Harbin 150080, China
*
Authors to whom correspondence should be addressed.
Received: 12 March 2018 / Revised: 17 April 2018 / Accepted: 27 April 2018 / Published: 11 May 2018
Abstract
A series of Pd-Ni bimetallic catalysts supported on SBA-15 (0.2%Pd-x%Ni/SBA-15, x = 0.4, 0.7, and 1.2) were prepared through the impregnation method combined with the NaBH
4
reduction method. X-ray diffraction (XRD), N
2
adsorption-desorption, X-ray photoemission spectroscopy (XPS) and transmission electron microscope (TEM) were used to characterize the prepared catalysts. All the synthesized catalysts were evaluated for the liquid-phase hydrogenation of cinnamaldehyde (CAL). The addition of Ni obviously enhanced the CAL conversion and selectivity of C=C hydrogenation to hydrocinnamaldehyde (HALD) over the 0.2%Pd-x%Ni/SBA-15 catalysts. Meanwhile, 0.2%Pd-1.2%Ni/SBA-15 showed the best performance with 96.3% conversion and 87.8% selectivity toward HALD. This improvement was attributed to the synergistic effect between the Pd and Ni nanoparticles, enhancing the dispersion of Pd metal particles and increasing the content of surface Pd
0
species. In addition, the influences of a few reaction factors including H
2
pressure, reaction temperature, and reaction time were studied over 0.2%Pd-1.2%Ni/SBA-15.
View Full-Text
►

▼

Figures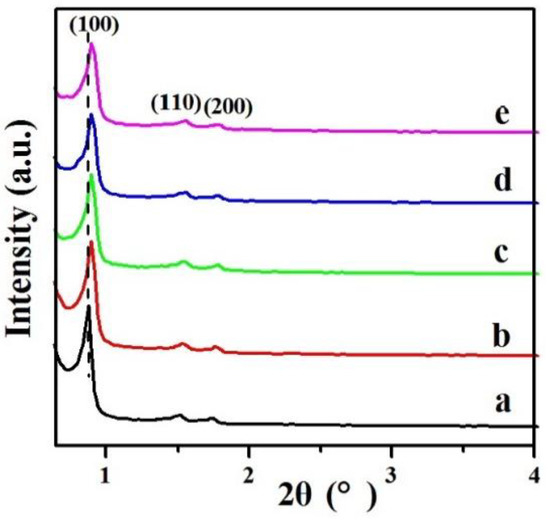 Figure 1
This is an open access article distributed under the
Creative Commons Attribution License
which permits unrestricted use, distribution, and reproduction in any medium, provided the original work is properly cited (CC BY 4.0).

Share & Cite This Article
MDPI and ACS Style
Han, S.; Liu, Y.; Li, J.; Li, R.; Yuan, F.; Zhu, Y. Improvement Effect of Ni to Pd-Ni/SBA-15 Catalyst for Selective Hydrogenation of Cinnamaldehyde to Hydrocinnamaldehyde. Catalysts 2018, 8, 200.
Note that from the first issue of 2016, MDPI journals use article numbers instead of page numbers. See further details here.
Related Articles
Comments
[Return to top]