Hydroconversion of Waste Cooking Oil into Green Biofuel over Hierarchical USY-Supported NiMo Catalyst: A Comparative Study of Desilication and Dealumination
1
Key Laboratory of Green Chemical Technology of Ministry of Education, School of Chemical Engineering and Technology, Tianjin University, Tianjin 300072, China
2
Airport Department, Civil Aviation University of China, Tianjin 300300, China
*
Authors to whom correspondence should be addressed.
Received: 1 September 2017 / Revised: 19 September 2017 / Accepted: 19 September 2017 / Published: 22 September 2017
Abstract
The hydroconversion of waste cooking oil into hydrocarbon fuel was investigated over the hierarchical USY zeolite-supported NiMo catalysts which were prepared by dealumination ((NH
4
)
2
SiF
6
)/desilication (NaOH). The physical and acidity properties of the hierarchical catalysts were characterized by X-ray diffraction (XRD), the Brunauer-Emmett-Teller (BET) infrared spectroscopy of adsorbed pyridine (Py-IR), ammonia temperature-programmed desorption (NH
3
-TPD), and H
2
temperature-programmed reduction (H
2
-TPR). The Brønsted/Lewis (B/L) acid distribution was little affected by dealumination and the acid density decreased significantly. However, the highly-desilicated catalysts decreased the B/L ratio obviously. Therefore, many more Mo species in the NiMoO
4
−
and MoO
3
phases were produced in the AHFS-treated catalysts, while more high-valence-state Mo species in the NiMoO
4
−
phase were formed in the NaOH-treated catalysts. The AHFS-treated catalysts showed higher catalytic activity and better DCO
2
selectivity and selective cracking for jet fuel. The 42.3% selectivity of jet fuel and 13.5% selectivity of jet-range aromatics was achieved over the 8 wt % (NH
4
)
2
SiF
6
-treated catalyst with 67% DCO
2
selectivity.
View Full-Text
►

▼

Figures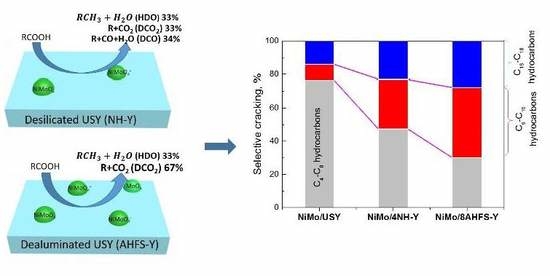 Graphical abstract
This is an open access article distributed under the
Creative Commons Attribution License
which permits unrestricted use, distribution, and reproduction in any medium, provided the original work is properly cited (CC BY 4.0).

Share & Cite This Article
MDPI and ACS Style
Zhang, Z.; Wang, Q.; Chen, H.; Zhang, X. Hydroconversion of Waste Cooking Oil into Green Biofuel over Hierarchical USY-Supported NiMo Catalyst: A Comparative Study of Desilication and Dealumination. Catalysts 2017, 7, 281.
Note that from the first issue of 2016, MDPI journals use article numbers instead of page numbers. See further details here.
Related Articles
Comments
[Return to top]