Recent Advances in Cancer Therapy Based on Dual Mode Gold Nanoparticles
1
2nd Department of Radiology, Medical School, National and Kapodistrian University of Athens, 12462 Athens, Greece
2
Department of Physics, School of Applied Mathematical and Physical Sciences, National Technical University of Athens, 15780 Athens, Greece
3
Atominstitut, Technische Universität Wien, Stadionallee 2, 1020 Vienna, Austria
*
Author to whom correspondence should be addressed.
Received: 9 October 2017 / Revised: 9 December 2017 / Accepted: 15 December 2017 / Published: 19 December 2017
Abstract
Many tumor-targeted strategies have been used worldwide to limit the side effects and improve the effectiveness of therapies, such as chemotherapy, radiotherapy (RT), etc. Biophotonic therapy modalities comprise very promising alternative techniques for cancer treatment with minimal invasiveness and side-effects. These modalities use light e.g., laser irradiation in an extracorporeal or intravenous mode to activate photosensitizer agents with selectivity in the target tissue. Photothermal therapy (PTT) is a minimally invasive technique for cancer treatment which uses laser-activated photoabsorbers to convert photon energy into heat sufficient to induce cells destruction via apoptosis, necroptosis and/or necrosis. During the last decade, PTT has attracted an increased interest since the therapy can be combined with customized functionalized nanoparticles (NPs). Recent advances in nanotechnology have given rise to generation of various types of NPs, like gold NPs (AuNPs), designed to act both as radiosensitizers and photothermal sensitizing agents due to their unique optical and electrical properties i.e., functioning in dual mode. Functionalized AuNPS can be employed in combination with non-ionizing and ionizing radiation to significantly improve the efficacy of cancer treatment while at the same time sparing normal tissues. Here, we first provide an overview of the use of NPs for cancer therapy. Then we review many recent advances on the use of gold NPs in PTT, RT and PTT/RT based on different types of AuNPs, irradiation conditions and protocols. We refer to the interaction mechanisms of AuNPs with cancer cells via the effects of non-ionizing and ionizing radiations and we provide recent existing experimental data as a baseline for the design of optimized protocols in PTT, RT and PTT/RT combined treatment.
View Full-Text
►

▼

Figures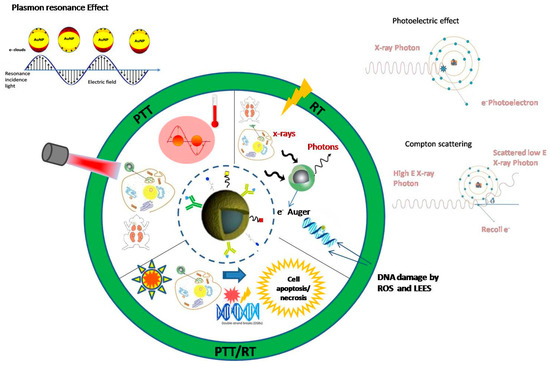 Figure 1
This is an open access article distributed under the
Creative Commons Attribution License
which permits unrestricted use, distribution, and reproduction in any medium, provided the original work is properly cited (CC BY 4.0).

Share & Cite This Article
MDPI and ACS Style
Spyratou, E.; Makropoulou, M.; Efstathopoulos, E.P.; Georgakilas, A.G.; Sihver, L. Recent Advances in Cancer Therapy Based on Dual Mode Gold Nanoparticles. Cancers 2017, 9, 173.
Note that from the first issue of 2016, MDPI journals use article numbers instead of page numbers. See further details here.
Related Articles
Comments
[Return to top]