Tailored Exercise during Hematopoietic Stem Cell Transplantation Hospitalization in Children with Cancer: A Prospective Cohort Study
1
Faculty of Sport Sciences, Universidad Europea de Madrid, 28041 Madrid, Spain
2
Pediatric Hematology and Oncology Department, Hospital Infantil Universitario Niño Jesús, 28041 Madrid, Spain
3
Department of Systems Biology, University of Alcalá, 28041 Madrid, Spain
4
Fissac—Physiology, Health and Physical Activity, 28041 Madrid, Spain
5
i+HeALTH, Department of Health Sciences, European University Miguel de Cervantes, 47012 Valladolid, Spain
6
Physical Activity and Health Laboratory, Instituto de Investigación Sanitaria Hospital '12 de Octubre' ('imas12′), 28041 Madrid, Spain
*
Author to whom correspondence should be addressed.
Received: 3 September 2020 / Revised: 9 October 2020 / Accepted: 12 October 2020 / Published: 17 October 2020
Simple Summary
The use of hematopoietic stem cell transplantation (HSCT), particularly among children, has increased over the last decades. However, it is frequently associated with a high risk of morbidity and mortality, and HSCT-related adverse effects can potentially impair survivors' health status. We aimed to assess the effects on major clinical outcomes of a supervised exercise intervention performed by children with cancer during hospitalization for HSCT. The main finding of this prospective study in a quite large cohort of pediatric HSCT recipients (n = 118, aged 4–18 years) is that a moderate intensity supervised exercise program (aerobic + resistance exercises) performed from the beginning of the conditioning phase for HSCT until the end of the neutropenic phase is safe and well tolerated and tends to decrease risk of infections after allogeneic HSCT, as compared with not performing the program.
We assessed the clinical effects of a supervised exercise (aerobic + resistance) intervention performed during inpatient hospitalization for pediatric hematopoietic stem cell transplantation (HSCT). Patients were placed in an exercise (
n
= 65 (47 and 18 with allogeneic (allo-) and autologous (auto-) HSCT, respectively)) or a control (
n
= 53 (39 and 14)) group. Exercise interventions were performed in isolated hospital patient rooms. Patients were followed-up from the beginning of the conditioning phase up to 6 years. We assessed survival, risk of graft-versus-host disease (GvHD) or graft failure (primary outcomes), and engraftment kinetics, supportive care, toxicity profile, and immune reconstitution for auto-HSCT and allo-HSCT. The exercise intervention was safe and did not affect the risk of mortality, acute/chronic GvHD, or graft failure (all
p
> 0.05). No between-group differences (
p
> 0.05) were found for the remainder of clinical endpoints, except for a reduced number of total and viral infections in the exercise group after allo-HSCT (unadjusted
p
= 0.005 for both total and viral infections, and adjusted
p
= 0.023 and 0.083, respectively). In conclusion, exercise performed during inpatient hospitalization for pediatric HSCT is safe and well tolerated during both auto and allo-HSCT and tends to decrease the risk of infection after allo-HSCT. These findings provide additional support to the notion that a multidisciplinary approach (i.e., including the work of exercise specialists) is suitable in the management of children undergoing HSCT. Further studies are needed to determine whether applying a different training stimulus (notably, higher exercise intensities) exerts positive effects on HSCT prognosis in these patients.
View Full-Text
►

▼

Show Figures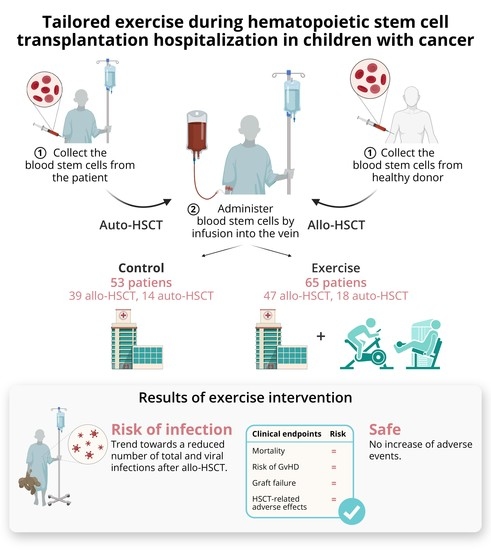 Graphical abstract
This is an open access article distributed under the
Creative Commons Attribution License
which permits unrestricted use, distribution, and reproduction in any medium, provided the original work is properly cited

MDPI and ACS Style
Morales, J.S.; González Vicent, M.; Valenzuela, P.L.; Castillo-García, A.; Santana-Sosa, E.; Lassaletta, A.; Santos-Lozano, A.; Fiuza-Luces, C.; Lucia, A. Tailored Exercise during Hematopoietic Stem Cell Transplantation Hospitalization in Children with Cancer: A Prospective Cohort Study. Cancers 2020, 12, 3020.
Show more citation formats
Show less citations formats
Note that from the first issue of 2016, MDPI journals use article numbers instead of page numbers. See further details
here
.