EVs as Potential New Therapeutic Tool/Target in Gastrointestinal Cancer and HCC
1
Department of Pathophysiology, Nicolaus Copernicus University in Toruń, Ludwik Rydygier Collegium Medicum in Bydgoszcz, 85-067 Bydgoszcz, Poland
2
Octavian Fodor Institute for Gastroenterology and Hepatology, Iuliu Haţieganu, University of Medicine and Pharmacy, 400162 Cluj-Napoca, Romania
3
Department of Internal Medicine I, University Hospital of the Rheinische Friedrich-Wilhelms-University, 53127 Bonn, Germany
4
Department of Integrated Oncology, Center for Integrated Oncology (CIO), University Hospital of the Rheinische Friedrich-Wilhelms-University, 53127 Bonn, Germany
5
Institute of Experimental Immunology, University Hospital of the Rheinische Friedrich-Wilhelms-University, 53127 Bonn, Germany
*
Author to whom correspondence should be addressed.
Received: 14 September 2020 / Revised: 4 October 2020 / Accepted: 13 October 2020 / Published: 17 October 2020
Simple Summary
Extracellular vesicles (EVs)– cell derived organic, nano-sized particles that are more then only cell dust. Nowadays, EVs are a scientifically accepted novel route for cells, including tumour cells, to communicate and influence their host, orchestrating cellular processes from simple tumour growth to complex mechanism of tumour tolerance. Here we show the current understanding of those EVs in gastrointestinal cancer and hepatocellular carcinoma (HCC). The review emphasizes the potential of EVs as a new therapeutic tool and drug target. It critically evaluates their role, in an informative manner using cutting edge, current publications. Many of the cited work are regarded as milestones in the EV field of research drawing a promising perspective for future EV studies.
For more than a decade, extracellular vesicles (EVs) have been in focus of science. Once thought to be an efficient way to eliminate undesirable cell content, EVs are now well-accepted as being an important alternative to cytokines and chemokines in cell-to-cell communication route. With their cargos, mainly consisting of functional proteins, lipids and nucleic acids, they can activate signalling cascades and thus change the phenotype of recipient cells at local and systemic levels. Their substantial role as modulators of various physiological and pathological processes is acknowledged. Importantly, more and more evidence arises that EVs play a pivotal role in many stages of carcinogenesis. Via EV-mediated communication, tumour cells can manipulate cells from host immune system or from the tumour microenvironment, and, ultimately, they promote tumour progression and modulate host immunity towards tumour's favour. Additionally, the role of EVs in modulating resistance to pharmacological and radiological therapy of many cancer types has become evident lately. Our understanding of EV biology and their role in cancer promotion and drug resistance has evolved considerably in recent years. In this review, we specifically discuss the current knowledge on the association between EVs and gastrointestinal (GI) and liver cancers, including their potential for diagnosis and treatment.
View Full-Text
►

▼

Show Figures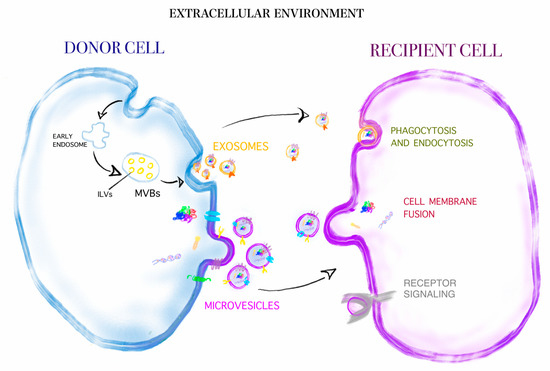 Figure 1
This is an open access article distributed under the
Creative Commons Attribution License
which permits unrestricted use, distribution, and reproduction in any medium, provided the original work is properly cited

MDPI and ACS Style
Słomka, A.; Mocan, T.; Wang, B.; Nenu, I.; Urban, S.K.; Gonzalez-Carmona, M.A.; Schmidt-Wolf, I.G.H.; Lukacs-Kornek, V.; Strassburg, C.P.; Spârchez, Z.; Kornek, M. EVs as Potential New Therapeutic Tool/Target in Gastrointestinal Cancer and HCC. Cancers 2020, 12, 3019.
Show more citation formats
Show less citations formats
Note that from the first issue of 2016, MDPI journals use article numbers instead of page numbers. See further details
here
.