Mitochondria at Center of Exchanges between Cancer Cells and Cancer-Associated Fibroblasts during Tumor Progression
Inserm, CRCINA, Université de Nantes, F-44000 Nantes, France
*
Author to whom correspondence should be addressed.
Received: 10 September 2020 / Revised: 14 October 2020 / Accepted: 14 October 2020 / Published: 17 October 2020
Simple Summary
Malignant cells and their supportive associated fibroblasts (CAFs) exchange various molecules that promote energy production, biosynthesis and therapy resistance by modulating mitochondrial activity and dynamics. We herein review molecular exchanges from CAFs to malignant cells that support tumor growth and therapy resistance, and we highlight the crucial role of CAFs mitochondria in this support. This implies (1) reciprocal mitochondrial control by malignant cells and (2) fibroblast activation. Finally, we discuss therapeutic strategies that could improve current therapies by targeting mitochondrial-mediated dialogue between the two cell types.
Resistance of solid cancer cells to chemotherapies and targeted therapies is not only due to the mutational status of cancer cells but also to the concurring of stromal cells of the tumor ecosystem, such as immune cells, vasculature and cancer-associated fibroblasts (CAFs). The reciprocal education of cancer cells and CAFs favors tumor growth, survival and invasion. Mitochondrial function control, including the regulation of mitochondrial metabolism, oxidative stress and apoptotic stress are crucial for these different tumor progression steps. In this review, we focus on how CAFs participate in cancer progression by modulating cancer cells metabolic functions and mitochondrial apoptosis. We emphasize that mitochondria from CAFs influence their activation status and pro-tumoral effects. We thus advocate that understanding mitochondria-mediated tumor–stroma interactions provides the possibility to consider cancer therapies that improve current treatments by targeting these interactions or mitochondria directly in tumor and/or stromal cells.
View Full-Text
►

▼

Show Figures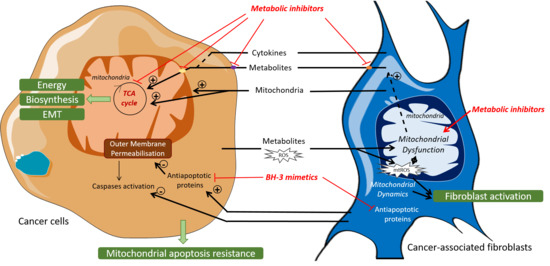 Graphical abstract
This is an open access article distributed under the
Creative Commons Attribution License
which permits unrestricted use, distribution, and reproduction in any medium, provided the original work is properly cited

Note that from the first issue of 2016, MDPI journals use article numbers instead of page numbers. See further details
here
.