Blocking c-MET/ERBB1 Axis Prevents Brain Metastasis in ERBB2+ Breast Cancer
1
Department of Biochemistry and Molecular Biology, University of Nebraska Medical Center, Omaha, NE 68198, USA
2
Department of Genetics, Cell Biology and Anatomy, University of Nebraska Medical Center, Omaha, NE 68198, USA
3
Fred and Pamela Buffett Cancer Center, University of Nebraska Medical Center, Omaha, NE 68198, USA
4
Department of Pediatrics, University of Nebraska Medical Center, Omaha, NE 68198, USA
*
Author to whom correspondence should be addressed.
†
These authors contributed equally to this manuscript.
Received: 15 September 2020 / Revised: 26 September 2020 / Accepted: 29 September 2020 / Published: 1 October 2020
Simple Summary
Targeted monotherapies are ineffective in the treatment of brain metastasis of ERBB2+ breast cancer (BC) underscoring the need for combination therapies. The lack of robust preclinical models has further hampered the assessment of treatment modalities. We report here a clinically relevant orthotopic mouse model of ERBB2+ BC that spontaneously metastasizes to brain and demonstrates that targeting the c-MET/ERBB1 axis with a combination of cabozantinib and neratinib decreases primary tumor growth and prevents brain metastasis in ERBB2+ BC.
Brain metastasis (BrM) remains a significant cause of cancer-related mortality in epidermal growth factor receptor 2-positive (ERBB2
+
) breast cancer (BC) patients. We proposed here that a combination treatment of irreversible tyrosine kinase inhibitor neratinib (NER) and the c-MET inhibitor cabozantinib (CBZ) could prevent brain metastasis. To address this, we first tested the combination treatment of NER and CBZ in the brain-seeking ERBB2
+
cell lines SKBrM3 and JIMT-1-BR3, and in ERBB2
+
organoids that expressed the c-MET/ERBB1 axis. Next, we developed and characterized an orthotopic mouse model of spontaneous BrM and evaluated the therapeutic effect of CBZ and NER in vivo. The combination treatment of NER and CBZ significantly inhibited proliferation and migration in ERBB2
+
cell lines and reduced the organoid growth in vitro. Mechanistically, the combination treatment of NER and CBZ substantially inhibited ERK activation downstream of the c-MET/ERBB1 axis. Orthotopically implanted SKBrM3
+
cells formed primary tumor in the mammary fat pad and spontaneously metastasized to the brain and other distant organs. Combination treatment with NER and CBZ inhibited primary tumor growth and predominantly prevented BrM. In conclusion, the orthotopic model of spontaneous BrM is clinically relevant, and the combination therapy of NER and CBZ might be a useful approach to prevent BrM in BC.
View Full-Text
►

▼

Show Figures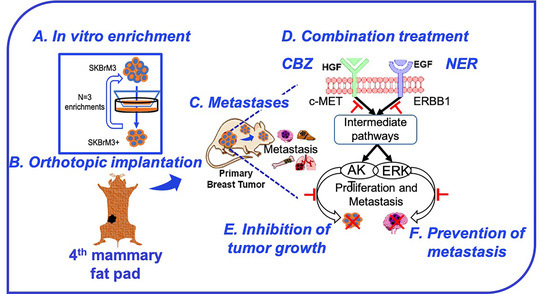 Graphical abstract
This is an open access article distributed under the
Creative Commons Attribution License
which permits unrestricted use, distribution, and reproduction in any medium, provided the original work is properly cited

MDPI and ACS Style
Gautam, S.K.; Kanchan, R.K.; Siddiqui, J.A.; Maurya, S.K.; Rauth, S.; Perumal, N.; Atri, P.; Venkata, R.C.; Mallya, K.; Mirza, S.; Ponnusamy, M.P.; Band, V.; Mahapatra, S.; Jain, M.; Batra, S.K.; Nasser, M.W. Blocking c-MET/ERBB1 Axis Prevents Brain Metastasis in ERBB2+ Breast Cancer. Cancers 2020, 12, 2838.
Show more citation formats
Show less citations formats
Note that from the first issue of 2016, MDPI journals use article numbers instead of page numbers. See further details
here
.