Transporter-Targeted Nano-Sized Vehicles for Enhanced and Site-Specific Drug Delivery
1
Department of Pharmacy, The Second Affiliated Hospital and Yuying Children's Hospital of Wenzhou Medical University, Zhejiang 325027, China
2
Wenzhou Municipal Key Laboratory of Pediatric Pharmacy, Zhejiang 325027, China
3
Department of Pharmaceutical Sciences, Wenzhou Medical University, Zhejiang 325035, China
4
Department of Children's Respiration Disease, The Second Affiliated Hospital and Yuying Children's Hospital of Wenzhou Medical University, Zhejiang 325027, China
5
Pediatric Research Institute, The Second Affiliated Hospital and Yuying Children's Hospital of Wenzhou Medical University, Zhejiang 325027, China
6
Department of Cell Biology and Biochemistry, Texas Tech University Health Sciences Center, Lubbock, TX 79430, USA
*
Authors to whom correspondence should be addressed.
Received: 1 September 2020 / Revised: 26 September 2020 / Accepted: 29 September 2020 / Published: 1 October 2020
Simple Summary
Nano-drug delivery systems serve as Trojan horses to carry therapeutic drugs as cargos and deliver them to target cells. The specificity of these delivery vehicles to a particular cell type can be improved if the surface of the vehicles is chemically modified in such a manner that they are recognized and attracted to the target cell. This can be accomplished if the target cell selectively expresses a receptor or transporter and the surface of the drug-delivery vehicles is conjugated with the receptor agonist or the transporter substrate. In this review, we detail published literature on the successful exploitation of plasma membrane transporters for this purpose. In particular, this review emphasizes the delivery of chemotherapeutic drugs to cancer cells by targeting the nano-delivery systems specifically to certain transporters that are selectively upregulated in cancer cells.
Nano-devices are recognized as increasingly attractive to deliver therapeutics to target cells. The specificity of this approach can be improved by modifying the surface of the delivery vehicles such that they are recognized by the target cells. In the past, cell-surface receptors were exploited for this purpose, but plasma membrane transporters also hold similar potential. Selective transporters are often highly expressed in biological barriers (e.g., intestinal barrier, blood–brain barrier, and blood–retinal barrier) in a site-specific manner, and play a key role in the vectorial transfer of nutrients. Similarly, selective transporters are also overexpressed in the plasma membrane of specific cell types under pathological states to meet the biological needs demanded by such conditions. Nano-drug delivery systems could be strategically modified to make them recognizable by these transporters to enhance the transfer of drugs across the biological barriers or to selectively expose specific cell types to therapeutic drugs. Here, we provide a comprehensive review and detailed evaluation of the recent advances in the field of transporter-targeted nano-drug delivery systems. We specifically focus on areas related to intestinal absorption, transfer across blood–brain barrier, tumor-cell selective targeting, ocular drug delivery, identification of the transporters appropriate for this purpose, and details of the rationale for the approach.
View Full-Text
►

▼

Show Figures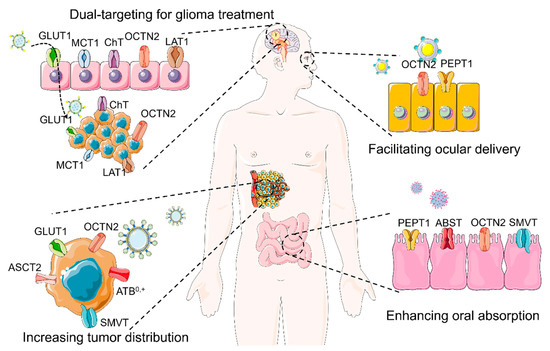 Figure 1
This is an open access article distributed under the
Creative Commons Attribution License
which permits unrestricted use, distribution, and reproduction in any medium, provided the original work is properly cited

Note that from the first issue of 2016, MDPI journals use article numbers instead of page numbers. See further details
here
.