Characteristics and Clinical Outcome of Breast Cancer Patients with Asymptomatic Brain Metastases
1
Department of Gynecology, Martinistraße 52, University Medical Center Hamburg-Eppendorf, 20246 Hamburg, Germany
2
Frauenärzte am Dom, Rheinstraße 33, 55116 Mainz, Germany
3
Oncological Outpatient Department, Neversstraße 5, 56068 Koblenz, Germany
4
Department of Gynecology, University Medical Center of the Johannes Gutenberg University Mainz, Langenbeckstr. 1, 55131 Mainz, Germany
5
Hannover Medical School, Department of Gynecology, Carl-Neuberg-Straße 1, 30625 Hannover, Germany
6
Department of Hematology and Oncology, University Hospital Frankfurt am Main, Theodor-Stern-Kai 7, 60590 Frankfurt am Main, Germany
7
Department of Gynecology, Clinic Bayreuth, Preuschwitzer Str. 101, 95445 Bayreuth, Germany
8
Department of Gynecology, University Medical Center Schleswig-Holstein, Arnold-Heller-Straße 3, 24105 Kiel, Germany
9
Department of Gynecology and Obstetrics, University Medical Center Ulm, Prittwitzstr. 43, 89075 Ulm, Germany
10
Diakovere Henriettenstift, Breast Center, Schwemannstraße 17, 30559 Hannover, Germany
11
Agaplesion Diakonie Clinic Rotenburg, Department of Gynecology, Elise-Averdieck-Straße 17, 27356 Rotenburg, Germany
12
Department of Gynecology and Gynecological Oncology, Agaplesion Markus Hospital, Wilhelm-Epstein-Str. 4, 60341 Frankfurt am Main, Germany
13
University Hospital Erlangen, Comprehensive Cancer Center Erlangen-EMN, Department of Gynecology and Obstetrics, Friedrich-Alexander University Erlangen-Nuremberg, Universitätsstraße 21-23, 91054 Erlangen, Germany
14
Institute of Pathology, University Hospital Marburg, Baldingerstraße, 35043 Marburg, Germany
15
Department of Gynecology, University Hospital Düsseldorf, Moorenstr. 5, 40225 Düsseldorf, Germany
16
German Breast Group, Martin-Behaim-Straße 12, 63263 Neu-Isenburg, Germany
*
Author to whom correspondence should be addressed.
Received: 13 September 2020 / Accepted: 26 September 2020 / Published: 28 September 2020
Simple Summary
The prognosis for patients with breast cancer that has spread to the brain is poor, and survival for these women hasn't improved over the last few decades. We do not currently test for asymptomatic brain metastases in breast cancer patients, although this does happen in some other types of cancer. In this study we wanted to find out more about breast cancer that has spread to the brain and in particular to see whether there might be any advantage to spotting brain metastases before the development of neurological symptoms. Overall, our results suggest that women could be better off if their brain metastases are diagnosed before they begin to cause symptoms. We now need to carry out a clinical trial to see what happens if we screen high-risk breast cancer patients for brain metastases. This will verify whether doing so could increase survival, symptom control or quality of life.
Background
: Brain metastases (BM) have become a major challenge in patients with metastatic breast cancer.
Methods
: The aim of this analysis was to characterize patients with asymptomatic BM (
n
= 580) in the overall cohort of 2589 patients with BM from our Brain Metastases in Breast Cancer Network Germany (BMBC) registry.
Results
: Compared to symptomatic patients, asymptomatic patients were slightly younger at diagnosis (median age: 55.5 vs. 57.0 years,
p
= 0.01), had a better performance status at diagnosis (Karnofsky index 80–100%: 68.4% vs. 57%,
p
< 0.001), a lower number of BM (>1 BM: 56% vs. 70%,
p
= 0.027), and a slightly smaller diameter of BM (median: 1.5 vs. 2.2 cm,
p
< 0.001). Asymptomatic patients were more likely to have extracranial metastases (86.7% vs. 81.5%,
p
= 0.003) but were less likely to have leptomeningeal metastasis (6.3% vs. 10.9%,
p
< 0.001). Asymptomatic patients underwent less intensive BM therapy but had a longer median overall survival (statistically significant for a cohort of HER2-positive patients) compared to symptomatic patients (10.4 vs. 6.9 months,
p
< 0.001).
Conclusions
: These analyses show a trend that asymptomatic patients have less severe metastatic brain disease and despite less intensive local BM therapy still have a better outcome (statistically significant for a cohort of HER2-positive patients) than patients who present with symptomatic BM, although a lead time bias of the earlier diagnosis cannot be ruled out. Our analysis is of clinical relevance in the context of potential trials examining the benefit of early detection and treatment of BM.
View Full-Text
►

▼

Show Figures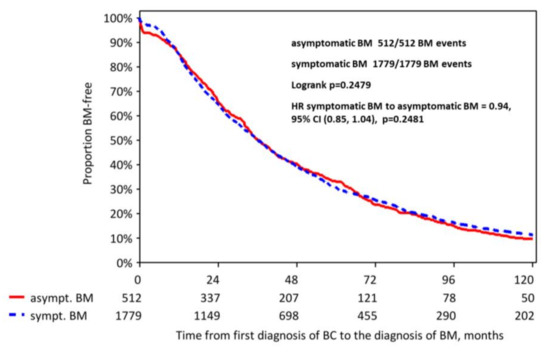 Figure 1
This is an open access article distributed under the
Creative Commons Attribution License
which permits unrestricted use, distribution, and reproduction in any medium, provided the original work is properly cited

MDPI and ACS Style
Laakmann, E.; Witzel, I.; Neunhöffer, T.; Weide, R.; Schmidt, M.; Park-Simon, T.-W.; Möbus, V.; Mundhenke, C.; Polasik, A.; Lübbe, K.; Hesse, T.; Riecke, K.; Thill, M.; Fasching, P.A.; Denkert, C.; Fehm, T.; Nekljudova, V.; Rey, J.; Loibl, S.; Müller, V. Characteristics and Clinical Outcome of Breast Cancer Patients with Asymptomatic Brain Metastases. Cancers 2020, 12, 2787.
Show more citation formats
Show less citations formats
Note that from the first issue of 2016, MDPI journals use article numbers instead of page numbers. See further details
here
.