Lambda-Carrageenan Enhances the Effects of Radiation Therapy in Cancer Treatment by Suppressing Cancer Cell Invasion and Metastasis through Racgap1 Inhibition
1
Global Station for Quantum Medical Science and Engineering, Global Institution for Collaborative Research and Education (GI-CoRE), Hokkaido University, Sapporo, Hokkaido 060-8638, Japan
2
Department of Radiation Oncology, Graduate School of Medicine, Hokkaido University, Sapporo, Hokkaido 060-8638, Japan
3
Department of Molecular Biology, Faculty of Medicine, Hokkaido University, Sapporo, Hokkaido 060-8638, Japan
4
Department of Radiation Oncology, Stanford University School of Medicine, Stanford, CA 94305, USA
5
Department of Radiation Oncology, Faculty of Medicine, Hokkaido University, Sapporo, Hokkaido 060-8638, Japan
6
Research Center for Cooperative Project, Faculty of Medicine, Hokkaido University, Sapporo, Hokkaido 060-8638, Japan
*
Author to whom correspondence should be addressed.
†
Current address: Cavite State University, Cavite 4122, Philippines.
Received: 25 June 2019 / Revised: 12 August 2019 / Accepted: 12 August 2019 / Published: 16 August 2019
Abstract
Radiotherapy is used extensively in cancer treatment, but radioresistance and the metastatic potential of cancer cells that survive radiation remain critical issues. There is a need for novel treatments to improve radiotherapy. Here, we evaluated the therapeutic benefit of λ-carrageenan (CGN) to enhance the efficacy of radiation treatment and investigated the underlying molecular mechanism. CGN treatment decreased viability in irradiated cancer cells and enhanced reactive oxygen species accumulation, apoptosis, and polyploid formation. Additionally, CGN suppressed radiation-induced chemoinvasion and invasive growth in 3D lrECM culture. We also screened target molecules using a gene expression microarray analysis and focused on Rac GTPase-activating protein 1 (RacGAP1). Protein expression of RacGAP1 was upregulated in several cancer cell lines after radiation, which was significantly suppressed by CGN treatment. Knockdown of RacGAP1 decreased cell viability and invasiveness after radiation. Overexpression of RacGAP1 partially rescued CGN cytotoxicity. In a mouse xenograft model, local irradiation followed by CGN treatment significantly decreased tumor growth and lung metastasis compared to either treatment alone. Taken together, these results suggest that CGN may enhance the effectiveness of radiation in cancer therapy by decreasing cancer cell viability and suppressing both radiation-induced invasive activity and distal metastasis through downregulating RacGAP1 expression.
View Full-Text
►

▼

Figures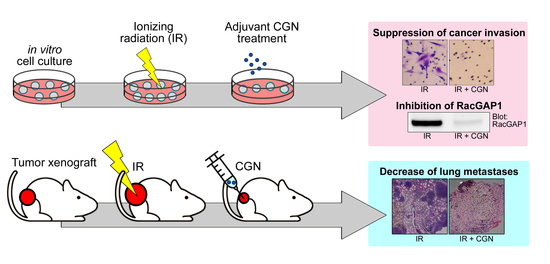 Graphical abstract
This is an open access article distributed under the
Creative Commons Attribution License
which permits unrestricted use, distribution, and reproduction in any medium, provided the original work is properly cited (CC BY 4.0).

Share & Cite This Article
MDPI and ACS Style
Wu, P.-H.; Onodera, Y.; Recuenco, F.C.; Giaccia, A.J.; Le, Q.-T.; Shimizu, S.; Shirato, H.; Nam, J.-M. Lambda-Carrageenan Enhances the Effects of Radiation Therapy in Cancer Treatment by Suppressing Cancer Cell Invasion and Metastasis through Racgap1 Inhibition. Cancers 2019, 11, 1192.
Note that from the first issue of 2016, MDPI journals use article numbers instead of page numbers. See further details here.
Related Articles
Comments
[Return to top]