A Novel Type of Blood Biomarker: Distinct Changes of Cytokine-Induced STAT Phosphorylation in Blood T Cells Between Colorectal Cancer Patients and Healthy Individuals
1
Department of Laboratory Medicine & Genetics, Samsung Medical Center, School of Medicine, Sungkyunkwan University, Seoul 06351, Korea
2
Samsung Advanced Institute of Health Science and Technology, Sungkyunkwan University, Seoul 06351, Korea
3
Samsung Genome Institute, Samsung Medical Center, Seoul 06351, Korea
4
Department of Pathology, Bundang Hospital, Seoul National University, Seongnam-si, Gyeonggi-do 13620, Korea
5
Samsung Biomedical Research Institute, Samsung Medical Center, Seoul 06351, Korea
6
Department of Laboratory Medicine, Chonnam National University Medical School and Chonnam National University Hwasun Hospital, Gwangju 61469, Korea
7
Department of Pathology, School of Medicine, Stanford University, Palo Alto, CA 94304-1204, USA
8
Department of Surgery, Samsung Medical Center, School of Medicine, Sungkyunkwan University, Seoul 06351, Korea
9
Stem Cell & Regenerative Medicine Institute, Samsung Medical Center, Seoul 06351, Korea
*
Authors to whom correspondence should be addressed.
Received: 25 May 2019 / Revised: 13 July 2019 / Accepted: 7 August 2019 / Published: 12 August 2019
Abstract
Background
: Colorectal cancer (CRC) is one of the leading causes of cancer-related deaths worldwide. Although early diagnosis and treatment is the most successful strategy for improving patient survival, feasible and sensitive blood biomarkers for CRC screening remain elusive.
Methods
: Sixty-five CRC patients and thirty-three healthy individuals were enrolled. Peripheral blood (PB) and tumor tissues from CRC patients, and PB from healthy individuals were subjected to immunophenotyping and phospho-flow analysis of cytokine-induced phosphorylated STAT (CIPS). Logistic regression was used as a classifier that separates CRC patients from healthy individuals.
Results
: The proportion of regulatory T cells was increased in PB from CRC patients compared to PB from healthy individuals (
p
< 0.05). Interestingly, peripheral T cells share several cytokine-induced phosphorylated STAT (CIPS) signatures with T cells from CRC tumor-sites. Additionally, a classifier was made using two signatures distinct between T cells from CRC patients and T cells from healthy individuals. The AUCs (area under curves) of the classifier were 0.88 in initial cohort and 0.94 in the additional validation cohort. Overall AUC was 0.94 with sensitivity of 91% and specificity of 88%.
Conclusion
: This study highlights that immune cell signatures in peripheral blood could offer a new type of biomarker for CRC screening.
View Full-Text
►

▼

Figures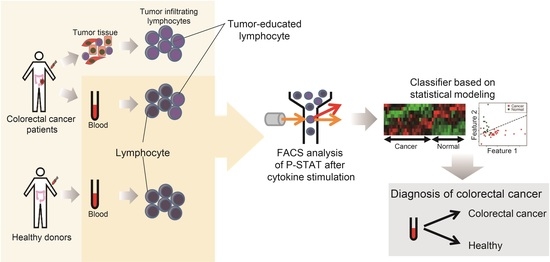 Graphical abstract
This is an open access article distributed under the
Creative Commons Attribution License
which permits unrestricted use, distribution, and reproduction in any medium, provided the original work is properly cited (CC BY 4.0).

Share & Cite This Article
MDPI and ACS Style
Yun, J.W.; Lee, S.; Kim, H.M.; Chun, S.; Engleman, E.G.; Kim, H.C.; Kang, E.-S. A Novel Type of Blood Biomarker: Distinct Changes of Cytokine-Induced STAT Phosphorylation in Blood T Cells Between Colorectal Cancer Patients and Healthy Individuals. Cancers 2019, 11, 1157.
Note that from the first issue of 2016, MDPI journals use article numbers instead of page numbers. See further details here.
Related Articles
Comments
[Return to top]