The Mode of Stem Cell Division Is Dependent on the Differential Interaction of β-Catenin with the Kat3 Coactivators CBP or p300
1
Department of Biochemistry and Molecular Medicine, University of Southern California, Los Angeles, CA 90033, USA
2
Center for Molecular Pathways and Drug Discovery, University of Southern California, Los Angeles, CA 90033, USA
3
Department of Molecular Medicine, Beckman Research Institute of City of Hope, Duarte, CA 91010, USA
4
Department of Pathology, City of Hope National Medical Center, Duarte, CA 91010, USA
5
City of Hope Comprehensive Cancer Center, Duarte, CA 91010, USA
6
Max Planck Institute of Molecular Cell Biology and Genetics, Dresden 01307, Germany
7
Developmental Biology Program, Sloan Kettering Institute, Memorial Sloan Kettering Cancer Center, New York, NY 10065, USA
8
Department of Molecular Pharmacology and Toxicology, University of Southern California, Los Angeles, CA 90033, USA
9
Norris Comprehensive Cancer Center, University of Southern California, Los Angeles, CA 90033, USA
*
Author to whom correspondence should be addressed.
Received: 30 May 2019 / Revised: 2 July 2019 / Accepted: 4 July 2019 / Published: 9 July 2019
Abstract
Normal long-term repopulating somatic stem cells (SSCs) preferentially divide asymmetrically, with one daughter cell remaining in the niche and the other going on to be a transient amplifying cell required for generating new tissue in homeostatic maintenance and repair processes, whereas cancer stem cells (CSCs) favor symmetric divisions. We have previously proposed that differential β-catenin modulation of transcriptional activity via selective interaction with either the Kat3 coactivator CBP or its closely related paralog p300, regulates symmetric versus asymmetric division in SSCs and CSCs. We have previously demonstrated that SSCs that divide asymmetrically per force retain one of the dividing daughter cells in the stem cell niche, even when treated with specific CBP/β-catenin antagonists, whereas CSCs can be removed from their niche via forced stochastic symmetric differentiative divisions. We now demonstrate that loss of p73 in early corticogenesis biases β-catenin Kat3 coactivator usage and enhances β-catenin/CBP transcription at the expense of β-catenin/p300 transcription. Biased β-catenin coactivator usage has dramatic consequences on the mode of division of neural stem cells (NSCs), but not neurogenic progenitors. The observed increase in symmetric divisions due to enhanced β-catenin/CBP interaction and transcription leads to an immediate increase in NSC symmetric differentiative divisions. Moreover, we demonstrate for the first time that the complex phenotype caused by the loss of p73 can be rescued in utero by treatment with the small-molecule-specific CBP/β-catenin antagonist ICG-001. Taken together, our results demonstrate the causal relationship between the choice of β-catenin Kat3 coactivator and the mode of stem cell division.
View Full-Text
►

▼

Figures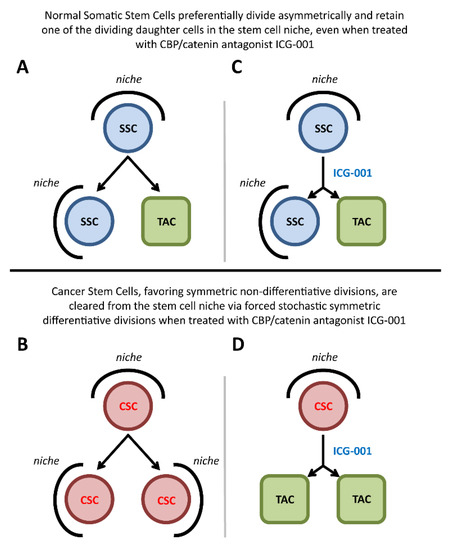 Figure 1
This is an open access article distributed under the
Creative Commons Attribution License
which permits unrestricted use, distribution, and reproduction in any medium, provided the original work is properly cited (CC BY 4.0).

Share & Cite This Article
MDPI and ACS Style
Lukaszewicz, A.I.; Nguyen, C.; Melendez, E.; Lin, D.P.; Teo, J.-L.; Lai, K.K.Y.; Huttner, W.B.; Shi, S.-H.; Kahn, M. The Mode of Stem Cell Division Is Dependent on the Differential Interaction of β-Catenin with the Kat3 Coactivators CBP or p300. Cancers 2019, 11, 962.
Note that from the first issue of 2016, MDPI journals use article numbers instead of page numbers. See further details here.
Related Articles
Comments
[Return to top]