Machilin A Inhibits Tumor Growth and Macrophage M2 Polarization Through the Reduction of Lactic Acid
1
Department of Korean Medical Science, Healthy Aging Korean Medical Research Center, Pusan National University, Yangsan, Gyeongsangnam-do 50612, Korea
2
Graduate Training Program of Korean Medicine for Healthy-aging, Pusan National University, Yangsan, Gyeongsangnam-do 50612, Korea
3
Department of Molecular Biology, College of Natural Sciences, Pusan National University, Busan 46241, Korea
4
Department of Chemistry, Center for Proteome Biophysics and Chemistry Institute for Functional Materials, Pusan National University, Busan 46241, Korea
5
National Development Institute of Korean Medicine, Gyeongsan, Gyeongsangbuk-do 38540, Korea
6
Department of Clinical Pathology, DaeKyeung University, Gyeongsan, Gyeongsangbuk-do 38547, Korea
*
Authors to whom correspondence should be addressed.
†
These authors contributed equally to this article.
Received: 24 May 2019 / Revised: 28 June 2019 / Accepted: 5 July 2019 / Published: 9 July 2019
Abstract
Lactate dehydrogenase A (LDHA) is an important enzyme responsible for cancer growth and energy metabolism in various cancers via the aerobic glycolytic pathway. Here, we report that machilin A (MA), which acts as a competitive inhibitor by blocking the nicotinamide adenine dinucleotide (NAD) binding site of LDHA, suppresses growth of cancer cells and lactate production in various cancer cell types, including colon, breast, lung, and liver cancers. Furthermore, MA markedly decreased LDHA activity, lactate production, and intracellular adenosine triphosphate (ATP) levels induced by hypoxia-induced LDHA expression in cancer cells, and significantly inhibited colony formation, leading to reduced cancer cell survival. In mouse models inoculated with murine Lewis lung carcinoma, MA significantly suppressed tumor growth as observed by a reduction of tumor volume and weight; resulting from the inhibition of LDHA activity. Subsequently, the suppression of tumor-derived lactic acid in MA-treated cancer cells resulted in decrease of neovascularization through the regulation of alternatively activated macrophages (M2) polarization in macrophages. Taken together, we suggest that the reduction of lactate by MA in cancer cells directly results in a suppression of cancer cell growth. Furthermore, macrophage polarization and activation of endothelial cells for angiogenesis were indirectly regulated preventing lactate production in MA-treated cancer cells.
View Full-Text
►

▼

Figures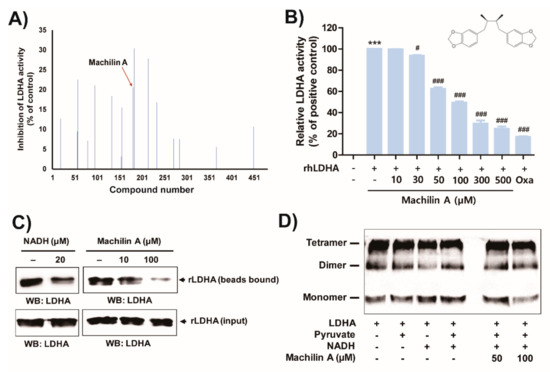 Figure 1
This is an open access article distributed under the
Creative Commons Attribution License
which permits unrestricted use, distribution, and reproduction in any medium, provided the original work is properly cited (CC BY 4.0).

Share & Cite This Article
MDPI and ACS Style
Chung, T.-W.; Kim, E.-Y.; Han, C.W.; Park, S.Y.; Jeong, M.S.; Yoon, D.; Choi, H.-J.; Jin, L.; Park, M.-J.; Kwon, Y.J.; Lee, H.; Kim, K.-J.; Park, K.H.; Kim, S.; Jang, S.B.; Ha, K.-T. Machilin A Inhibits Tumor Growth and Macrophage M2 Polarization Through the Reduction of Lactic Acid. Cancers 2019, 11, 963.
Note that from the first issue of 2016, MDPI journals use article numbers instead of page numbers. See further details here.
Related Articles
Comments
[Return to top]