Ethanol-Mediated Stress Promotes Autophagic Survival and Aggressiveness of Colon Cancer Cells via Activation of Nrf2/HO-1 Pathway
1
Department of Biomedicine, Neurosciences and Advanced Diagnostics (BIND), Institute of Biochemistry, University of Palermo, 90127 Palermo, Italy
2
Department of Biological, Chemical and Pharmaceutical Sciences and Technologies (STEBICEF), Laboratory of Biochemistry, University of Palermo, 90127 Palermo, Italy
3
Department of Biomedicine, Neurosciences and Advanced Diagnostics (BIND), Institute of Human Anatomy, University of Palermo, 90127 Palermo, Italy
4
Euro-Mediterranean Institute of Science and Technology, 90100 Palermo, Italy
5
Department of Biomedical and Biotechnological Sciences, University of Catania, I-95123 Catania, Italy
*
Author to whom correspondence should be addressed.
†
These authors contributed equally to this work as first author.
Received: 11 February 2019 / Revised: 5 April 2019 / Accepted: 7 April 2019 / Published: 10 April 2019
Abstract
Epidemiological studies suggest that chronic alcohol consumption is a lifestyle risk factor strongly associated with colorectal cancer development and progression. The aim of the present study was to examine the effect of ethanol (EtOH) on survival and progression of three different colon cancer cell lines (HCT116, HT29, and Caco-2). Our data showed that EtOH induces oxidative and endoplasmic reticulum (ER) stress, as demonstrated by reactive oxygen species (ROS) and ER stress markers Grp78, ATF6, PERK and, CHOP increase. Moreover, EtOH triggers an autophagic response which is accompanied by the upregulation of beclin, LC3-II, ATG7, and p62 proteins. The addition of the antioxidant N-acetylcysteine significantly prevents autophagy, suggesting that autophagy is triggered by oxidative stress as a prosurvival response. EtOH treatment also upregulates the antioxidant enzymes SOD, catalase, and heme oxygenase (HO-1) and promotes the nuclear translocation of both Nrf2 and HO-1. Interestingly, EtOH also upregulates the levels of matrix metalloproteases (MMP2 and MMP9) and VEGF. Nrf2 silencing or preventing HO-1 nuclear translocation by the protease inhibitor E64d abrogates the EtOH-induced increase in the antioxidant enzyme levels as well as the migration markers. Taken together, our results suggest that EtOH mediates both the activation of Nrf2 and HO-1 to sustain colon cancer cell survival, thus leading to the acquisition of a more aggressive phenotype.
View Full-Text
►

▼

Figures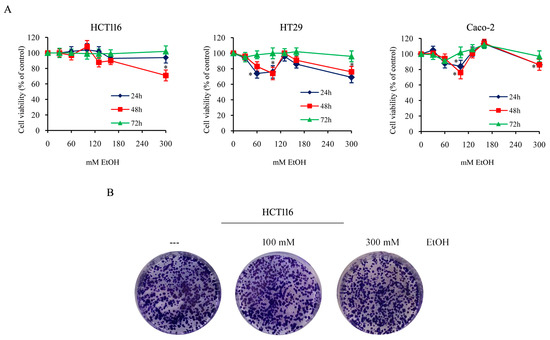 Figure 1
This is an open access article distributed under the
Creative Commons Attribution License
which permits unrestricted use, distribution, and reproduction in any medium, provided the original work is properly cited (CC BY 4.0).

Share & Cite This Article
MDPI and ACS Style
Cernigliaro, C.; D'Anneo, A.; Carlisi, D.; Giuliano, M.; Marino Gammazza, A.; Barone, R.; Longhitano, L.; Cappello, F.; Emanuele, S.; Distefano, A.; Campanella, C.; Calvaruso, G.; Lauricella, M. Ethanol-Mediated Stress Promotes Autophagic Survival and Aggressiveness of Colon Cancer Cells via Activation of Nrf2/HO-1 Pathway. Cancers 2019, 11, 505.
Note that from the first issue of 2016, MDPI journals use article numbers instead of page numbers. See further details here.
Related Articles
Comments
[Return to top]